RETURN TO SEARCH RESULTS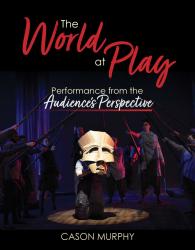 The World at Play: Performance from the Audience?s Perspective
Author(s): Cason Warinner Murphy
Edition: 1
Copyright: 2021
Pages: 88




Details: Print Product |
Across the world and throughout history, groups of various individuals have gathered together at a certain time and place for no purpose other than to see performances. From Greek tragoedia to Japanese bunraku to contemporary musical theatre, audiences play a crucial part in any performance, yet their importance is often overlooked or underappreciated. Without an audience present, a performance cannot happen. How do they hold influence over an event?
The World at Play: Performance from the Audience's Perspective offers an audience-oriented view of performance - focusing on how you, the audience member, can better understand the curious things that happen when people gather together. Get ready to peek behind the curtain of the worlds of theatre, dance, music, film, television, podcasting, video gaming, and other live events to discover the qualities that make each medium so unique and how to articulate your experience of them better than ever before!
Readers will become aware of the conscious and unconscious phenomena that occur when groups of people gather to experience performance, how they can increase your own individual capacity to better analyze and respond to performance events, and then take a deep dive into the characteristics that set each form apart from the others in order to better understand your experience of them.
INTRODUCTION
PART I: THE AUDIENCE
PART II: THE ART AND SCIENCE OF CRITIQUE
PART III: THE FORMS OF PERFORMING ARTS
THEATER
DANCE
MUSIC
FILM
RADIO AND AUDIO DRAMA
TELEVISION
VIDEO GAMING
GLOSSARY
Print
$73.50
ISBN 9781792472961
Details Print Product