RETURN TO SEARCH RESULTS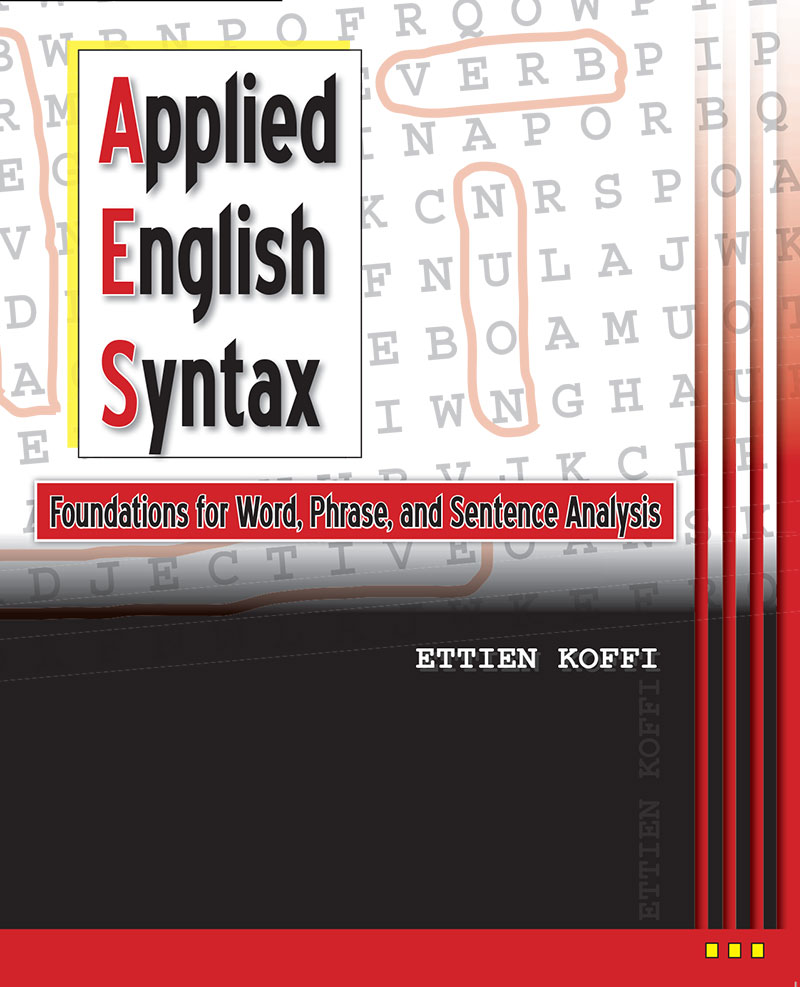 Applied English Syntax: Foundations for Word, Phrase, and Sentence Analysis
Author(s): Ettien N. Koffi
Edition: 2
Copyright: 2015
Pages: 524




Details: Print Product Only (SA,CP, Pak, all Print) |
Applied English Syntax combines the most relevant aspects of contemporary research on grammar with well-established paradigms inherited from former approaches. As a result, it offers an in-depth coverage of pertinent syntactic information to language arts teachers and English as second foreign language teachers. This book seeks to equip language professionals with the optimal syntactic background in order to enable them to teach grammar confidently.

This book is built on the premise that if the parts of speech can be reliably identified and analyzed, the acquisition of higher level grammatical concepts will be made easier. For this reason, students are equipped with tools to identify and analyze nouns, verbs, adjectives, adverbs, pronouns, prepositions, and conjunctions by applying four simple tests: the semantic test, the morphological test, the syntactic test, and the functional test.

Moreover, Applied English Syntax covers English word formation processes, simple, compound, and complex sentences. It highlights syntactic transformations that are most beneficial for improving writing skills. This 15 chapter book is unlike any other in the way it structures and delivers grammatical content. Each part of speech, with the exception of articles, is the object of an entire chapter. This way, relevant information can be readily retrieved within a single chapter instead of being scattered all over the book. The book is well-written, clear and suitable for an audience with little or no formal training in linguistics.
PART 1: HISTORICAL AND THEORETICAL OVERVIEW

CHAPTER 1
The Organization and Definition of Syntactic Concepts: A Preview, an Overview, and a Review

CHAPTER 2
A Brief History of the Study of Grammar

CHAPTER 3
Innate Grammar vs. School Grammar

CHAPTER 4
The Formal Apparatus of Generative Grammar

PART 2: MAJOR PARTS OF SPEECH

CHAPTER 5
Morphology and Word Formation Processes in Grammatical Analysis

CHAPTER 6
Nouns and the Noun Phrase

CHAPTER 7
AUX, Auxiliary Verbs, Tense, Aspect, and Mood

CHAPTER 8
Main Verbs and the Verb Phrase

CHAPTER 9
Adjectives and the Adjective Phrase

CHAPTER 10
Adverbs and the Adverb Phrase

PART 3: MINOR PARTS OF SPEECH

CHAPTER 11
Prepositions, Particles, and the Preposition Phrase

CHAPTER 12
Conjunctions and Sentence Compounding

CHAPTER 13
Subordinating Conjunctions and Subordinate Clauses

CHAPTER 14
Pronouns and Pronominalization

CHAPTER 15
Transformation Operations in Composition

References
Index of Subjects
"As the overall goal of this book is to "enhance the teacher's grammatical awareness", I believe it is invaluable for first, second, and foreign language pre and in-service language teachers, especially those who are interested in literacy instruction in general and writing instruction in particular. The book has great potential for bringing about improvement in students' writing even though it is not specifically geared towards teaching writing, but rather towards `the syntactic knowledge that students need to write grammatically well-formed sentences' … Overall, this book is a strong addition to applied syntax. It has various strengths and contributes significantly to the study of syntax in general and to pedagogical syntax in particular, especially with its detailed treatment of major and minor parts of speech."
Ronald P. Schaefer, Ph.D., Associate Dean, Graduate School
Southern Illinois University, Edwardsville
"Applied English Syntax motivates students because it removes the shroud of mystique from formal grammar. As the focus is on grammatical awareness and competence in the contemporary linguistic understanding of grammar, this book concentrates on the definition of pedagogical grammar and students' mastery of that grammar to meet academic needs. From terminology to application, the student is led step-by-step through syntactic operations, especially addition, deletion, movement and substitution, applied to the minimal unit of writing, the sentence. With a morphological and syntactic knowledge base comes grammatical competence, which will produce confident Language Arts teachers. Students once shown how to unravel the Gordian knot of grammar are more likely to be motivated and creative language users."
Philip W. Rudd, Ph.D., Assistant Professor of English,
Pittsburg State University
Print
$172.58
ISBN 9781465244499
Details Print Product Only (SA,CP, Pak, all Print)