RETURN TO SEARCH RESULTS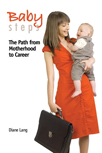 Baby Steps: The Path from Motherhood to Career
Author(s): Diane Lang
Edition: 1
Copyright: 2008
Pages: 62
eBook Version 
You will receive access to this electronic text via email after using the shopping cart above to complete your purchase.
---
You've made the decision to reenter the workforce knowing that it will make you a better mom and a better person. Going back to work will be rewarding, but can also cause feelings of uneasiness, stress, and guilt.
The author of "Baby Steps" has been in the same situation. Diane Lang wrote this book to help women through the process of the transition from motherhood to career.
This easy-to-use handbook style accommodates busy moms by staying brief, simple, and to the point. Perfect for reading in between changing diapers, cooking dinner, and looking through the job listings. Use this book as a reference guide and journal, with tips, guidance, and questions for reflection.
 Introduction: From Pooh Bear to Power Lunches
Chapter 1: Making the Decision
Chapter 2: Getting Started
Chapter 3: Help Wanted: MOM
Chapter 4: Tools for Reentering the Workforce?
Chapter 5: Options
Chapter 6: Dealing with Mixed Emotions
Chapter 7: Tips for Making the Transition
Chapter 8: Tips from Moms Who Work Outside the Home
Chapter 9: What Employers Say About Moms in the Workforce
Appendix A: Great Websites for Career Information
Appendix B: Employment Application
Appendix C: Sample Resumes/Cover Letters/Thank You Letters
Index
Ebook
$13.29
ISBN 9781465229175
Details Electronic Delivery EBOOK 180 days