RETURN TO SEARCH RESULTS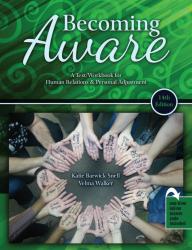 Details: Print Product w/KHPContent and KHQ | 180 days |
Becoming Aware: A Text/Workbook for Human Relations and Personal Adjustment assists the reader in the process of becoming more aware of themselves and others through the most interactive learning process found in any textbook.
Becoming Aware helps students explore, experiment, test, and apply the scholarly theories and ideas within the world of human relations and personal adjustment. This text/workbook encourages the learner to think critically, work through problems logically, and make connections with the real world – becoming an active learner!
Designed to be a personal workbook as well as a classroom text, the new 14th edition of Becoming Aware: A Text/Workbook for Human Relations and Personal Adjustment by Katie Barwick-Snell and Velma Walker:
Is Interactive! The publication integrates a minimum of five activities per chapter for the reader to pause and reflect on the personal application of the concepts and theories presented.
Uses scholarly resources and numerous videos to reinforce learning. Each chapter includes beginning reflections to help students to note key ideas and concepts. In addition, since technology has impacted the way we now interact, the authors have integrated new information on how technology impacts each chapter topic.
Is Practical! The publication contains a Learning Journal within each chapter that allows the reader to write and assess the personal value or meaning gained from the concepts presented.
Emphasizes critical thinking skills by using Think about This, Check This Out, Consider This, and How To vignettes to highlight many of the important concepts and ideas.
Features new coverage of tolerance, acceptance, appreciation of differences, tips for happiness, and much more.
Is easy to adopt! All adopting instructors will receive an engaging new PowerPoint presentation that enhances discussion and encourages critical thinking skills.
Is written in gender-neutral language, and is more user-friendly than ever before by integrating media links, online quizzes, videos, activities, and podcasts.
CHAPTER 1 Getting Acquainted with Ourselves and Others
What is Human Relations?
Becoming Aware of Relationships—Think About it
Self-Disclosure is a Tool for Building Relationships
Becoming Aware of Who We Are—What Generation Are You?
Do You Know Yourself?
Do You Need to Disclose?
Boundaries?
Eight Quick Tips for Interpersonal Communication and Relationship Building
Becoming Aware of How Technology Impacts Your Life
The Johari Window
Building Intimate Relationships
Five Dominant Patterns of Couples Relationships
Loneliness
What Should a Relationship Provide?
Mutual Reward Theory (MRT)
How to Control Shyness and Not Let It Control You!
What is Shyness?
Perceptual Awareness
People Perception
Tolerance, Acceptance, and Appreciation of Differences
The "How" of Positive Social Change
Becoming Aware of Technology
Can I Change My Image?
Developing New Relationships
CHAPTER REVIEW
LEARNING OUTCOMES REVIEW
KEY TERMS
REFLECTIONS: CRITICAL THINKING ACTIVITIES
TECHNOLOGY RESOURCES AND ACTIVITIES
ACTIVITIES
CHAPTER 2 Self-Awareness
"Self-Image" Development
What is Ego Identity
Personality Development
Adler's Individual Psychology Theory
Erikson's Eight Stages of Psychosocial
Trait Theory
Personality Types
Myers-Briggs Type Indicator
Strengths-Based Psychology
Carl Rogers: Self-Theory—Humanistic Approach
Carl Rogers' Theory
Maslow: Characteristics of a Self-Actualized Person
Viktor Frankl: Search for Meaning
Virginia Satir: Self-Worth
How Do Our Thoughts and Our Environment Relate to the Development of Our Personality?
How Did I Get to Be the Person I Am Today?
Becoming Aware-Think About It
Becoming Aware of Self Talk
Cognitive and Social Learning Theories
The Self
Find Your Real Self
Gender and You
Self-Esteem
Individualism vs. Collectivism
Lying and Self-Esteem
False Memories and "Truth Bias"
Becoming Aware-Healthy and Unhealthy Relationships
Branden's Six Pillars of Self Esteem
Becoming Aware of Technology and Self-Awareness
CHAPTER REVIEW
LEARNING OUTCOMES REVIEW
KEY TERMS
REFLECTIONS: CRITICAL THINKING ACTIVITES
TECHNOLOGY RESOURCES AND ACTIVITIES
ACTIVITIES
CHAPTER 3 Who's in Control?
Locus of Control-Self-Control/Management or External Control
Internal or External or Both?
Perceived Control or Lack of Control
Outcome
Who's in Control?
Two Explanatory Styles
Optimists See Possibilities
Pessimists See Problems
Becoming Aware of Technology: Gender Identity
Social Learning Theory
How Does Learning Theory Influence Your Life?
What Gets Your Attention?
Learning Theory
Classical Conditioning
How Does Classical Conditioning Work?
Why do I Hate Peas?—Student Story
We Learn From Our Experience
What Are The Consequences
Positively Reinforce the Good Responses—Not the Bad Ones
Self-Control and Self-Management in Everyday Living
Strategies to Self-Change: A Five-Step Program
A Self-Change Program
Self-Change Project—A Happy Ending
Becoming Aware of Technology-Who's In Control?
Evaluating Web Sites Is A S.N.A.P.
CHAPTER REVIEW
LEARNING OUTCOMES REVIEW
KEY TERMS
REFLECTIONS: CRITICAL THINKING ACTIVITIES
TECHNOLOGY RESOURCES AND ACTIVITIES
ACTIVITIES
CHAPTER 4 Dealing with Emotions
What Are Emotions?
Characteristics of Emotions
Becoming Aware of Your Emotions
Types of Emotions
Coping with Problem Emotions
Fear
Anxiety
Anger
Cyberbullies Increasingly Target Peers Online
Becoming Aware of Technology—Technology and Bullying: Trolls, Cry Bullyies and Passive Aggressive Bullying in the Attention Economics Internet Age
Disturbing Cyberbully Statistics
Being Bullied
Guilt and Shame
Grief and Bereavement
Becoming Aware of Technology and Grief
How to Help People Grieve
Love
Development of Emotions
Emotional Intelligence
Feeling Awe—The Emotion to Balance and Become Fully Human
The Costs of Denying Emotions
Getting Out of Emotional Debt
Guidelines for Dealing with Your Emotions
Understanding Culture and Emotion
Benefits of Expressing Your Feelings
Forgiveness—The Healing Process
CHAPTER REVIEW
LEARNING OUTCOMES REVIEW
KEY TERMS
REFLECTIONS: CRITICAL THINKING ACTIVITY
TECHNOLOGY RESOURCES AND ACTIVITIES
ACTIVITIES
CHAPTER 5 Interpersonal Communication
Why Do We Need to Communicate?
Why Is Communication Difficult?
The Communication Process?
One- and Two-Way Communication
Nonverbal Communication
Conscious Nonverbal Communication
Subliminal Nonverbal Communications
Consent
Verbal Communication
Technology and Communication
Becoming Aware of Technology and Distraction
Becoming Aware of Technology-Interpersonal Communication- "Technoference"
Want to Minimize the Pitfalls of Smartphone Use? Research Suggests Seven Good Places to Start
Remember, Before You Say or Write Something You Might Regret, Think About it. Don't Regret Not Thinking
Gender and Communication
Listening (What Did You Say?)
Barriers to Listening
How To Improve Your Listening Skills
Styles of Responding
Games People Play
Becoming Aware of Interactions-Examples of Games
Active Listening—Empathetic Listening
Which Style of Responding Do You Use?
Person-to-Person Communication
Becoming Aware—Technology, Communication, and Friendships
CHAPTER REVIEW
LEARNING OUTCOME S REVIEW
KEY TERMS
REFLECTIONS: CRITICAL THINKING ACTIVITY
TECHNOLOGY RESOURCES AND ACTIVITIES
ACTIVITIES
CHAPTER 6 Developing Relationships
The Development of Relationships
Becoming Friends
Before You Can Increase Your Friendship Quotient, You Must Admit that the Need Exists
Dating and Mate Selection
Online Dating Guidelines
What are the Most Important Qualities for a Happy Relationship
Becoming Lovers
Becoming Aware—Love Activity Journal
Myths About Love
A Triangular Model of Love
Becoming Committed
Becoming Aware - Types of Relationships
Marital Adjustment
Marital Conflict
Communication Problems
Family and Domestic Violence
Sexual Assault and the LGBTQ Community
Codependence
"The Green-Eyed Monster"
Growing Apart
CHAPTER REVIEW
TEST REVIEW QUESTIONS
KEY TERMS
REFLECTIONS: CRITICAL THINKING
TECHNOLOGY RESOURCES AND ACTIVITES
ACTIVITIES
CHAPTER 7 Resolving Interpersonal Conflict
What Is Conflict?
What Causes Conflict?
The Realities of Conflict
Positive Effects of Conflict
Negative Effects of Conflict
What Is Your Style of Conflict Management?
Behavior Styles
Mistakes to Avoid
Passive/Nonassertive Style of Conflict Resolution
Aggressive Style of Conflict Resolution
Assertive Style of Conflict Resolution
The Styles in Action
Learning to Be Assertive
Suggestions for Delivering an Assertive "I" Message
How to Say No without Feeling Guilty
Gender and Conflict Management
Culture and Conflict Management
Strategies for Handling Conflict
Mastering Interpersonal Conflict
Becoming Aware-Guidelines for "Getting to Yes"
When Conflicts Cannot Be Resolved
Conflict with Technology and the Digital Divide
Becoming Aware of Technology-Technoconferencing
CHAPTER REVIEW
LEARNING OUTCOME REVIEW
KEY TERMS
REFLECTIONS IN CRITICAL THINKING ACTIVITY
TECHNOLOGY RESOURCES AND ACTIVITIES
ACTIVITIES
CHAPTER 8 Managing Stress and Wellness
What Is Stress?
Types of Stress
Causes of Stress
The Effects of Stress
Physical Effects of Stress
Behavioral Effects of Stress
Personality Types
Negative and Defensive Coping and PTSD
Gender, Culture, and Stress
What Affects the Way Individuals Cope with Stress?
Dealing with Stressful Thoughts and Feelings
The Power of Self-Talk
What Is the Difference in Irrational and Rational Beliefs—Self-Talk?
Characteristics of Irrational and Rational Self-Talk
Disputing Irrational Beliefs
Tips for Managing Stress
Play
The Relaxation Response
When Life Gets Hard—Things You Need to Know!
Know the Risk Factors of Suicide
We Can All Take Action
We Believe Hope Can Happen
Know The Warning Signs
Becoming Aware of Technology
Technology and Wellness
Managing in the Age of the Smartphone
CHAPTER REVIEW
LEARNING OUTCOMES REVIEW
KEY TERMS
REFLECTIONS: CRITICAL THINKING ACTIVITY
TECHNOLOGY RESOURCES AND ACTIVITIES
ACTIVITIES
CHAPTER 9 Values, Ethics, and Choices
What Are Values?
Types of Value Systems
How Do Values Develop?
The Influence of Other Factors
What Are My Values?
Gender—The Space Between
Clarifying Your Personal Values
Value Indicators
Potential Remedies
Do We Learn to Value What We Suffer For?
Becoming Aware of Generations—Think About This
Making Ethical Choices
The Importance of Meaning and Purpose
Becoming Aware of Technology: How Technology Impacts Your Life
CHAPTER REVIEW
LEARNING OUTCOMES REVIEW
KEY TERMS
REFLECTIONS: CRITICAL THINKING ACTIVITY
TECHNOLOGY RESOURCES AND ACTIVITIES
ACTIVITIES
CHAPTER 10 Life Planning
Making Risky Choices
Choices Come With Risks
What Motivates You?
Maslow's Hierarchy of Needs
Plan Your Life Like You Would a Vacation
What Is a Goal?
5 Reasons Why Goal Setting Is Important
Setting Your Goals: What Do You Want?
Independence
Contributors to Success
The Time in Your Life
Culture and the Organization of Time
Creating Balance in Your Life
Effective Life Planning: It's All Up to You!
Happiness and Well-Being
Myths and Truths about Happiness
Who Is Happiest?
Ways to Be Happy
What Other People Think—Especially People You Don't Even Know—Does Not Matter. What Other People Want You to do Doesn't Matter
Becoming Aware of Technology Being Aware in Digital Life
Breathe Easy to Increase Happiness and Health
CHAPTER REVIEW
LEARNING OUTCOMES REVIEW
KEY TERMS
REFLECTIONS: CRITICAL THINKING ACTIVITY
TECHNOLOGY RESOURCES AND ACTIVITIES
ACTIVITIES
Glossary
References
Index
Print Package
$126.79
ISBN 9781792408922
Details Print Product w/KHPContent and KHQ 180 days