RETURN TO SEARCH RESULTS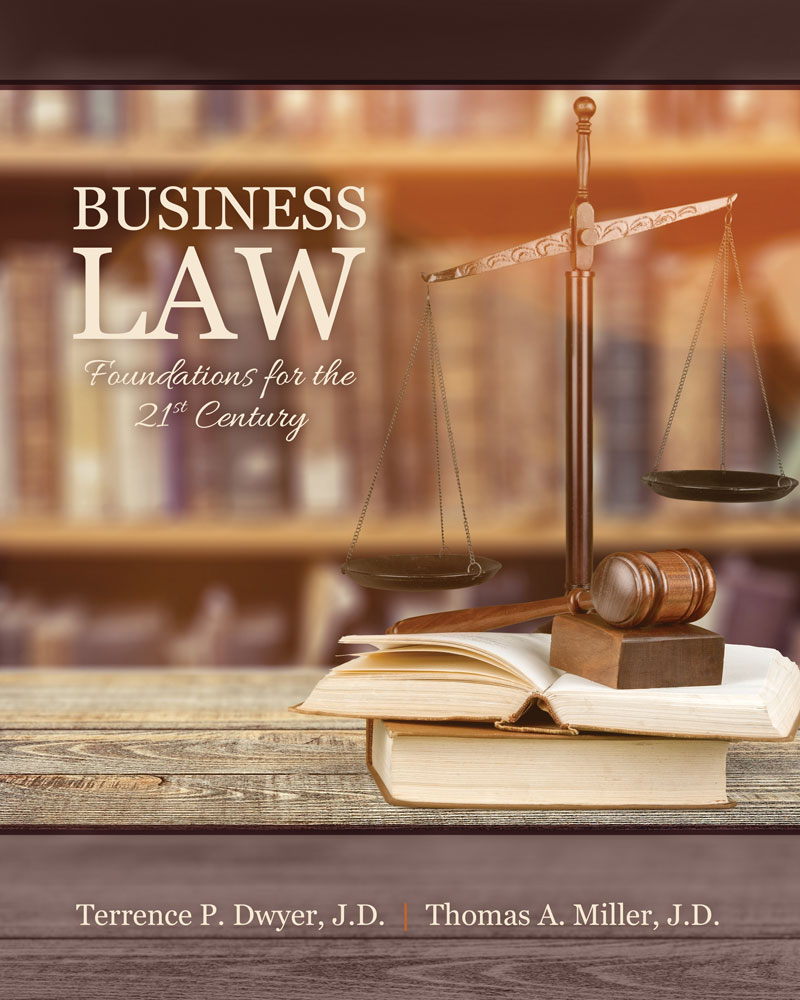 Details: Print Product |
"The life of the law has not been logic; it has been experience."
- Justice Oliver Wendell Holmes - The Common Law
Terrence Dwyer and Thomas Miller's Business Law: Foundations for the 21st Century has evolved from the authors' experience teaching the subject matter as well as their practical experience in many of these areas as legal practitioners.
Business Law: Foundations for the 21st Century makes the law accessible and relatable to students by emphasizing the presence of law in one's life. The law guides our relations—those personal, professional and international. It civilizes us and defines us as a society.
The publication is based on a common understanding of the core student learning outcomes that students of a typical business law course should achieve. Topics such as Business Law & The U.S. Constitution, Business Law & Ethics, Property Law, Torts, Employment Law, and more are provided to students who will carry on the noble aims of commerce and business transactions which are methods for improvement of all society.
Business Law: Foundations for the 21st Century:
Is relatable for your students. Some business law books are double and triple the length of this book, but provide absolutely nothing useful for students that this book doesn't provide.
Includes chapters dedicated to contracts, business entities, and common business transactions.
Is easy to adopt! Adopting instructors receive a 350 question test bank, PowerPoint© presentations for every chapter, and a document answering every single question presented. A professor could know almost nothing about business law and be able to teach with ease using this book.
Chapter 1 Introduction to the Legal System and Legal Reasoning
I. Business and the Law
II. Legal Citation and the Language of the Law
III. The Common Law
IV. Judicial Review and Interpretation of the Law
Case: Martin v. Hunter's Lessee
Case: Kimble v. Marvel Entertainment
V. Schools of Legal Philosophy
VI. Sources of Law
VII. Case Briefing and Legal Research
Chapter 2 The Courts, Legal Process and Procedure
I. A Brief History of Early American Law
II. The State and Federal Court Systems
III. Jurisdiction and Venue
Case: International Shoe Co. v. Washington
Case: Shaffer v. Heitner
Case: Erie Railroad Co. v. Tompkins
IV. Civil Procedure
A. Complaint and Answer
B. Pre-discovery Motions
C. Discovery and Pre-trial Proceedings
D. Trial
E. Appeal V. Alternative Dispute Resolution
Chapter 3 Business Law and the U.S. Constitution
I. The Separation of Powers
II. The Supremacy Clause and Federal Preemption
Case: McCulloch v. Maryland
III. The Commerce Clause and the Dormant Commerce Clause
Case: Wickard v. Filburn
Case: Gonzales v. Raich
Case: Kassel v. Consolidated Freightways Corp. of Delaware
IV. The Privileges and Immunities Clause
V. The Regulatory Power of Federal and State Government
Case: Penn Central Transportation Co. v. New York City
VI. Commercial Speech
Case: Central Hudson Gas & Electric Corp. v. Public Service Commission
Chapter 4 Business Law and Ethics
I. The Importance of Ethics in Business
Case: Lawson v. FMR, LLC
II. Moral Theory and Business Ethics
III. The Ethical Company and Codes of Conduct
IV. The Legal Implications of Ethical Standards in Business
Case: In re Massey Energy Co. Securities Litigation
Chapter 5 Administrative Law
I. Introduction to Administrative Law
A. Administrative Agencies and their Creation
B. The History of Administrative Law in the United States
C. The Nondelegation Doctrine
D. Creation of Federal Agencies
Case: Food and Drug Administration v. Brown and Williamson Tobacco Corp.
II. The Administrative Procedure Act
Case: Perez v. Mortgage Bankers Association
III. Agency Rulemaking Power
Case: Auer v. Robbins
IV. Agency Adjudication and Judicial Review
Case: Chevron U.S.A., Inc. v. National Resource Defense Council, Inc.
Chapter 6 Property Law
I. Overview of Property Law
II. The Rights of Possessors
Case: Shelley v. Kraemer
III. Personal Property
A. Bailments
Case: David v. Lose et al.
B. Lost or Mislaid Property
Case: O'Keeffe v. Snyder
C. Remedies for Wrongful Taking of Property
D. Gifts
E. Bona Fide Purchasers
IV. Real Property
A. Possessory Estates in Land
B. Landlord-Tenant Interests
Case: East Haven Assoc. v. Gurian
C. Future Interests
D. Nonpossessory Estates
E. Deeds & Mortgages
F. Adverse Possession
G. Zoning
Chapter 7 Contracts
I. Purpose and Theory of Contract Law
A. Sources of Contract Law
B. The Objective Theory of Contracts
Case: Lucy v. Zehmer
II. Requirements of a Contract
A. Offers
Case: Leonard v. Pepsico, Inc.
B. Acceptance C. Consideration
III. Contract Interpretation
Case: White City Shopping Ctr., LP v. PR Restaurants LLC
IV. Breach of Contract
A. Breach of Contract: Anticipatory Repudiation
B. Breach of Contract: Time to Perform
V. Defenses to Contract Enforcement
A. Defenses to Contract Enforcement: Capacity
B. Defenses to Contract Enforcement: Public Policy
C. Defenses to Contract Enforcement: Duress
D. Defenses to Contract Enforcement: Undue Influence
E. Defenses to Contract Enforcement: Mistake
F. Defenses to Contract Enforcement: Misrepresentation
G. Defenses to Contract Enforcement: Unconscionability
H. Defenses to Contract Enforcement: Statute of Frauds
VI. Contract Damages
Case: Hawkins v. McGee
A. Contract Damages: Actual Damages
B. Contract Damages: Incidental Damages
C. Contract Damages: Consequential Damages
D. Contract Damages: Specific Performance
E. Contract Damages: Expenses Saved
F. Contract Damages: Mitigation
G. Contract Damages: Liquidated Damages
H. Contract Damages: Formulas for Damages
I. Contract Damages: Quasi-Contract
J. Reliance Damages
K. Restitution Damages
Chapter 8 Agency
I. Introduction
II. Terminology and Governing Law
A. The Parties
B. Governing Law
C. Who Can be a Principal and an Agent
III. Creation of an Agency Relationship
Case: Harts v. Farmers Ins. Exchange
A. Actual Agency
B. Agency by Estoppel
IV. Types and Scope of Agency Authority
A. Actual Authority
B. Apparent Authority
C. Authority by Estoppel
Case: Hoddeson v. Koos Bros.
D. Inherent Authority
E. Authority by Ratification
V. Liability in Contract
A. Types of Principal
B. Liability of the Principal to the Third Party
C. Liability of the Agent to Third Party
D. Liability of Third Party to Principal
VI. Liability in Tort
A. Torts Authorized by the Principal
B. Torts a Principal Negligently Allows an Agent to Commit
C. Torts Committed Within the Scope of Employment
Case: O'Connor v. McDonald's Restaurants
VII. Duties Owed Between Agents and Principals
A. Agent's Duty of Care
B. Agent's Duty of Loyalty
C. Agent's Duty to Obey
D. Duties Owed by the Principal to the Agent
VIII. Termination of Agency Relationship
A. Termination by Voluntary Action
B. Termination by Operation of Law
Chapter 9 Torts
I. Introduction
II. Types of Torts
III. Sources of Law
IV. Intentional Torts
A. Assault and Battery
Case: Nelson v. Carroll
B. False Imprisonment
C. Intentional Infliction of Emotional Distress
D. Trespass to Chattel and Conversion
E. Trespass to Land
F. Defamation
G. Privacy Torts
H. Fraudulent Misrepresentation
I. Tortious Interference with Advantageous Economic Relationships
V. Negligence
A. Duty to Another
B. Breach of Duty
C. Causation
Case: Palsgraf v. The Long Island Railroad Company
D. Damages E. Defenses
Case: Sutton v. Eastern New York Youth Soccer Ass'n, Inc.
VI. Strict Liability
Chapter 10 Business Entities
I. Introduction
II. Partnerships
A. General Partnership
Case: Fenwick v. Unemployment Compensation Commission
B. Limited Liability Partnership
C. Limited Partnership
D. Limited Liability Limited Partnership
III. Corporations
A. Corporate Formation
Case: Robertson v. Levy
B. Control of a Corporation
C. Liability for the Corporation's Losses
D. Distribution of Corporate Profits
E. Corporate Taxation
F. Termination of a Corporation
IV. Limited Liability Company (LLC)
A. Formation
B. Management of an LLC
C. Losses in an LLC
Case: Irrigation Mart, Inc. v. Gray
D. Profits in an LLC
E. LLC Taxation
F. LLC Members' Duties
G. LLC Termination
V. Sole Proprietorships
A. Advantages of a Sole Proprietorship
B. Disadvantages of a Sole Proprietorship
VI. Tables Comparing Business Entities
Chapter 11 Secured Transactions
I. Introduction
A. Applicable Law
B. Parties to a Secured Transaction
II. Creation and Attachment of a Security Interest
III. Perfection of a Security Interest
A. Perfection of Tangible Collateral
Case: Bank v. Parish
B. Perfection of Intangible Collateral
C. Perfection of Proceeds from the Sale of Collateral
D. Perfection of Acquired Collateral and Future Advances
E. Perfection by Filing
Case: Receivables Purchasing Co., Inc. v. R & R Directional Drilling, LLC
IV. Priority of Security Interests
A. Perfected Secured Creditors vs. Unperfected Secured Creditors
B. Perfected Secured Creditors vs. Perfected Secured Creditors
C. Perfected Secured Creditors vs. Lien Creditors
D. Unperfected Secured Creditors vs. Unperfected Secured Creditors
E. Secured Creditors vs. Subsequent Buyers of Collateral
V. Remedies Case: Duke v. Garcia
A. Disposing of Repossessed Collateral
B. Distribution of Proceeds
C. Other Judicial Remedies
Chapter 12 Negotiable Instruments
I. Introduction
II. Important Terms and Concepts
A. Types of Orders to Pay
B. Types of Promises to Pay
III. Requirements for Negotiability
A. Writing Requirement
B. Signature Requirement
C. Unconditional Promise to Pay
D. Fixed Amount of Money
E. Payable on Demand or at a Specific Time
F. Payable to the Order or Bearer
IV. How to Negotiate an Instrument
Case: Chung v. New York Racing Association
A. Bearer Instruments
B. Order Instruments
C. Types of Indorsement
D. Misspelled Indorsements
E. Instruments Made Out to Multiple Parties
F. Instruments Payable to Legal Entities
V. Holders vs. Holders in Due Course
A. How to Become a Holder in Due Course
B. Being a Holder
C. Acquiring for Value
D. Taking in Good Faith
E. Taking without Notice
F. Irregular and Incomplete Instruments
Case: Triffin v. Somerset Valley Bank
G. Situations in Which There Can be no Holder in Due Course
H. The Shelter Principle
VI. Defenses to Enforcement
A. Universal Defenses
B. Personal Defenses
VII. Liability
A. Signature Liability
Case: Triffin v. Pomerantz Staffing Services, LLC
B. Warranty Liability
VIII. Discharge
Chapter 13 Employment Law
I. History and Overview of Employment Law
II. The Employer–Employee Relationship
A. Employee vs. Independent Contractor
Case: Nationwide Mutual Ins. Co. v. Darden
B. At-will Employment vs. Just Cause Employment
C. Unions & Collective Bargaining Activities in the Workplace
III. Employee Workplace Rights
Case: Bright v. Houston Northwest Medical Center
IV. Discrimination in the Workplace
A. Discriminatory Practices
Case: Griggs v. Duke Power Co.
B. Discrimination Remedies
Chapter 14 Bankruptcy
I. Introduction
II. History and Governing Law
III. Bankruptcy Terminology and Parties
A. Parties to a Bankruptcy
B. Basic Mechanics of a Bankruptcy
IV. Liquidation Bankruptcies ("Chapter 7")
A. Voluntary vs. Involuntary Bankruptcy
B. Voluntarily Filing a Chapter 7 Bankruptcy
Case: In re Hardigan
C. Automatic Stay
D. The Bankruptcy Estate
Case: In re Neidorf
Case: In re Krause
E. The Trustee
F. Priority of Creditors
G. Discharge of Debt
Case: In re Savage
V. Chapter 11 Bankruptcies
A. Who Can File
B. What Chapter 7 and Chapter 11 Have in Common
C. Differences between Chapter 7 and Chapter 11
D. Creditor's Committee E. Reorganization Plan
VI. Chapter 13 Bankruptcies A. Who May File
B. What Chapters 7, 11, and 13 Have in Common
C. Differences between Chapter 11 and Chapter 13 Repayment Plans
D. Chapter 13 Bankruptcy Estate E. Chapter 13 Discharge
Glossary
Index
Print
$121.28
ISBN 9781524960810
Details Print Product