RETURN TO SEARCH RESULTS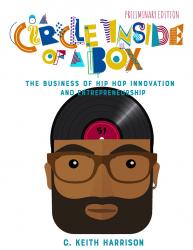 Circle Inside of a Box: The Business of Hip Hop Innovation and Entrepreneurship
Author(s): C Keith Harrison
Edition: 1
Copyright: 2022


Details: Ebook w/KHQ | 180 days |
On August 11, 1973, rap music and HipHop culture in the modern era began at a house party in the Bronx, NY. DJ Cool Herc and his sister threw this urban jam at 1520 Sedwick Avenue. The rest is history--business history. From film, sport, higher education, and commerce-- adding Hip Hop to the mix often increases sales, engages fans and moves the needle in endless contexts.
In Circle inside of a Box, UCF Business of Sport Professor and 2020-21 Nasir Jones Hip Hop Fellow at the Hutchins Center for African and African American Research at Harvard University brings together the most comprehensive edited volume on intellectual thought in terms of the business of Hip Hop innovation and entrepreneurship.
The book is useful to all undergraduate and MBA students as well as many other academic disciplines and the public lay reader. Circle Inside a Box examines how the cultural capital of Hip Hop has evolved as a unique art form on a fluid continuum; that climbed America and the globe from underground to marginalized to crossover to mainstream to commercialized to who could dare predict what's next?
Chapter 1 The Global Hip-Hop Diaspora: Understanding the Culture
Chapter 2 Makin' It, by Keeping It Real
Chapter 3 A Preliminary Review of Competitive Reactions in the Hip-Hop Music Industry
Chapter 4 'I Love the Dough': Rap Lyrics As A Minor Economic Literature
Chapter 5 "I Don't Like to Dream About Getting Paid"
Chapter 6 New School Brand Creation and Creativity - Lessons from Hip Hop and the Global Branded Generation
Chapter 7 From the Artist to Entrepreneur
Chapter 8 'Cheaper than a CD, Plus We Really Mean It': Bay Area Underground Hip Hop Tapes As Subcultural Artefacts
Chapter 9 Business History of Starter Jackets
Chapter 10 LL Cool J's Rock the Bells: The Business of Nostalgia
Chapter 11 Influencers with Hip Hop and Sport: Drake/Raptors, Chance the Rapper/White Sox, and Big Sean/Pistons
Ebook Package
$78.75
ISBN 9781792472749
Details Ebook w/KHQ 180 days