RETURN TO SEARCH RESULTS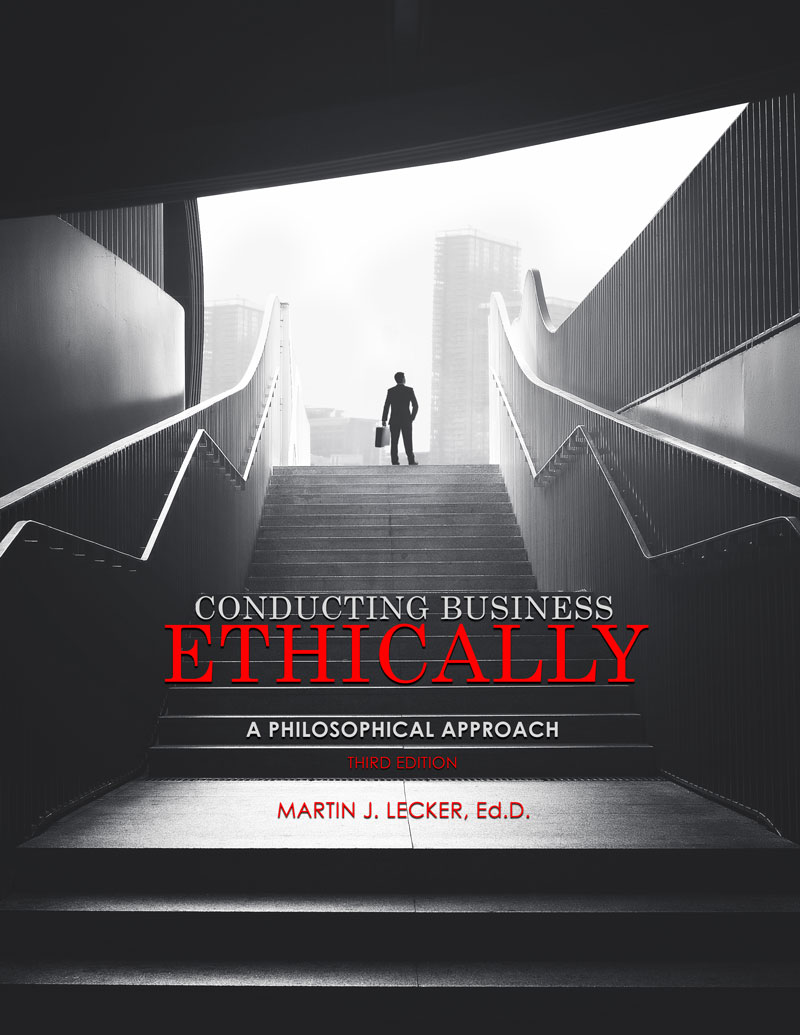 Conducting Business Ethically: A Philosophical Approach
Author(s): Martin J Lecker
Edition: 3
Copyright: 2019
Pages: 430
New Third Edition Now Available!
Conducting Business Ethically: A Philosophical Approach provides a creative approach by applying philosophy from classical Greek and Eastern works, including material from contemporary Western thinkers, as part of an ethical decision making process for business students or those working in the business world.
Conducting Business Ethically introduces some of the classical philosophers and teaches students how to apply their decision making when faced with ethical dilemmas of their own in the business world. The textbook should be considered a "jumping off " point for more experienced instructors who may pick and choose the chapters they want to cover, while less experienced instructors and/or those teaching the course for the first time, may want to teach all the chapters (or as many as possible), and use the text for the semester's course content.

Now available in a convenient and affordable eBook format, Conducting Business Ethically: A Phillosophic Approach features:
updated cases.
a running glossary as well as an all-inclusive glossary at the end of the text.
access to a website with PowerPoint® slides as well as other instructional features to adopters.
integrates an epilogue on corporate social responsibility which gives another dimension to our future business executives and entrepreneurs.
CHAPTER ONE
LEARNING TO THINK LIKE A PHILOSOPHER
­ The Shallow Pond
­ The Envelope
Ethics and Values
­ The Alligator River Story
Moral Development
Lawrence Kohlberg
Carol Gilligan
Comparing the Kohlberg and Gilligan Model
­ The Moral Compass
Philosophy and Its Contemporary Branches
­ The First Philosophers
­ Tales of Miletus
Anaximander
Heraclitus
Arignote
Aesara
Perictione
Summary
Key Terms
Chapter Review Questions
Case Review Questions
Endnotes
CHAPTER TWO
CLASSICAL PHILOSOPHERS
­ The Sophists
Protagoras
Callicles
­ Thrasymachus
Socrates
Plato
Aristotle
St. Augustine
Major Hedonistic Philosophers
Aristippus
Epicurus
S.E.A. Method: Supporting Ethical Decision Making
­ The Shallow Pond
Summary
Key Terms
Chapter Review Questions
Case for Discussion
Case 2.1 Financial Security or Whistleblower?
Endnotes
CHAPTER THREE
EASTERN-WORLD SAGES
Lao Tzu
Confucius
Siddhartha Gautama
Bhagavad Gita
Sun-tzu
Mencius
Summary
Key Terms
Chapter Review Questions
Case for Discussion
Case 3.1 Higher Wages for Employees or Company Profits?
Endnotes
CHAPTER FOUR
SOCIAL AND POLITICAL PHILOSOPHERS
­ Thomas Hobbes
­ The Consequentialist Utilitarians
Jeremy Bentham
John Stuart Mill
­ The Non-Consequentialist Deontologists
Immanuel Kant
William David Ross
Political Philosophers
John Locke
Adam Smith
Karl Marx
Summary
Key Terms
Chapter Review Questions
Case for Discussion
Case 4.1 Hackers for Hire
Endnotes
CHAPTER FIVE
CONTEMPORARY PHILOSOPHICAL THINKERS
Ayn Rand
Milton Friedman
John Rawls
Sissela Bok
Robert Nozick
Robert Solomon
Peter Singer
Martha Nussbaum
Michael Sandel
Summary
Key Terms
Chapter Review Questions
Case for Discussion
Case 5.1 Should Private Businesses Pay for the Homeless?
Endnotes
CHAPTER SIX
CONTEMPORARY CULTURALLY DIVERSE PHILOSOPHERS
Chung-ying Cheng
Ernest Sosa
Azizah Y. al-Hibri 177
Anne Schulherr Waters
Vandana Shiva
Cornel West
Kwame Anthony Appiah
Summary
Key Terms
Chapter Review Questions
Case for Discussion
Case 6.1 Free Bottled Water, or Not?
Endnotes
CHAPTER SEVEN
THE MODIFIED VELASQUEZ MODEL OF DECISION MAKING
Introduction: ­ The Ford Pinto Case
Traditional Business Ethical Approaches
­ The Utilitarian Approach
­ The Rights Approach
­ The Fairness or Justice Approach
­ The Common Goods Approach
­ The Virtue Approach
­The Seven-Step Approach to Moral Decision Making
Step One: What Are the Facts?
Step Two: What Are the Ethical Issues?
Step ­ Three: What Are Some Alternatives?
Step Four: Who Are Some of the Stakeholders?
Step Five: What Is the Most Ethical Among All of Your Alternatives?
Step Six: What Are the Tradeoffs for Selecting the Most Ethical Alternative?
Step Seven: What Action Will You Take?
Conclusion
Summary
Key Terms
Chapter Review Questions
Case for Discussion
Case 7.1 Promotion or Termination?
Endnotes
CHAPTER EIGHT
ETHICAL WORKPLACE ISSUES
Job Discrimination in the Workplace
Hiring Policies
Terminations
Promotions
Affirmative Action
Sexual Harassment
Comparable Worth
Americans with Disabilities Act
Privacy Issues in the Workplace
Safety and Health Issues
Abuses by Employees
Trade Secrets
Misuse of Funds
Insider Trading
Executive Compensation
Bribery
Abuses by Employers
Outsourcing
Plant Closings
Independent Contractors
Workplace Rankism
Nepotism
Unions
Whistleblowing
Summary
Key Terms
Chapter Review Questions
Case for Discussion
Case 8.1 Should Babies Be Our Business?
Endnotes
CHAPTER NINE
MARKETPLACE ETHICS
Corporations
Deceptive Financial Practices
Churning
Ponzi Scheme
Subprime Mortgage Rate Loans
Laws Governing the Securities Industry
Deceptive Marketing Practices
Price Fixing
Price Gouging
Bait and Switch Advertising
False Advertising
Product Safety Concerns
Pharmaceutical Industry
Automotive Safety Issues
Food Safety
Racial Retail Profiling
Targeting Minorities in Marketing
Planned Obsolescence
Summary
Key Terms
Chapter Review Questions
Case for Discussion
Case 9.1 Marketing E-Cigarettes or Not?
Endnotes
CHAPTER TEN
ENVIRONMENTAL ETHICS
Pollution Control Issues
Air Pollution
Water Pollution
Land Pollution
Environmental Classism/Racism
Animal Rights
Cruelty to Animals
Animals As Part of Our Food Chain
Poaching
Conservation of Resources
Energy Renewal and Possible Pollution Reduction Solutions
Summary
Key Terms
Chapter Review Questions
Case for Discussion
Case 10.1 Legoland: Profits or Planet?
Endnotes
CHAPTER ELEVEN
GLOBAL MARKETPLACE ETHICS
Child Labor and Sweatshops
Child Labor
Sweatshops
Preventing Child Labor and Sweatshops
International Bribery
Foreign Corrupt Practices Act of 1977
Protectionism
Tariffs
Subsidies
Embargoes
Trade Quotas
Restrictive Standards
Dumping
Trading Blocs
Protectionism or Free Trade?
Unethical International Practices
Final ­Thoughts
Summary
Key Terms
Chapter Review Questions
Case for Discussion
Case 11.1 Child Labor: Opportunity or Exploitation?
Endnotes
EPILOGUE: A CALL FOR CORPORATE SOCIAL RESPONSIBILITY
Glossary
Index
Ebook
$57.75
ISBN 9781524966232
Details Electronic Delivery EBOOK 180 days