RETURN TO SEARCH RESULTS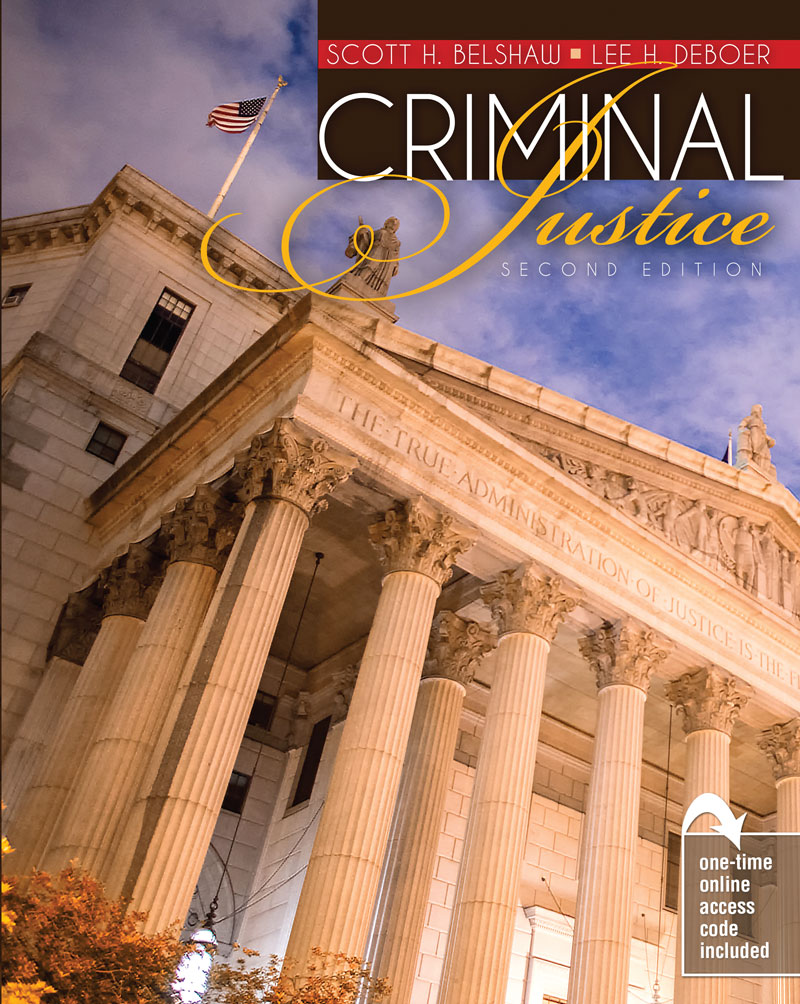 Details: Print Prod w/KHPContent Code | 180 days |
Criminal Justice introduces the many facets of the U.S. criminal justice system in a logical, readily understandable manner. The reader will understand the complexity of the criminal justice system from the start of the process to the end, recognize controversies, and examine the breadth of the challenges faced by justice professionals.
This introduction to Criminal Justice goes beyond standard criminal justice publications by including Career Connections features that profile specific professions, Ethics and Professionalism vignettes that highlight real-life or hypothetical ethical dilemmas, Critical Thinking questions that invite the reader to discuss his/her thoughts and opinions, and Exhibits which are documents and legislation related to criminal justice topics.
Written by a collection of experts in each of the fields of criminal justice, the 2nd edition of Criminal Justice:
features a new chapter on Domestic and International Terrorism.
develops critical thinking skills by presenting real world examples that highlight difficult choices faced by our society, the justice system, and those attempting to develop a clear and unbiased policy.
reduces the reader's bias on crime control by encouraging self reflection and encourages him/her to adopt alternative points of view and understand criminal justice issues from a variety of perspectives.
provides a balanced, full-scale perspective of the criminal justice system, supplemented by scholarly support from criminal justice experts, researchers, and theorists.
encourages robust, well-rounded discussions by including inherently controversial and political topics.
features 13 comprehensive chapters divided into 5 overarching sections: Overview of the Criminal Justice System, Law Enforcement in the 21st Century, The American Court System, The Consequences of Crime: Corrections, and Special Topics in Criminal Justice.
integrates online content within the textbook framework in a chapter-by-chapter format. Online learning material includes access to media links, interactive activities, PowerPoint presentations, flash cards, and test bank.
is perfect for your introduction to criminal justice course!
Section 1: Overview of the Criminal Justice System 
Chapter 1 Introduction to Criminal Justice 
Chapter 2 Theories of Crime and Behavior 
Section 2: Law Enforcement in the 21st Century 
Chapter 3 Policing in America 
Chapter 4 Policing: Roles, Functions, and Challenges  
Section 3: The American Court System 
Chapter 5 The Court System in the United States 
Chapter 6 Sentencing and Judgment 
Section 4: The Consequences of Crime: Corrections 
Chapter 7 Prisons and Jails 
Chapter 8 Prison Life 
Chapter 9 Special Issues in Corrections 
Section 5: Special Topics in Criminal Justice 
Chapter 10 Juvenile Justice 
Chapter 11 Victimology and Victims' Rights 
Chapter 12 Domestic and International Terrorism
Chapter 13 The Future of Criminal Justice
Print Package
$159.86
ISBN 9781524945381
Details Print Prod w/KHPContent Code 180 days