RETURN TO SEARCH RESULTS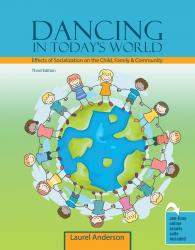 Dancing in Today's World: Effects of Socialization on the Child, Family and Community
Author(s): Laurel Anderson
Edition: 3
Copyright: 2020




Details: Print Prod w/KHPContent Code | 180 days |
Dancing in Today's World: Effects of Socialization on the Child, Family, and Community leads readers on a journey that examines the effects of socialization. Each chapter is filled with opportunities to write reflective thoughts to better understand the material and apply it to the reader's own life and profession.
In addition, it encourages readers to look at their world from a variety of vantage points. The use of Urie Bronfenbrenner's Ecological Model permeates this text. Readers will have the opportunity to look at the myriad influences on a child and the overall socialization outcomes from these influences. D
Readers are encouraged to look around during their journey and to use a cautious and critical eye when observing. Readers will be dancing throughout their voyage to see the world of relationships through a dance. Although the rhythm of the music may be offbeat or the steps of the dance may be disharmonious, there is still a dance between the various facets in our lives and us.
The text is designed to "begin with the end in mind." So, ideally, instructors will align their syllabi to begin the session with Chapter 12. This sets a foundation for service learning and community action at the beginning of the session. The text is designed to coincide with the curriculum and course outline for the California Community College Child Development course entitled, "Child, Family, and Community." Therefore, the text can be used in education, sociology, and child development courses.
CHAPTER 1 : DANCING WITH THE CHILD
Introduction
Purpose
Objectives
Terms
Scenario: Lily
Brief History of Childhood
Reflection
Theories of Childhood
Nurture
Ecological Systems Theory: Bronfenbrenner
Microsystem
Reflection
Mesosystem
Reflection
Exosystem
Reflection
Macrosystem
Reflection
Chronosystem
Reflection
Psychosocial Theory of Development: Erikson
Basic Trust versus Basic Mistrust
Reflection
Autonomy versus Shame and Doubt
Initiative versus Guilt
Industry versus Inferiority
Identity versus Role Confusion
Reflection
Hierarchy of Needs: Maslow
Reflection
Nature
Personality: Keirsey and Bates
Please Understand Me
Introversion and Extraversion
Intuition and Sensation
Thinking and Feeling
Perceiving and Judging
Reflection
Temperament: Thomas and Chess and Kurcinka
Temperament: Thomas and Chess
Spirited Child
Reflection
Chapter Reflection
Reflection
Terms and Definitions
Books for Extended Learning
Websites for Additional Information
References
CHAPTER 2 : DANCING WITH THE FAMILY
Introduction
Purpose
Objectives
Terms
Scenario: Nelson Family
What Is a Family?
Reflection
Family Forms and Statistics
Family Forms
Statistics on Families: Composition
Statistics on Families: Grandparents as Parents
Statistics on Families: Same-Sex Parents
Theories of Family
Family Ecology Perspective
Reflection
Structural/Functionalism Perspective
Reflection
Family Systems Perspective
Reflection
Trends: Impacts and Outcomes
Divorce
Impact: History
Impact: Law
Outcome: Statistics
Outcome: Socioeconomics
Outcomes: Authority, Role Modeling, and Emotional Stability
Single-Parent Custody
Impact: Divorce
Impact: Births Outside of Marriage
Outcomes: Single-Parent Custody and Child Well-Being
Reflection
Dual Earners
Impact: History
Impact: Parental Employment
Outcomes: Quality of Care and Child Well-Being
Reflection
Grandparents as Parents
Impacts: Trends
Outcomes: Grandparents as Parents and Well-Being
Same-Sex Parents
Impact: Attitudes and Laws
Outcomes: Same-Sex Parenting and Child Well-Being
Chapter Reflection
Reflection
Terms and Definitions
Books for Extended Learning
References
CHAPTER 3 : DANCING WITH PARENTING
Introduction
Purpose
Objectives
Terms
History of Parenting
Scenario: Eric and Leticia
Parenting Styles
Permissive
Authoritarian
Authoritative/Democratic
Disengaged
Reflection
Birth Order and Parenting
Reflection
Attachment
Phases of Attachment
Phase : Preattachment
Phase : Attachment-in-Making
Phase : Clear Cut Attachment
Phase : Formation of Reciprocal Relationships
Attachment Patterns
Secure Attachment
Anxious Resistant Attachment
Anxious Avoidant Attachment
Disorganized (Reactive Attachment
Obstacles to Attachment
Unwanted or Complicated Pregnancy
Adoption or Foster Care
Childhood Illness or Developmental Differences
Temperament
Lack of Understanding
Scenario: Eric, Leticia, and Jillian
Reflection
Chapter Reflection
Terms and Definitions
Books for Extended Learning
Websites for Additional Information
References
CHAPTER 4 : DANCING WITH CHILD CARE AND CAREGIVING
Introduction
Purpose
Objectives
Terms
Childcare
Scenario: Balan Family
History of Childcare
Reflection
Quality of Care
Regulable Features
Size
Ratio
Caregiver Education
Process Features
Positive Caregiving
Quantity
Types of Childcare
Childcare Centers
Childcare Home/Family Childcare
In-Home Care
Reflection
Childcare – Child
Child's Cognitive Development
Childcare – Peers
Child's Social Development
Childcare – Family
Child's Emotional/Psychological Development
Benefits and Costs
Scenario: Rachel
Reflection
Chapter Reflection
Terms and Definitions
Books for Extended Learning
Websites for Additional Information
References
CHAPTER 5: DANCING WITH SCHOOLS
Introduction
Purpose
Objectives
Terms
Schools
Laws
Preschools
Head Start
Waldorf
High Scope
Reggio Emilia
Montessori
Play-Based Programs
Reflection
Grade and Secondary Schools
Public
Charter Schools
Private
Online Schools
Home-Based Schools
Reflection
Scenario: Lisa and Paul
Macrosystem: Schools and Laws: Influences and Outcomes
Corporal Punishment
Gender and Sex
Language
Disability
Class Size
Reflection
Scenario: Sari
Chronosystem: Impacts on Schools
School Violence
What Can Be Done to Prevent School Violence?
Reflection
Technology
Reflection
Chapter Reflection
Terms and Definitions
Books for Extended Learning
Websites for Additional Learning
References
CHAPTER 6 : DANCING WITH TEACHERS AND TEACHING
Introduction
Purpose
Objectives
Terms
Teachers Scenario: Oaks and Lacey
Teacher as Role Model
Reflection
Learner
Learning Styles
Reflection
Leader
Teaching Styles
Disengaged
Authoritarian
Permissive
Authoritative/Democratic
Reflection
Teacher as Guide
Classroom Management
Teacher Expectations
Reflection
Gender Equity
Scenario: Lily
Teacher as Researcher
Philosophies of Teaching and Learning
Maturation Theory
Behavioral Theory
Social Learning Theory
Constructivist Theory
Cognitive Developmental Constructivist Theory
Sociocultural Constructivist Theory
Reflection
Teacher as Collaborator
No Child Left Behind
Reflection
Teacher as Communicator
Teacher Student Interaction
Reflection
Teacher Parent Interaction
Reflection
Chapter Reflection
Terms and Definitions
Books for Extended Learning
Websites for Additional Information
References
CHAPTER 7: DANCING WITH PEERS
Introduction
Purpose
Objectives
Terms
History of Family and Peer Relationships
Historical Theorists
Microsystem: Peers
Mesosystem: Family and Peers
Attachment
Parenting Styles
Reflection
Mesosystem: Peers and Schools
Friendships and Childcare
Reflection
Scenario: Andy Williams
Bullying
Bully Characteristics
Victim Characteristics
Prevention and Education
Violence Prevention Works: Olweus Bullying
Prevention/Hazelden
Stand for the Silent
Bully-Proofing Your School
Stop Bullying
Steps to Respect
Reflection
Scenario: Terrance
Mesosystem: Peers and Community
Gangs
History
Current Statistics
Characteristics of Gang Members
Ecological Factors
Gang Culture
Prevention and Programs
Reflection
Macrosystem: Peers and Culture
Peers and Gender
Gender
Gender Identity
Scenario: Rhonda/Ron
Gender Identity Dysphoria
Reflection
Chapter Reflection
Terms and Definitions
Books for Extended Learning
Websites for Additional Information
References
CHAPTER 8: DANCING WITH VIOLENCE
Introduction
Purpose
Objectives
Terms
Defining Abuse and Violence
Myth or Fact?
Reflection
Child Abuse
What is Child Abuse and Neglect?
Physical Abuse
Emotional Abuse
Sexual Abuse
Neglect
Scenario: Timmy
Reflection
Statistics
Fatality Statistics
Nonfatal Statistics
What are the Impacts?
Impact: Batterer as Parent
Inconsistency, Irresponsibility, Neglect, and Disrespect
What are the Outcomes?
Physical Health
Psychological Consequences
Behavioral Consequences
Scenario: Kathy
Reflection
Domestic Violence
What is Domestic Violence?
Statistics
What are the Impacts?
What are the Outcomes?
Teen Battering
What is Teen Battering?
Statistics
What are the Impacts?
What are the Outcomes?
Victims/Survivors
Perpetrators
Education
Mandatory Reporting
Scenario: Matthew
Reflection
Chapter Reflection
Terms and Definitions
Books for Extended Learning
Websites for Additional Information
References
CHAPTER 9 : DANCING WITH MEDIA
Introduction
Purpose
Objectives
Terms
Scenario: Sharon and Janessa
Media
Chronosystem Impact
Media: Screen
Cognitive Development
Brain Development
Infant Television Viewing
Academics
Reflection
Advertisements
Reality and Fantasy
Social-Emotional Development
Food Preferences and Eating Habits
Reflection |
Gender and Sex
Reflection
Violence
Reflection
Media: Print
Cognitive Development
Social and Emotional Development
Reflection
Media: Music
Scenario: Amelia
Developmental Responses to Music
Reflection
Scenario: Sharon and Janessa (continued)
Reflection
Media: Technology
Computer Software
Video Games
Internet Use
Reflection
Social Networking
Reflection
Cell Phones and Texting
Scenario: A US Family
Reflection
Prevention and Protection
Chapter Reflection
Terms and Definitions
Books for Extended Learning
Websites for Additional Information
References
CHAPTER 10: DANCING WITH THE COMMUNITY
Introduction
Purpose
Objectives
Terms
What Is a Community?
Regional Community
Reflection
Political Community
Reflection
Religious Community
Reflection
Cultural Community
Reflection
Social Community
Reflection
Scenario: Tornado, March
Reflection
What are the Functions of the Community?
Five Major Functions
What are the Community's Influences on the Child's Socialization?
Rural versus Urban/Small versus Large Density
Social Contact and Patterns of Interaction
Reflection
Reported Violence
Reflection
Noise
Reflection
Community Arrangement
Reflection
Employment Opportunities
Reflection
Shared Norms
Reflection
Community Services
Preventative Services
Supportive Services
Rehabilitative Services
Reflection
Chapter Reflection
Terms and Definitions
Books for Extended Learning
Websites for Additional Information
References
CHAPTER 11: DANCING WITH ADVOCACY AND BEING BOLD!
Introduction
Purpose
Objectives
Terms
Scenario: Hailey
Reflection
Advocacy
What Is an Advocate? What Is Advocacy?
Personal or Private Advocacy
Step 1 Identify the Need
Reflection
Step 2 Assess the Environment
Reflection
Step 3 Develop a Plan
Reflection
Step 4 Get Feedback
Reflection
Step 5 Review and Evaluate
Reflection
Hailey's Scenario, Continued
Public Advocacy
What is Public Advocacy?
Step 6 Make a Personal Commitment
Step 7 Keep Informed
Step 8 Know the Process
Step 9 Express Your Views
Step 10 Let Others Know
Step 11 Be Visible
Step 12 Follow the Process
Reflection
Scenario: Southern California Community
Consensus Organizing/Activism
What is Consensus Organizing?
Steps in Consensus Organizing
Step 1 Get to Know Community
Step 2 Unite Interested Parties
Step 3 Disseminate Information
Step 4 Create Partnerships
Reflection
Scenario: Southern California Community Continued
Reflection
Advocacy Groups
Children's Defense Fund
Child Welfare League of America
Alliance for Children's Rights
Court Appointed Special Advocate
Scenario: Interview of a CASA
Center for Community Solutions
Scenario: CCS Sexual Assault Response Team Advocate
Chapter Reflection
Terms and Definitions
Books for Extended Learning
Websites for Additional Information
References
CHAPTER 12: DANCING IN OUR WORLD
Introduction
Purpose
Objectives
Terms
Scenario: Small Town in Iowa
Community Involvement
What does "Community Involvement" Mean?
Public Charities
Collaboration Between Businesses and Communities
Volunteerism
Reflection
Service-Learning
Scenario: Cassandra
Reflection
Service-Learning in Practice
Learning Objectives
Quality Programs
Civic Engagement and Community Service
Learning Strategies and Assessment Methods
Structured Group Reflections
Experiential Learning Cycle in Service Learning
Reflections
Portfolios and Presentations
Interviews and Reflections
Questions and Extensions for Service Learning Reflection
Developing an Understanding of Social Problems
Analysis Following Service Learning
Chapter Reflection
Terms and Definitions
Books for Extended Learning
Websites for Additional Information
References
Print Package
$81.04
ISBN 9781524988722
Details Print Prod w/KHPContent Code 180 days