RETURN TO SEARCH RESULTS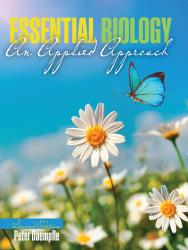 Essential Biology: An Applied Approach
Author(s): Peter Daempfle
Edition: 2
Copyright: 2021
Pages: 890




Details: Print Product |
Essential Biology: An Applied Approach is a textbook intended for introductory college biology courses. It uses a society-based approach to guide readers to appreciate biology as it applies to current and historic cultural issues. Essential Biology serves the traditional undergraduate biology curriculum, with a sequence and depth of content valuable for the introductory student. Its unique story- and society-based approach brings forth collaborative discussion and improves student motivation to read and study further into the material.
Essential Biology: An Applied Approach:
shows the reader how to think like a scientist – provocative examples guide the reader to consider facts more critically.
seeks a new way of approaching biology by incorporating stories, social themes, and integrating non-science areas to augment student interest.
presents an applied approach to how each field of biology is developed and fits within larger areas of study.
contains unique characteristics including Mnemonics and Learning Strategies, biology case studies, "Check In" sections, special textboxes, and more!
can be used in traditional, online-only, and hybrid courses.
includes extensive instructor resources: PowerPoint slides, test bank, discussion questions, and more!
Click Here to learn more about Essential Biology: An Applied Approach from author Peter Daempfle
CHAPTER 1 Welcome to Biology!
UNIT 1 That's Life
CHAPTER 2 Chemistry Comes Alive
CHAPTER 3 The Cell As a City
CHAPTER 4 Energy Drives Life
UNIT 2 Is it all in the Genes?
CHAPTER 5 Molecular Genetics
CHAPTER 6 Inheriting Genes
UNIT 3 We Are Not Alone!
CHAPTER 7 Evolution Gives our Biodiversity
CHAPTER 8 Before Plants and Animals: Viruses, Bacteria, Protists, and Fungi
CHAPTER 9 Getting to Land: The Incredible Plants
CHAPTER 10 Moving on Land and in the Sea: Animal Diversity
UNIT 4 Physiology: The Dynamic Human Body
CHAPTER 11 Human Organization
CHAPTER 12 Nutrition and Digestion
CHAPTER 13 The Heart-Lung Machine: Circulation and Respiration
CHAPTER 14 Regulation: Nervous, Musculoskeletal, and Endocrine Systems
CHAPTER 15 A War against the Enemy – Skin's Defenses and the Immune Attack
CHAPTER 16 Urogenital Functions in Maintaining Continuity
UNIT 5 A Small Hole Sinks a Big Ship – Our Fragile Ecosystem
CHAPTER 17 Population Dynamics and Communities that Form
CHAPTER 18 Ecosystems and Biomes
CHAPTER 19 Biosphere: Life Links to the Earth
UNIT 6 Biology and Society
CHAPTER 20 The Evolution of Social Behavior: Sociobiology
"Essential Biology is designed to interest students with references and stories to real-life situations. It is easy to read and engaging."
-Richard Gardner, Southern Virginia University
Print
$185.22
ISBN 9781792455926
Details Print Product