RETURN TO SEARCH RESULTS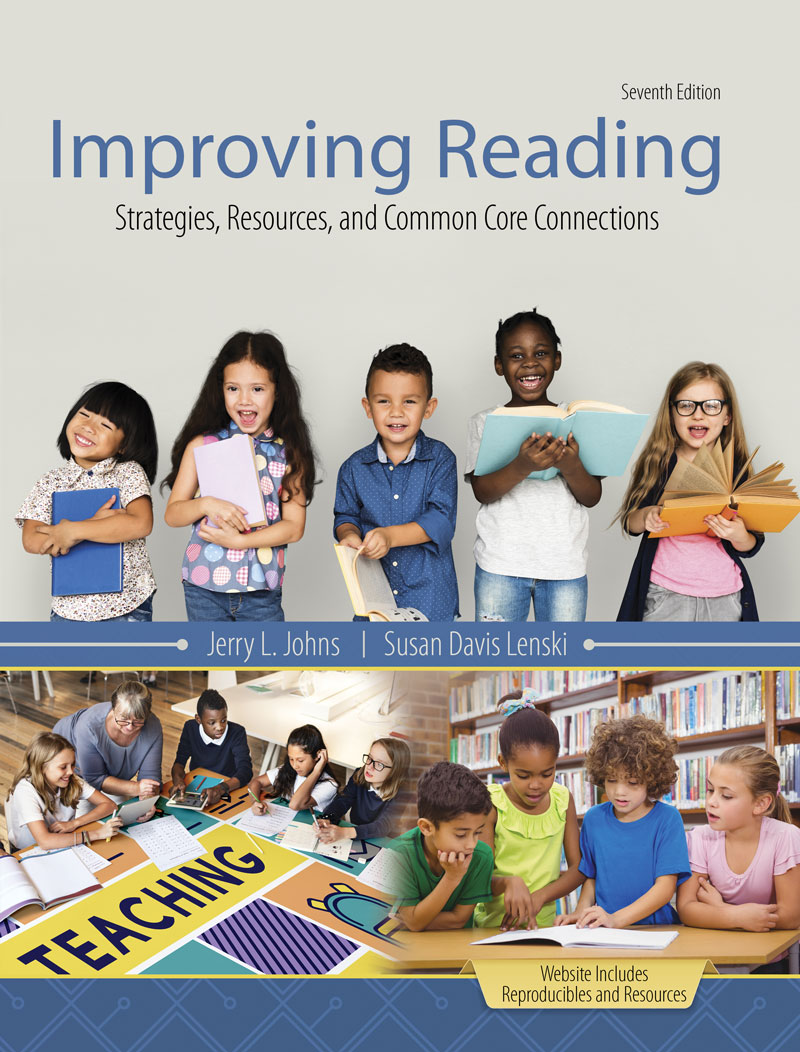 Improving Reading: Strategies, Resources, and Common Core Connections
Author(s): Jerry Johns, Susan Lenski
Edition: 7
Copyright: 2019
Pages: 542






Details: Print Prod w/Ancillary Site | 180 days |
Improving Reading is perhaps the most comprehensive, useful reading resource available. It is full of ideas for professionals who work with whole classes, individual students, or groups of students. The eight chapters correlate with the main components of a comprehensive reading curriculum and the Common Core. Sections within each chapter provide teaching interventions, strategies, activities, and resources to help students overcome specific reading problems or to achieve the Common Core standards.
Teachers can use Improving Reading as they plan instruction for the Common Core and interventions for struggling readers using the Response to Intervention (RTI) model.
Improving Reading and the Common Core includes:
print concepts and phonological awareness
phonics and word recognition
fluency
vocabulary acquisition and use
basic comprehension skills
more specialized comprehension skills and strategies needed for literary (narrative) and informational (expository) texts
Improving Reading features:
a quick reference guide inside the front cover that lists 71 student behaviors in reading.
over 200 strategies and interventions, linked to the 71 student behaviors that can be used to help students become better readers.
more than 400 practice and reinforcement activities that expand the strategies and interventions to help enhance student learning.
specific references in each chapter to the Common Core anchor standards and Reading Foundational Skills.
references to reproducible student pages and teacher resources that can be printed through a dedicated website.
Chapter 1 Motivation, Engagement, Interests, and Attitudes
Chapter 2 Oral Language, Phonemic Awareness, and Beginning Reading
Chapter 3 Phonics, Decoding, and Word Recognition
Chapter 4 Fluency and Effective Oral Reading
Chapter 5 Vocabulary Acquisition and Use
Chapter 6 Comprehension Strategies
Chapter 7 Comprehending Fictional Texts
Chapter 8 Comprehending Informational Texts
"I use Improving Reading as my core text for Literacy Assessment and Intervention Practicum. I like how CCSS is woven into the introduction to each chapter, as they map onto the Massachusetts English Language Arts Framework so closely. These standards are the foundation for each students' literacy intervention plan."
-Pamela M., Language and Literacy Program
Harvard Graduate School of Education
Print Package
$92.61
ISBN 9781524959579
Details Print Prod w/Ancillary Site 180 days