RETURN TO SEARCH RESULTS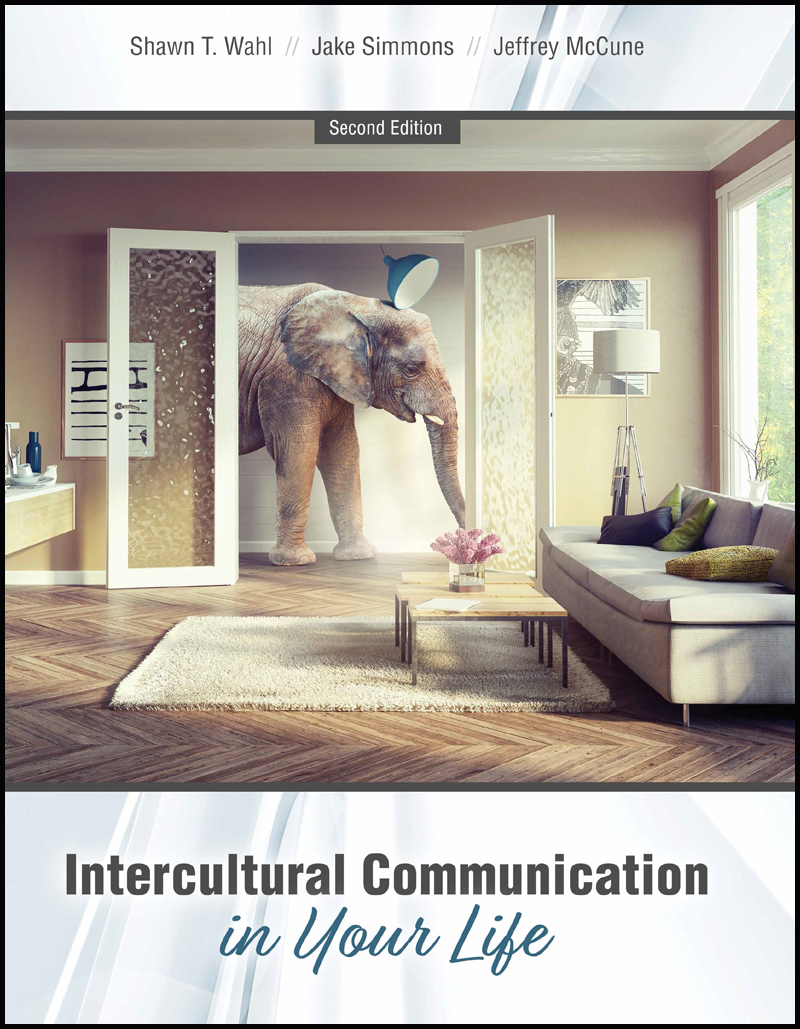 Details: Print Product w/KHPContent and KHQ | 180 days |
Where groups of people gather, there is always an elephant in the room: difference.
Elephants are remarkable, complex creatures which take up much space. Likewise, matters of race, culture, and difference require creative and complicated conversations—which moves us beyond "we are all alike" or "we all matter"—to understanding the significance of difference, as both a gift and a challenge.
Intercultural Communication in Your Life teaches readers the essential nature of difference, what to do with difference, and how to see difference beyond deficiency. It provides a lens for understanding the complex networks of communication in which we dwell.
Readers are invited to study communication and culture as a part of their everyday lived experience including but not limited to popular culture, co-culture, worldview, race, gender, social class, sexual orientation, personal relationships, verbal/nonverbal communication, conflict, new media, and more.
The NEW second edition of Intercultural Communication in Your Life:
Streamlines the vast research base for intercultural communication and speaks directly to the reader.
Takes readers on a journey through many rooms, personal and professional. Readers will see many critical topics, theories, and dialogue embedded within this text—providing concrete and complex, but accessible approaches to studying and thinking seriously about culture and everyday life.
Incorporates an In Your Life organizing feature - a process designed to develop the reader's critical thinking skills and make him/her a more reflexive communicator with the ability to adapt and continually improve.
Is a perfect choice for a variety of face-to-face, hybrid, and online courses - including introduction to intercultural communication, cultural competence, communication and diversity, and more.
PREFACE
ACKNOWLEDGMENTS
ABOUT THE AUTHORS
CHAPTER 1: INTERCULTURAL COMMUNICATION IN YOUR LIFE
Chapter Outline
What You Will Learn
Communication, Culture, and Diversity Defined
Communication
Culture
Diversity
Cultural Rituals
Connecting and Engaging Intercultural Communication
Cultural Awareness
Cultural Competence
Mutual Respect
Cultural Imperatives
Examples of Diversity Across Communication Contexts
Gender
Ethnicity and Race
Language Differences
Religion and Spirituality
People with Disabilities
Sexual Identity
Barriers to Communication, Culture, and Diversity
Stereotypes
Prejudice and Discrimination
Ethnocentrism
Hate Speech
An Overview for Your Study of Communication and Culture
Ethics
Identity and Dimensions of Cultural Variability
Assimilation, Acculturation, and Sojourning
Verbal and Nonverbal Communication
Conversations
Group Communication
Conflict
Social Class
Health
Business and Professional Context
What You've Learned
Review
Reflect
Key Terms
CHAPTER 2: Ethical Dimensions of Intercultural Communication
Chapter Outline
What You Will Learn
Defining Ethics
The Importance of Ethics in Intercultural Communication
Ethical Considerations
The Ethics of Electronic Communication
Ethical Responsibility
Adapting to the Audience
Ethical Responsibility Strategies
Some Ethical Perspectives
Religious Perspective
Human Nature Perspective
Dialogical Perspective
Situational Perspective
What You've Learned
Review
Reflect
Key Terms
CHAPTER 3: Culture and Identity
Chapter Outline
What You Will Learn
The Nature of Identity
Identity as Self
Functions of Identity
The Connection Between Identity and Face
Theories and Models of Identity
Self-Aspects Model of Identity
Social Identity Theory
Communication Theory of Identity
Implications of Cultural Identity
Ethnic Identity
Age
Gender and Sex
Negotiating Between Identities
What You've Learned
Review
Reflect
Key Terms
CHAPTER 4: Sojourning, Assimilating, and Acculturating
Chapter Outline
What You Will Learn
Sojourning 88 Assimilating 92 Acculturating 95 Cross-Cultural Adaptation 97 Models and Perspectives of Cultural Adaptation
Influences on Adaptation
What You've Learned
Review
Reflect
Key Terms
CHAPTER 5: Intercultural Dimensions of Verbal and Nonverbal Communication
Chapter Outline
What You Will Learn
Verbal Communication
The Relationship Between Verbal and Nonverbal Codes
Language: As Barrier and Bridge
Hate Speech
Racial Slurs
The Connection Between Language and Culture
Sapir–Whorf Hypothesis and Other Language Theories
Using Words Inclusively and with Sensitivity
Nonverbal Communication
Environment
Perceptions of Environment
Reactions to Environment
Chronemics
Proxemics
Sex and Sexual Identity
Territoriality
Haptics
Types of Touch
Appropriateness of Touch
Culture and Touch
Physical Appearance
Body Type, Shape, and Size
Kinesics
Categories of Kinesics
Face and Eyes
Eye Behavior
What You've Learned
Review
Reflect
Key Terms
CHAPTER 6: Conversing and Relating in Intercultural Contexts
Chapter Outline
What You Will Learn
Conversational Turn-Taking
Language and Culture in Conversation
Emotional Expression in Conversation
Display Rules and Cultural Variations
Emotional Intelligence
Building Bridges, Building Relationships
Challenges and Rewards of Intercultural Relationships
Romantic Relationships
Intercultural Friendships
Relational Dialectics
What You've Learned
Review
Reflect
Key Terms
CHAPTER 7: Intercultural Issues in Group Communication
Chapter Outline
What You Will Learn
Group Communication in Context
The Nature of Groups and Teams
Functional Perspective of Small Groups
Diversity Characteristics
Psychological and Personality Differences
Dimensions of Cultural Variation
In-Group and Out-Group Distinctions
Minding the Gap: Overcoming Differences in Groups
What You've Learned
Review
Reflect
Key Terms
CHAPTER 8: Intercultural Communication and Conflict
Chapter Outline
What You Will Learn
Understanding Conflict
What Is Conflict?
Cultural Variations in Attitudes Toward Conflict
Types of Conflict
Differences and Their Influence on Conflict Interaction
Conflict Styles
Intercultural Influences on Conflict Styles
Sex Differences in Conflict
Face-Negotiation Theory
Making the Most of Conflict
Introducing Conflict
Managing Conflict
Principled Negotiation
What You've Learned
Review
Reflect
Key Terms
CHAPTER 9: Communicating Social Class and Understanding the Culture of Poverty
Chapter Outline
What You Will Learn
Defining Social Class
Ascription
Achievement
Capital
Why Is Social Class Important?
Social Construction of Social Class
Understanding the Culture of Poverty
Defining Poverty
Financial Resources
Emotional Resources
Mental Resources
Spiritual Resources
Physical Resources
Support Systems
Relationships/Role Models
Knowledge of Hidden Rules
Key Points and Statistics About Poverty
What You've Learned
Review
Reflect
Key Terms
CHAPTER 10: Intercultural Issues in Health, Wellness, and Medicine
Chapter Outline
What You Will Learn
Defining Health and Health Communication
Worldviews and Perspectives
Biomedical and Biopsychosocial Models of Health Care
Western and Eastern Perspectives
Interpersonal Issues of Health
Bridging Cultural Differences in the Conversation
Ethnic Differences
Gender and Sex Differences
Disability
Ageism and Older Adults
Bridging the Cultural Gap
Diversity Within the Health Care Organization
Health Care Access and Marginalization
Marginalized Populations
Health Literacy
What You've Learned
Review
Reflect
Key Terms
CHAPTER 11: Intercultural Communication in Business and Professional Contexts
Chapter Outline
What You Will Learn
Fostering Culture and Diversity in the Workplace
Diversity Initiatives in the Workplace
Diversity and Customer Relations
Fostering Cultural Competence in the Workplace
Interviewing Through the Cultural Lines
Discrimination in the Workplace
Power in the Workplace
What You've Learned
Review
Reflect
Key Terms
GLOSSARY
REFERENCES
INDEX
Print Package
$120.17
ISBN 9781792420603
Details Print Product w/KHPContent and KHQ 180 days