RETURN TO SEARCH RESULTS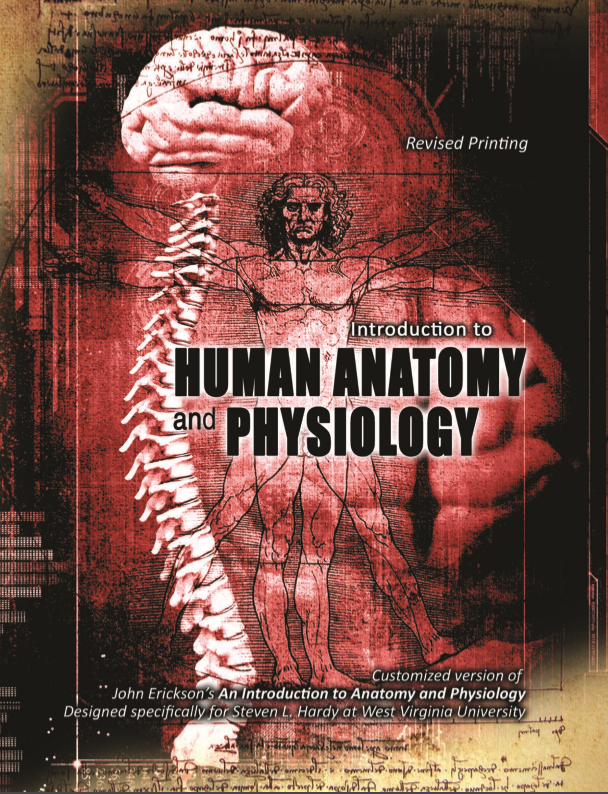 Introduction to Human Anatomy and Physiology: Customized version of John Erickson's An Introduction to Anatomy and Physiology Designed specifically for Steven L. Hardy at West Virginia University
Author(s): Steve L Hardy
Edition: 1
Copyright: 2017
An Introduction to Anatomy and Physiology is designed for a one-semester, college level course learning anatomy and physiology.
After completion of this course, the student will be able to:
Identify the structures and function of each of the body systems and relate how the body maintains homeostasis.
Discuss the physiological processes between the exchange and use of energy in the body and how they relate to lifestyle and health.
Given a scenario, analyze and interpret information in order to communicate clearly with healthcare professionals and make informed decisions about personal healthcare and lifestyle.
CHAPTER 1 Introduction to Anatomy and
Physiology
Objectives
Chapter Organization
Introduction
Anatomy and Physiology
Characteristics of Life
Requirements for Life
Homeostasis
Anatomical Organization
Anatomical Terminology
Summary
Key Terms
Test Yourself
Fill in the Blank
Essay Questions
CHAPTER 2 Basic Body Chemistry
Objectives
Chapter Organization
Introduction
Atoms
Chemical Bonds and Molecules
Chemical Reactions
Acids and Bases
Acid and Base Imbalance and Compensation
Organic and Inorganic Compounds
Summary
Key Terms
Test Yourself
Fill in the Blanks
Essay Questions
CHAPTER 3 Cellular Structure, Function, and Metabolism
Objectives
Chapter Organization
Cell Structure: The Composite Cell Model
The Nucleus
Cytoplasmic Organelles
Cell Physiology
Membrane Potentials
Summary
Key Terms
Test Yourself
CHAPTER 4 The Tissue Level of Organization
Objectives
At a Glance
vi Contents
Categories of Tissue
Summary
Key Terms
Test Yourself
Thought Questions
Medical Questions
CHAPTER 5 The Integumentary System
Objectives
At a Glance
The Skin
Accessory Structures
Summary
Key Terms
Test Yourself
Thought Questions
Medical Questions
CHAPTER 6 The Skeletal System
Objectives
At a Glance
Overview of Function
Anatomy of Bone
Growth and Formation
Bone Remodeling
Mineral Storage
Injury and Repair
The Skeleton
Joints (Articulations)
Summary
Key Terms
Test Yourself
Thought Questions
Medical Questions
CHAPTER 7 The Nervous System
Objectives
At a Glance
The Nervous System
Functions of the Nervous System
Nervous System Divisions
Components of the Nervous System
Neuroglia
Neuron Physiology: Creation of an Action Potential
Central Nervous System
Contents vii
Peripheral Nervous System
Cranial Nerves
Spinal Nerves
Summary
Key Terms
Test Yourself
Thought Questions
Medical Questions
CHAPTER 8 The Senses
Objectives
At a Glance
Overview of the Senses
General Senses
Special Senses
Summary
Key Terms
Test Yourself
Thought Questions
Medical Questions
CHAPTER 9 The Muscular System
Objectives
At a Glance
Overview of Function
Types of Muscle Tissues
Skeletal Muscle Structure
Neuromuscular Junctions
Muscles and Movement
Energy Needed for Contraction
Effect of Exercise on Muscle
Muscles Working Together
Location and Actions of Muscles
Summary
Key Terms
Test Yourself
Thought Questions
Medical Questions
CHAPTER 10 Blood
Objectives
At a Glance
Functions of Blood
Composition of Blood
Hemostasis
Blood Types
Summary
Key Terms
Test Yourself
viii Contents
Thought Questions
Medical Questions
CHAPTER 11 The Cardiovascular System
Objectives
At a Glance
The Cardiovascular System
The Heart
Regulation of Heart Function
Blood Vessels
The Circulation
Summary
Key Terms
Test Yourself
Thought Questions
Medical Questions
CHAPTER 12 Lymphatic System and Immunity
Objectives
At a Glance
The Lymphatic System
Functions of the Lymphatic System
Organization of the Lymphatic System
Foreign Invaders
The Lymphatic System and Body Defenses
Summary
Key Terms
Test Yourself
Thought Questions
Medical Questions
CHAPTER 13 The Urinary System
Objectives
At a Glance
Functions of the Urinary System
Organization of the Urinary System
The Flow of Fluid through the Urinary Pathway
The Kidneys
Neural Regulation
Urine
Summary
Key Terms
Test Yourself
Thought Questions
Medical Questions
CHAPTER 14 The Respiratory System
Objectives
At a Glance
Functions of the Respiratory System
Organization of the Respiratory System
Components of the Respiratory System
Respiratory Physiology
Summary
Key Terms
Test Yourself
Thought Questions
Medical Questions
CHAPTER 15 The Digestive System
Objectives
At a Glance
The Digestive System
Digestive System Functions
Histologic Structure of the Digestive Tract
Movement of the Digestive Materials
The Movement of Food through the Digestive System
Anatomy of the Digestive System
Summary
Key Terms
Test Yourself
Thought Questions
Medical Questions
CHAPTER 16 Nutrition and Metabolism
Objectives
At a Glance
Nutrients and Water
The Difference between Food and Nutrients
Summary
Key Terms
Test Yourself
Thought Questions
Medical Questions
CHAPTER 17 The Endocrine System
Objectives
Chapter Organization
Introduction
The Endocrine System vs. the Nervous System
Hormone Mechanics
The Hypothalamus and the Pituitary Gland
Hypothalamic-Pituitary
Mammary Axis
Hypothalamic-Pituitary
Growth Axis
Hypothalamic-Pituitary-Thyroid Axis
Hypothalamic-Pituitary-Adrenal Axis
Hypothalamic-Pituitary-Gonadal Axis
The Endocrine Pancreas
"Other" Endocrine Tissues
Final Thoughts
Summary
Key Terms
Test Yourself
CHAPTER 18 The Reproductive Systems
Objectives
At a Glance
Functions of the Reproductive Systems
Structures of the Reproductive Systems
Undifferentiated Gonads
Male Reproductive System
Female Reproductive System
Female Sexual Function
Human Sexual Response
Response of the Reproductive Systems to Conception and to Aging
Puberty
Menopause
Summary
Key Terms
Test Yourself
Thought Questions
Medical Questions
Appendix A Protein Synthesis
Glossary
Website
$103.02
ISBN 9781524993184
Details KHPContent 180 days