RETURN TO SEARCH RESULTS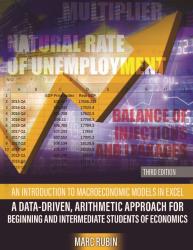 An Introduction to Macroeconomic Models in Excel: A Data-Driven, Arithmetic Approach for Beginning and Intermediate Students of Economics
Author(s): MARC RUBIN
Edition: 3
Copyright: 2021
Pages: 269


Details: eBook w/Ancillary 3 | 180 days |
An Introduction to Macroeconomic Models in Excel: A Data-Driven, Arithmetic Approach for Principles of Economics Students utilizes empirical short-run models of the macroeconomy, together with the latest relevant data, to assess how the economy is faring on three social goals: raising the level of prosperity, maintaining price stability, and sustaining desirable levels of employment.
The innovative approach encourages students to be more conversant with critical data and the dominant mainstream economic theories that explain the business cycle. It encourages them to use the templates discussed in the book, in conjunction with the Excel spreadsheets, when they assess current articles/reports in the mainstream media.
Designed to be used in conjunction with most of the existing texts on principles of economics, An Introduction to Macroeconomic Models in Excel:
empowers students to become capable of making qualitative assessments about the prospects for near term GDP growth and explains, qualitatively, the forces that are driving the level of aggregate prices and the overall rate of inflation.
equips readers with a portable tool kit that can be easily updated with the latest agency data releases, and applied reliably to the analysis of current events.
is flexible! Those who are not concerned about the "trees" but just want to see the "forest" can skip reading a lot of the written material, and just focus on the "headings" labeled "implementation" steps and "write-ups."
includes optional regression procedures to provide added statistical support.
provides 8 step-by-step instructional videos for navigating and manipulating the Excel spreadsheets.
SECTION I. DATA SOURCES, SCREEN CAPTURE/AGGREGATION, AND SPREADSHEET OPERATIONS
A. Screenshots for Accessing Data
i. NIPA Manual Appendix: Balanced Summary Accounts
B. Federal Reserve Data Accessed Through FRED
B.1 Procedures for Identifying, Sourcing, and Aggregating List Items
B.2. To Install FRED Add-In app for Excel
C. Procedures for Capturing the Data and Placing Them in the Templates
D. The Cycle of Data Releases
SECTION II. KEYNESIAN TYPE MACROECONOMIC MODELS
II.1 Generic AE Model
A. Textbook Analysis
II.2 Detailed AE Template Analysis
A. AE "Balance" Model Data Caveats
B. Equilibria and Balancing Strategy Comments
C. AE Balance Model Analysis
II.3 Summary AE Model Template Discussion: Current Example
A. Summary Implementation Steps to Fill In the Template
B. Summary Discussion and Write-Up: Putting the Decision Rule Results into English
C. Calculation of the Short-Run Multiplier
SECTION III. AGGREGATE DEMAND-AGGREGATE SUPPLY (ADAS) MODELS
A. Textbook Simplified ADAS Analysis
B. Preliminary Considerations
III.1 Simplified ADAS Model Templates
A. ADAS General Comments
B. AS/AD Definitions, Preconditions, and Empirical Assumptions
C. A Priori Analysis and the Empirical Record (Required for All ADAS Models)
III.2 Simplified ADAS Model Templates: Aggregate Price Level
III.3 Simplified ADAS Model Templates: Rate of Inflation
A. Additional Á Priori Analysis, the Multiplier and the Empirical Record
B. Summary Simplified ADAS Model: Implementation Steps
C. Summary Simplified ADAS Discussion and Write-Up
III.4 Simplified ADAS Model Template with Money Supply (M2)
III.5 Simplified ADAS Model Template with Money Supply M2, Money Demand and Interest Rates
SECTION IV. DETAILED ADAS MODEL CHOICE OF INDICATORS FROM TEXTBOOK AND THE BEA KLEMS MODEL
Textbook Treatment
A. Summary Detailed ADAS Implementation Steps
B. Summary Detailed ADAS Discussion and Write-Up
SECTION V. SIMPLIFIED ADAS CAPACITY MODEL
A. Summary Simplified ADAS Implementation Steps
B. Summary Simplified ADAS Capacity Write-Up
C. Statistical Model and Justification (Optional)
SECTION VI. DETAILED ADAS CAPACITY MODEL
A. Summary Detailed ADAS Capacity Implementation Steps
B. Summary Detailed ADAS Capacity Write-Up
SECTION VII. SUPPLEMENTAL AE AND ADAS TEMPLATES
Preliminary Comments
A. Summary Implementation Steps Workbook VI.1
B. Summary Discussion and Write-Up Workbook VI.1
C. Summary Implementation Steps: Workbooks VI.3 to VI.7
D. Generalized Summary Discussion and Write-Up
SECTION VIII. CAPSTONE REMARKS: PRAGMATIC APPLICATION OF THE TEMPLATES TO THE ANALYSIS OF MEDIA REPORTS
AE/AS/AD Templates
A. AE Context Write-Up
B. Simplified ADAS Context Write-Up
C. Detailed ADAS Context Write-Up
D. Overall Impressions
SECTION IX. SOME PRELIMINARY SKETCHES OF POLICY ANALYSIS
Initial Comments
IX.1 AE Policy Model 1: Balanced Budget and Trade in Nominal Dollars
A. Write-Up
i. Considerations in Addition to Preliminary Caveats
ii. Nominal AE Model 1: Data Construction Methods—Discussion and Implementation
IX.2 AE Policy Model 2: Balanced Budget and Balanced Trade in Constant Dollars
A. Write-Up
i. Considerations in Addition to Preliminary Caveats
ii. Real AE Model 2: Data Construction Methods—Discussion and Implementation
IX.3 AE Policy Model 3: Current Account Balance in Constant Dollars
A. Write-Up
i. AE Current Account Model 3: Data Construction Methods—Discussion and Implementation
IX.4 ADAS Policy Model 4: AD, AS, and the Rate of Change of the GDP Deflator
A. Write-Up
i. ADAS Model 4: Data Construction Methods—Discussion and Implementation
IX.5 ADAS Policy Model 5: Money Stock and the Level of the GDP Deflator
A. Write-Up
i. Money Stock (M2) Model 5: Data Construction Methods—Discussion and Implementation
SECTION X. FUTURE DIRECTIONS IN BRIEF
APPENDIX 1. FURTHER DETAIL ON DOWNLOADING AND DATA TRANSFER
APPENDIX 2. LIST OF SOURCE TABLES AND CALCULATION TABLES BY TEMPLATE AND TAB
APPENDIX 3. USING THE TRANSPOSE FUNCTION IN EXCEL
APPENDIX 4. ALTERING THE DIMENSIONS OF THE SOURCE TABLES AND TEMPLATES
APPENDIX 5. A GUIDED TOUR FOR UPDATING WORKBOOK IIA.2
APPENDIX 6. FILL-IN COMPLEMENT TO THE INITIAL DATA INVENTORY
BIBLIOGRAPHY
Ebook Package
$81.90
ISBN 9781792458903
Details eBook w/Ancillary 3 180 days