RETURN TO SEARCH RESULTS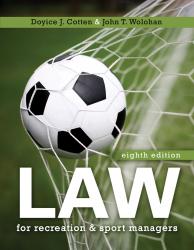 Details: Print Prod w/KHQ, Student Ancillary Site | 180 days |
Since 1997, Law for Recreation and Sport Managers has been the leading recreation and sports law book for undergraduate and graduate sport management and recreation programs.
Key Features:
Up-to-date on current court cases
Each chapter is written by leading recreation and sport law professors and experts in the field.
Each chapter follows an easy-to-read format.
Each chapter examines a significant case and reviews how the courts apply the fundamental legal concepts.
Designed for both undergraduate and graduate students, the book is divided into seven approachable sections plus additional materials that educates readers on the complex issues of recreation and sport law.
Also included:
Supplemental cases online – In addition to the significant cases in each chapter, students can now access additional select cases online to further illustrate important concepts.
Chapter sidebars - Each chapter now includes a sidebar, an interesting point of law or a new ruling that presents a new idea.
End of chapter reviews - Students are encouraged to engage with the material by answering the end of chapter question prompts.
Preface
Acknowledgments
Announcement
Contributing Authors
1.00 INTRODUCTION TO SPORT LAW
1.10 The Legal System Kristi L. Schoepfer Bochicchio
1.20 Business Structure and Legal Authority John T. Wolohan
1.30 Alternative Dispute Resolution Rebecca J. Mowrey
2.00 NEGLIGENCE LAW
2.10 Negligence Theory
2.11 Negligence Doyice J. Cotten
2.12 Which Parties are Liable? Doyice J. Cotten
2.13 Liability of Sport Participants, Instructors, and Officials Doyice J. Cotten
2.20 Defenses
2.21 Defenses Against Negligence Doyice J. Cotten
2.22 Immunity Doyice J. Cotten
2.23 Waivers and Releases Doyice J. Cotten
2.30 Recreation and Sport Management Applications
2.31 Premises Liability John Grady
2.32 Property Law Sarah J. Young
2.33 Emergency Care Kristi L. Schoepfer Bochicchio
2.34 Transportation Andrew T. Pittman
2.35 Products Liability Rebecca J. Mowrey
2.36 Hospitality and Tourism Law Sarah J. Young
3.00 INTENTIONAL TORTS AND CRIMINAL ACTS
3.10 Theory and Applications for Recreation and Sport Management
3.11 Intentional Torts Kerri Cebula
3.12 Criminal Law and Sport Kristi L. Schoepfer Bochicchio & Mark Dodds
4.00 RISK MANAGEMENT
4.10 Risk Management Theory
4.11 Risk Management Process Robin Ammon, Jr.
4.20 Recreation and Sport Management Applications
4.21 Developing the Risk Management Plan Todd L. Seidler
4.22 Crisis Management Daniel P. Connaughton & Thomas A. Baker, III
4.23 Workers' Compensation John T. Wolohan
5.00 CONTRACT LAW
5.10 Contract Essentials Bridget Niland
5.20 Recreation and Sport Management Application
5.21 Employment Contracts Rodney L. Caughron
5.22 Game, Event, and Sponsorship Contracts Bridget Niland
6.00 CONSTITUTIONAL LAW
6.10 Concepts
6.11 State Action John T. Wolohan
6.12 Due Process John T. Wolohan
6.13 Equal Protection Sarah K. Fields
6.14 First Amendment John T. Wolohan
6.20 Recreation and Sport Management Applications
6.21 Private Clubs & Voluntary Associations in Sport and Recreation Anne L. DeMartini & Mark Dodds
6.22 Eligibility and Conduct Issues Colleen Colles
6.23 Drug Testing John T. Wolohan & Fei Gao
7.00 SPORT AND LEGISLATION
7.10 Federal Statutes and Discrimination
7.11 Title IX Barbara Osborne
7.12 Title VII of the Civil Rights Act of 1964 Stephanie A. Tryce & Lisa Pike Masteralexis
7.13 Sexual Harassment Barbara Osborne & Erica J. Zonder
7.14 Age Discrimination in Employment Anne L. DeMartini
7.15 Disability Discrimination John T. Wolohan
7.16 Sports Gambling John T. Wolohan & Fei Gao
7.20 Intellectual Property Law
7.21 Copyright and Patent Law Merry Moiseichik
7.22 Principles of Trademark Merry Moiseichik
7.23 Image Rights John T. Wolohan
7.30 Antitrust and Labor Law
7.31 Antitrust Law: Professional Sport Applications Lisa Pike Masteralexis
7.32 Antitrust Law: Amateur Sport Applications John T. Wolohan
7.33 Labor Law: Professional Sport Applications Lisa Pike Masteralexis & James T. Masteralexis
7.40 Sport Agent Legislation John T. Wolohan
Case Index
Subject Index
Print Package
$147.74
ISBN 9781792444296
Details Print Prod w/KHQ, Student Ancillary Site 180 days