RETURN TO SEARCH RESULTS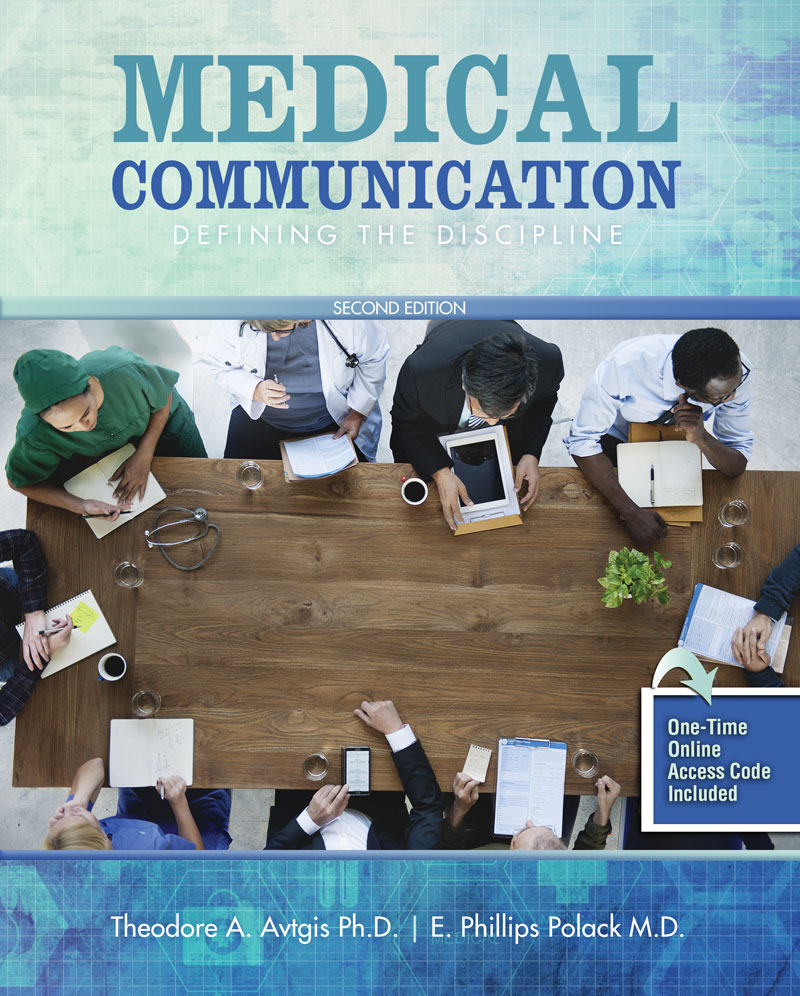 Details: Print Prod w/KHPContent Code | 180 days |
Communication-related issues lead to thousands of deaths annually.
The NEW Second Edition Medical Communication: Defining the Discipline creates a more health-conscious society by presenting unique and groundbreaking perspectives on communication in the practice of everyday healthcare – increasing patient safety and literacy.
Medical Communication incorporates cutting-edge information needed to navigate today's dynamic culture of medicine and healthcare. This life skills text educates all individuals, both those within healthcare professions as well as society in general, as every human being will eventually interface with the healthcare system.
An interdisciplinary (i.e., Medicine and Communication Studies) text that brings together two authors who delineate the many aspects of communication in the everyday delivery of medical care, Medical Communication: Defining the Discipline:
Covers interpersonal (i.e.., provider-provider; patient-provider) and other communication practices that generally go unrecognized including professionalism, ethics, end-of-life care, and safety in the fast paced world of medicine.
Overcomes the existing "turf" wars that currently exist in fields such as health communication and health psychology.
Is Student Friendly! The publication includes an Enhanced Online Learning Package seamlessly integrated within the book's pedagogy that includes interactive exercises, interviews, vignettes based on real-life scenarios, flash cards and more.
Is Easy to Adopt! Chapter outlines, supplemental teaching materials, PowerPoint™ presentations, and comprehensive test banks are provided to adopting instructors.
Preface
Acknowledgments
About the Authors
Part One: Foundations of Medical Communication
Chapter One: The Imperative of Medical Communication
How Safe Is Healthcare?
The Healthcare Team
Changing the Culture of Healthcare
Rapid Advancement
The Basics of Communication
Chapter Two: The Neuroscience and Psychology of Communication
The Human Brain
Brain-Imaging Technologies
Chapter Three: The Physiology of Temperaments, Communication Traits, and Predispositions
Human Biology and Communication
Traits and Temperaments
Biologically Determined Traits
The Human Brain, Intelligence, and Communication
Part Two: Contexts and Types of Medical Communication
Chapter Four: Gender in Communication: The Influence on Competent Communication within Healthcare
Definitional Issues
Chapter Five: Body Language: The Science of Nonverbal Communication
Brief History of Nonverbal Communication
Functions of Nonverbal Messages
Chapter Six: Intercultural Sensitivity and Behaviors
Context and Culture
Culture and Interpersonal Communication
Cultural Empathy
Patient and Provider Assumptions
Healthcare: The Cultural Mosaic
Chapter Seven: Health Literacy: The Not So Silent Epidemic
Illiteracy and Its Ubiquity
Basic Terminology of Literacy
Assessing Health Literacy
E-Literacy
Part Three: Practice of Medical Communication
Chapter Eight: Humor and Aggressive Communication in Health Care
Humor Communication in Healthcare
The Psychology of Humor
Humor in the Patient–Provider Relationship
Aggressive Communication
The Origins of Aggressive Communication
Nursing and Verbal Aggressiveness
Argumentativeness
Fighting Against Aggressive Communication
Conflict
Chapter Nine: Medical and Relational Information Processing
The Physiology of Hearing
Mindfulness
Narratives in Healthcare
Chapter Ten: Theories of Health Communication
Functions of Communication in the Health Context
Communication Contexts within Health Communication
Health Beliefs Model
Transtheoretical Model
Chapter Eleven: Assessment and Training within Healthcare: Training the Trainers
Reasons for Training
Considerations for Effective Training
Types of Training Delivery and Vehicles
Assessing the Efficacy of Training
Part Four: Medical Communication in Tributary Situations
Chapter Twelve: Informed Consent and Apology
Informed Consent
Apology
Chapter Thirteen: Professionalism, Ethics, Social Media, and Other Medical Communication Technologies
Defining Professionalism
Professional Ethos
Professionalism and End-of-Life Issues
Chapter Fourteen: Medical Communication Technology: Currents and Futures
Electronic Records
Other Technological Factors in Healthcare Communication
The Future of Healthcare Communication: Concluding Thoughts
Glossary
Index
Medical Communication: Defining the Discipline is an extraordinary book! I have only had time to tear the cellophane off and thumb through it, but I can tell you with certainty that it is going to be one of the most helpful books in my collection.
Valerie Evans Minor MSN, RN, Alderson-Broaddus College
Medical Communication: Defining the Discipline deserves a place on the bookshelf of everyone in health care – nurses, physicians, administrators, and those shaping its future. As a reference, it should become well worn and treasured!
David Kappel, MD, FACS, West Virginia State Trauma System
Medical Communication: Defining the Discipline represents a much needed and landmark work on medical communication. The text fully integrates the most important communication concepts into a context where effective communication is of the utmost importance.
Andrew S. Rancer, Ph.D., University of Akron

Medical Communication: Defining the Discipline is an excellent primer on medical communication that provides information that is both practical and thought provoking. It is an excellent foundational text for anyone who is pursuing or considering a career in healthcare.
Valerie B. Satkoske, MSW, Ph.D., University of Pittsburgh

Medical Communication: Defining the Discipline is aimed at giving health care professionals a better understanding of the discipline of communication, its scientific basis and its practice. It is illustrated with examples of good and not so good communication behavior.
Thomas R. Gadacz, MD, FACS, Medical College of Georgia
Print Package
$137.81
ISBN 9781524933524
Details Print Prod w/KHPContent Code 180 days