RETURN TO SEARCH RESULTS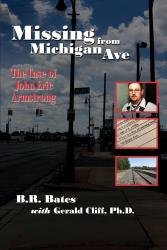 Details: Print Product |
In late 1999, women began disappearing from Detroit's thriving areas of prostitution. The following spring of 2000, when the bodies of three of them were discovered on a seedy stretch of railroad tracks in the southwest part of town, police realized there was a serial killer operating in the Motor City. And though it was a quick arrest - just a couple days later - police at first had no idea just how far and wide the horrors of this crime extended. As the perp began to talk, and he revealed detail after detail, it became all too clear that the case of John Eric Armstrong could span the country. And even the globe.
Longtime author and journalist B.R. Bates takes you through the crimes and investigation that followed, collaborating with the commanding officer of the Violent Crime Section that investigated the Armstrong case in Detroit, Dr. Gerald Cliff. Informed by interviews of victim family members, numerous law enforcement, and others touched by the crimes, as well as a wealth of documentation from the case, Missing from Michigan Ave is a chronicle of a killer with a reach that still remains largely unknown.
Check out the authors' appearance on an Oxygen True Crime special: View Episode
Read the Press Release: View Release
Check out an Article from Press & Guide: View Article
Prologue
Monica Johnson
Wendy Jordan
Rose Marie Felt
Kelly Jean Hood
Nicole Young (aka Robin Brown)
Lived to Tell: Natasha Olejniczak
Breaking Her Silence: Zelda Jakubowski
To Catch a Killer
A Fatal Error
The Assaults Continue
A Discovery at the Tracks
More Than They Bargained For
The Hunt for a Serial
A Mission on Michigan
The Horrors Revealed
His Day in Court
Sentences
The Unknown and Unconfirmed
White Female: Seattle, Washington
Black Male: Seattle, Washington
Asian Female (Transgender): Thailand
Asian Female: Thailand
Asian Female: Singapore, Southeast Asia
Asian Female: Hong Kong
Asian Female: Hong Kong
White Female: Waikiki/Honolulu, Hawaii
White Female: Waikiki/Honolulu, Hawaii
White Female: Newport News/Norfolk, Virginia
The Investigation Looks Outward
Virginia Possibility: Linette Hillig
Hawaii Possibility: Lisa Fracassi
What Became of the Investigation?
So Did He Actually Commit These Other Murders?
The Questions of Why
Why Prostitutes?
A Phoenix Just Beginning to Rise
Inside the Call-Girl Culture: One of Detroit's Seedier Sides
Crimes of Opportunity
Why, At All?
His Humble Beginnings
The Other Side of the Story: A Half-Brother Speaks
No Easy Answers
Killer Comparisons
John Eric Armstrong Today
Afterword
Acknowledgments
Selected Bibliography
Print
$40.00
ISBN 9781792483868
Details Print Product