RETURN TO SEARCH RESULTS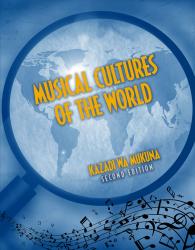 Musical Cultures of the World
Author(s): Kazadi wa Mukuna
Edition: 2
Copyright: 2019




Details: eBook w/KHPContent Access | 180 days |
The definition of music has challenged scholars throughout the history of music. But in his seminal work The Anthropology of Music (1964), Alan Merriam proposes a culturally broad based definition of music as a product of human behavior in time and space, and has structure; but its structure cannot have an existence of its own divorced from the behavior, which produced it. This definition allows each culture/community to define its music on its own terms. Therefore, in order to understand why a music structure exists as it does, we must, first and foremost, understand how and why the behavior, which produced it is as it is, and how and why the concepts which underlie that behavior are ordered in such a way as to produce the particularly desired form of organized sound.
The textbooks for the teaching of "Musical Cultures of the World" courses came out in waves of different titles that reflected the concept of this topic as perceived by their author(s). Some textbooks are written as a collaborative project with several scholars each contributing a chapter in his/her area of expertise, often ignoring the fundamental diversity in conception and approach. Those textbooks developed as personal and individual projects, such as this one, reflect a single approach of the subject with a clear and well-defined frame of reference. Regardless of the adapted preference the majority of existing textbooks have fallen into, they reveal the similar setback in their organizational concept and the understanding of their targeted audience. This setback is caused by the lack of clarity attributed to the authors' wholesale understanding of the ultimate objectives of the field of ethnomusicology, corroborated by their adaptation of certain commercial jargons that have no bearing whatsoever on the philosophy or the ideology of the field of ethnomusicology.
This project was developed on the fundamental truth that regions of the world are related and connected culturally. This relationship is observed at the macro stand point that human act and behave as members of a cultural and social organization. At the micro level, it is true that a kinship relation exists between individuals that nurture the cumulative, systemic, symbolic, behavior, and ideas, which are transmitted from generation to generation genetically. Furthermore, at the macro level, the relationship that exists between regions is developed and maintained by how cultural traits and practices are shaped in each region. In other words, all cultural areas belong to zones of cultural interaction defined by ideology, art, cultural trait, and musical instrument, etc., that are shared by integral components.
This book is a flexible/adaptable introductory survey of musical expressions and the related arts in major culture areas of the world. It addresses the needs of non-music majors and satisfies the Kent State University's cultural diversity requirement. Musical Cultures of the World is a mere survey of music cultures and provides basic historical and cultural insight for each region to shed light on why music is the way it is. To reach that objective, the book is organized in a flexible way to allow instructor to adjust the content to suit personal style and method of delivery. For that reason, lists of illustrative song samples and films have been omitted but left to the discretion of individual instructor.
Kazadi wa Mukuna
CHAPTER 1 Introduction
CHAPTER 2 Definition of Musical Terms
CHAPTER 3 Classification of Musical Instruments
CHAPTER 4 Music of the Arabic World
CHAPTER 5 Music of Africa
CHAPTER 6 Music of the Americas
CHAPTER 7 Music of India
CHAPTER 8 Music of Southeast Asia
CHAPTER 9 Music of East Asia—China
CHAPTER 10 Music of East Asia—Japan
Course Summary: The Big Picture
Bibliography
Index
Ebook Package
$49.61
ISBN 9781792432712
Details eBook w/KHPContent Access 180 days