RETURN TO SEARCH RESULTS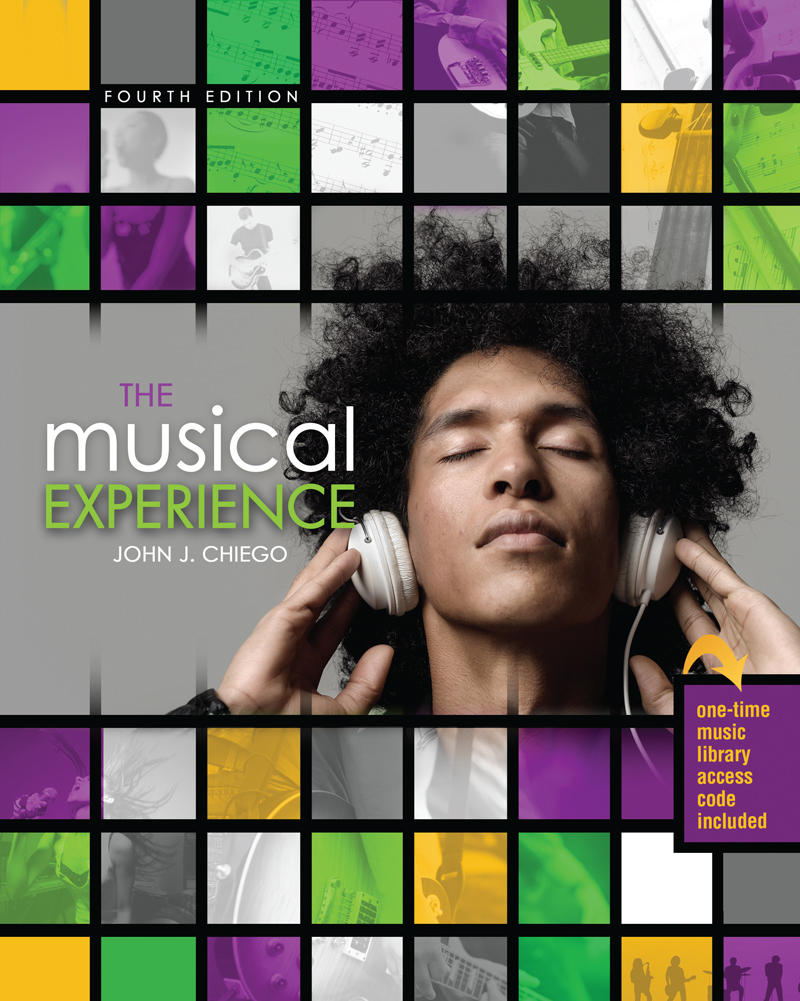 The Musical Experience
Author(s): John Chiego
Edition: 4
Copyright: 2017




Details: eBook w/KHPContent and KHQ | 180 days |
The Musical Experience is a seamlessly integrated enhanced learning package that features a thematic approach to music appreciation - each theme is described along a historical timeline.
Whether it is Music to Celebrate, Music from the Stage, or Music for Mourning, the reader will associate the music presented in The Musical Experience with a life moment - enhancing the experience!
To resonate with today's music appreciation students and instructors, John Chiego has updated The Musical Experience with contemporary examples of musical selections, musicals, and music from the movies since 2000.
To meet the evolving needs of music appreciation students and instructors, John Chiego has integrated::
Features an easy-to-read conversational writing style that is suitable for students with diverse backgrounds and experience.
Multiple delivery options! This complete course package with a print/eBook text and optional online music library and accompanying website supplements make it ideal for face-to-face, hybrid, and distance learning settings.
Real-time assessments throughout! Biographical Spotlights, Listening Exercise questions, chapter question assignments, and What Makes Music features provide gradable components that can be completed by the reader on an ongoing basis throughout the semester.
Includes Interactive Listening Charts that help readers with historical periods, genre, type of piece, and composer.
Encourages self discovery! Students can access accompanying textbook playlists on the optional online music as well as create their own lists to expand their own listening library.
Chapter 1 Introduction and Historical Overview
What Is Music?
Elements of Music
Melody
Harmony
Rhythm
Form
Texture
Timbre
What Makes Music—Musical Instruments: Ensembles
Historical Periods and Characteristics
Medieval Period ca. ad 500–1450
O Fortuna—Secular song from the Carmina Burana
Kyrie—Hildegard of Bingen
Renaissance Period 1450–1600
Ave Maria—Josquin des Prez
Canzon XVII—Giovanni Gabrieli
Baroque Period 1600–1750
Canon a tre in D major—Johann Pachelbel
Hallelujah Chorus from Messiah—George Frideric Handel
Classical Period 1750–1825
Eine Kleine Nachtmusik (A Little Night Music)— Wolfgang Amadeus Mozart
Symphony #5 in C minor, 1st movement— Ludwig van Beethoven
Biographical Spotlight: Ludwig van Beethoven
Romantic Period 1825–1900
Perspective—Art and Music
Symphony #4 in F minor, 4th movement—Peter Tchaikovsky
Intermezzo in A major—Johannes Brahms
Twentieth/Twenty-First Century 1900–Present
The Rite of Spring (excerpt)—Igor Stravinsky
Historical Overview
Listening Chart
Hoedown from Rodeo—Aaron Copland
O Fortuna from Carmina Burana (Songs from Benediktbeuern)—Carl Orff
Summary
Suggested Further Listening
Question Assignment
Listening Exercises
Chapter 2 Music of the Religious Experience
Gregorian Chant
The Mass
Early Monophonic Style
Kyrie from First Mass for Christmas— Anonymous
Polyphonic Style—Renaissance and Baroque
Gloria from Missa Pange Lingua—Josquin des Prez
Credo (excerpt) from Mass in B minor—Johann Sebastian Bach
Classical Style
Sanctus from Requiem Mass—Wolfgang Amadeus Mozart
Biographical Spotlight: Wolfgang Amadeus Mozart
Romantic Style
Agnus Dei from Messe di Gloria—Giacomo Puccini
Music of the Religious Experience
Psalms
Chichester Psalms, 2nd movement—Leonard Bernstein
The Oratorio
Perspective—Religious Texts and Church Influence
Characteristics of an Oratorio
Messiah (excerpts)—George Frideric Handel
El Niño—A Modern Oratorio
"Shake the Heavens" from El Niño— John Adams
Cantata
"Allegro vivace" from Gloria—John Rutter
Hymns
All Creatures of our God and King
Veni, veni, Emmanuel
Spirituals and Gospel Music
Brother Mosely Crossed (Smote) the Water— Traditional Spiritual sung by Andy Mosely
Witness— Traditional Spiritual sung by Jubilant Sykes
Clap Your Hands—John P. Kee
World Worship Music
Ketjak
The Ramayana Monkey Chant— Balinese Ketjak
Tibetan Buddhist Monk Chant
Invoking the Spirit of Kindness Through Sound— Tibetan Buddhist Monk Chant
Muslim "Call to Prayer"
Call to Prayer—Muslim Invitation to Pray
Tuvan Throat Singing
Kh mei—Performed by Hun-Huur-Tu
Contemporary Christian Pop and Rock
What Makes Music—Musical Instruments: The Bowed String Family
Christian Pop Music
El Shaddai—Words and music by Michael Card and John Thompson, sung by Amy Grant
I Can Only Imagine—Bart Millard, performed by Mercy Me
Christian Rock Music
Alive—P.O.D.
A Tower of Ashes—Theocracy
Other Types of Religious Music
Motet
Listening Chart
Magnificat
Organum
Stabat Mater
Summary
Suggested Further Listening
Additional Worship Music Texts
Question Assignment
Listening Exercises
Chapter 3 Music for the Stage
Star Wars—Imperial March, Darth Vader's Theme
Biographical Spotlight: Hildegard of Bingen
Early Dramatic Musical Composition
Ordo Virtutum excerpt—Hildegard of Bingen
Opera
Early Opera
Mozart and Classical Opera
"Queen of the Night Aria" from Act II of The Magic Flute—Wolfgang Amadeus Mozart
Romantic Opera
"Vesti la giubba," Canio's Aria from Pagliacci— Ruggiero Leoncavallo
Perspective—Early Theatrical Forms
"O mio babbino caro" from Gianni Schicchi— Giacomo Puccini
Modern Opera
"The New York Lights" from A View from the Bridge—William Bolcom
What Makes Music—Voices: Female Voices
Incidental Music
L'Arlésienne
"Farandole" from L'Arlésienne— Georges Bizet
The Musical
Forerunners of the Musical
Musical Songwriting Teams
The Operatic vs. the Musical Vocal Style
The Evolution of the Musical—50 Years of Song and Dance
Tunes, Lyrics, Dialogue, and Dances
I'm An Ordinary Man from My Fair Lady— Lerner and Loewe
I Could Have Danced All Night from My Fair Lady—Lerner and Loewe
Tonight—Quintet from West Side Story— Leonard Bernstein
The Musical Overture
Overture to Candide—Leonard Bernstein
The Evolving Musical
A Musical Timeline
Music for the Stage Timeline
The Phantom of the Opera from Phantom of the Opera — Andrew Lloyd Webber
Stars from Les Misérables—Schönberg and Boublil
Bring Him Home from Les Misérables— Schönberg and Boublil
Musicals since 2000
Blockbusters since 2000
No One Mourns the Wicked from Wicked: The Untold Story of the Witches of Oz— Stephen Schwartz
My Shot from Hamilton—Lin-Manuel Miranda
The Modern Stage Spectacle
"Alegria" title song from Alegria (a Cirque du Soleil show)—René Dupéré
"Drumbone"— Blue Man Group
"Riverdance"—Bill Whelan
"Orinoco Flow"—Enya
World Musical Theatre Genres
Kabuki Theatre
Ozatsuma—Traditional Japanese shamisen music
Kanjincho—Kabuki theatre music
Chinese Opera
The Story of the White Snake—Chinese opera aria
Listening Chart
Summary
Suggested Further Listening
Question Assignment
Listening Exercises
Chapter 4 Music for Dancing
Rhythm and Meter in Dance Music
Dance Music in the Western Tradition
Medieval Dance—Estampie
Estampie—Anonymous
The Dancing Master of the Renaissance and Baroque Periods
The Baroque Dance Suite
The Orchestral Dance Suite
What Makes Music—Musical Instruments: The Woodwind Family
Water Music (excerpts)—George Frideric Handel
"Air" from Orchestral Suite #3 in D major— Johann Sebastian Bach
Solo Instrumental Dance Suite
Suite for Solo Cello in G major—Johann Sebastian Bach "Bourrées I & II"
Nineteenth-Century Waltzes
An der schönen blauen Donau (On the Beautiful Blue Danube)—Johann Strauss II
The Full-Length Ballet
Timeline of Music for Dancing Swan Lake
"Lake in the Moonlight" from Swan Lake— Peter Ilyich Tchaikovsky
Perspective—Ancient Dance References
Ballet Music of Remarkable Significance
The Rite of Spring
Biographical Spotlight: Igor Stravinsky
The Rite of Spring (two excerpts)— Igor Stravinsky "Auguries of Spring" (Dances of the Young Girls)
"Sacrificial Dance" (The Chosen One)
Thoroughly American Ballet
Rodeo
Rodeo (two excerpts)—Aaron Copland
"Corral Nocturne"
"Hoe Down"
Folk Dance Music from around the World
Balinese Gamelan Music
Gamelan Angklung— Balinese Gamelan Music
Tibetan Buddhist Monk Dancing
Dance of the Skeleton— Tibetan Buddhist Monks
Italian Tarantella and Saltarello
Saltarello—Traditional Italian Folk Dance
Symphony #4—Felix Mendelssohn "4th Movement" (Saltarello)
West African Folk Dance Music
Peul's Dance—Senegal
Acrobatic Dance of the Youths—Liberia
Initiation Dance—Togo
Celtic Reels
Three Reels (played without pause)— Traditional Celtic Dance Music "The Boys of the Lough" "Over the Bog Road" "The Merry Harriers"
The American Square Dance
Bob Wills Square Dance #1—Bob Wills and His Texas Playboys
Listening Chart
Summary
Suggested Further Listening
Question Assignment
Listening Exercises
Chapter 5 Songs
Folk Songs, Art Songs, and Popular Songs
Representative Folk Songs
English Folk Songs
Greensleeves —Traditional English Folk Song (poss. Henry VIII of England, 1500s)
Blow the Man Down —Traditional English Sea Chantey
African Folk Songs
Gumbukumbu— Traditional African Folk Song
Kumbaya—Traditional African Folk Song
What Makes Music—Voices: Male Voices
American Folk Songs
Folk Song Inspired by War
The Cruel War—Traditional Folk Song
Folk Song Born of Slavery
All the Pretty Little Horses—Traditional Folk Song
Folk Song to Accompany Work
John Henry—Traditional American Work Song
Box: A Unique Type of Folk Song
Pilentze Pee (Little Bird)—Traditional Bulgarian Folk Song. Translated by Milena Albrecht
Art Songs in the Western Historical Periods
A Medieval Troubadour Song
Ahi! Amours (Alas Love)—Conon de Bethune, ca. 1150–1220
A Renaissance Lute Song
I Care Not for These Ladies—Thomas Campion, 1567–1620
A Classical/Romantic Art Song
Biographical Spotlight: Franz Schubert
Erlkönig (The Erlking)—Franz Schubert
Art Songs with Orchestral Accompaniment
"The Drunkard in Spring" from Das Lied Von Der Erde—Gustav Mahler
The Emergence of Popular Song
Stephen Foster
Perspective—Words in Song
Timeline of Songs
Jeanie with the Light Brown Hair— Stephen Foster
The Blues
Twelve-Bar Blues Chord Progression
Chord Names
Every Day (I Have the Blues)—B. B. King
Tin Pan Alley
Puttin' on the Ritz—Irving Berlin
Jazz Songs
Blue Skies—Irving Berlin
Strange Fruit—Lewis Allan (Abel Meeropol)
Rock and Roll
Good Golly Miss Molly—Little Richard
Roll Over Beethoven—Chuck Berry
Rock Around the Clock— Bill Haley and the Comets
The Impact of Rock and Roll
Box: Rock and Roll Icons
Blue Suede Shoes—Elvis Presley
(I Can't Get No) Satisfaction—The Rolling Stones
Other Popular Styles
Urban Folk
The Times They Are a' Changin— Bob Dylan
R&B/Motown
My Girl—The Temptations
Blues/Rock
Crossroads—Robert Johnson, performed by Cream
Heavy Metal
Metal Meltdown—Judas Priest
Country
Folsom Prison Blues—Johnny Cash
Pop Music
Candle in the Wind—Elton John, Lyrics by Bernie Taupin
Alternative Rock
Jeremy—Pearl Jam
Listening Chart
Higher Ground—The Red Hot Chili Peppers
Rap/Hip-Hop
Hard Times—Run-D.M.C.
Lose Yourself—Eminem
Popular Songs since 2000
Swagga Like Us—T.I., Jay-Z, L'il Wayne
DJ Got Us Falling In Love 2010—Usher—R&B influenced
Find Your Love—Drake—Rap influenced
Mean—Taylor Swift—Country influenced
Hello—Adele—Pop influenced
Summary
Suggested Further Listening
Question Assignment
Listening Exercises
Chapter 6 Music for Mourning
The Requiem Mass
Biographical Spotlight: Giuseppe Verdi
The Dies Irae
Sequence (Dies Irae excerpt) from Requiem Mass in D minor—Wolfgang Amadeus Mozart
Sequence (Dies Irae excerpt) from Messa da Requiem—Giuseppe Verdi
What Makes Music—Musical Instruments: The Brass Family
A Requiem without the Dies Irae
In Paradisum from Requiem in D minor— Gabriel Fauré
Songs of Mourning
Tears in Heaven—Eric Clapton
"Nun will die Sonn . . . " Movement I from Kindertotenlieder—Gustav Mahler (Now the sun will rise . . . )
Instrumental Music of Mourning
Perspective—On the Transmigration of Souls by John Adams
The Funeral March
3rd Movement "Funeral March" from Piano Sonata #2 in B-flat minor—Frederic Chopin
2nd Movement "Marcia Funebre" from Symphony #3 in E-flat major—Ludwig van Beethoven
Threnody
Threnody to the Victims of Hiroshima— Krzysztof Penderecki
The Adagio for Strings
Timeline of Music for Mourning
Adagio for Strings—Samuel Barber
Dogon Funeral Music
Dogon Funeral Music
The New Orleans Jazz Funeral
Just a Closer Walk with Thee—Jazz Funeral Dirge
When the Saints Go Marching In— Traditional
Native American Funeral Music
Funeral Song—Watapai (Walapai)
Listening Chart
Warrior Death Song (for Sitting Bull)— Assinboine (Assiniboine)
Summary
Suggested Further Listening
Question Assignment
Listening Exercises
Chapter 7 Music for Celebration, Inspiration, and Commemoration
Music for Celebration
Happy Birthday
Auld Lang Syne
Auld Lang Syne—Traditional Scottish Folk Song performed by Guy Lombardo's Orchestra
The Wedding March from A Midsummer Night's Dream
Wedding March from A Midsummer Night's Dream—Felix Mendelssohn
Jewish Wedding Music
Hava Nagila (Come Let Us Be Glad)—Traditional Jewish Folk Dance
Wedding Dance—Traditional Jewish Klezmer Music
Mexican Hat Dance
Jarabe Tapatío—Jesús Rubio
Music of Inspiration
Fanfares
Hail to the Chief—Ceremonial Fanfare
Olympic Fanfare (opening flourish)— John Williams
Olympic Fanfare (entire composition)— John Williams
Fanfare for the Common Man—Aaron Copland
National Anthems
What Makes Music—Musical Instruments: The Percussion Family
The Star Spangled Banner (verses 1 and 4)— words by Francis Scott Key, music by John Stafford Smith
Marches
The Stars and Stripes Forever—John Philip Sousa
Music of Commemoration
The Concert Overture
Festive Overture—Dmitri Shostakovich
The 1812 Overture
Timeline of Music for Celebration, Inspiration, and Commemoration
Perspective—Monuments and Memorials
Biographical Spotlight: Peter Ilyich Tchaikovsky
1812 Overture—Peter Ilyich Tchaikovsky
Lincoln Portrait
Lincoln Portrait—Aaron Copland
A Song of Celebration, Inspiration, and Commemoration
Listening Chart
We Shall Overcome—Pete Seeger, Guy Carawan, and Frank Hamilton
Summary
Suggested Further Listening
Question Assignment
Listening Exercises
Chapter 8 Music for the Concert Hall
Development of the Concert Tradition
Musical Experiences before the Twentieth Century
Music For The Concert Hall—Historical Periods, Common Genres, and Composers
Baroque Period, 1600–1750
Style and Characteristics
Musical Elements
Baroque Instruments
Box: The Baroque Orchestra
The Basso Continuo
Baroque Instrumental Genres
Concerto Grosso
Brandenburg Concerto #2, 1st movement— Johann Sebastian Bach
Concerto
Lute Concerto in D major, 2nd movement— Antonio Vivaldi
The Fugue
What Makes Music—Musical Instruments: Keyboards
Little Organ Fugue in G minor—Johann Sebastian Bach
Little Fugue in G minor (orchestrated)— Johann Sebastian Bach
Biographical Spotlight: Johann Sebastian Bach
The Trio Sonata and the Sonata
Sonata, Opus 1 #3, Presto—Arcangelo Corelli
Box: Italian Terms
Classical Period, 1750–1825
Style and Characteristics
Perspective—Baroque to the Twenty-First Century (Part 1)
Musical Elements
Single-Movement Forms of the Classical Period
Sonata Form
Classical Instrumental Genres
The Symphony
Box: The Classical Orchestra
Symphony #5 in C minor, 1st movement— Ludwig van Beethoven
The String Quartet
String Quartet in D minor, 2nd movement (Andante con moto)—Franz Schubert
Box: Composition
The Concerto
Concerto for Trumpet and Orchestra, 1st movement—Franz Joseph Haydn
The Sonata
Piano Sonata, Opus 13, 2nd movement—Ludwig van Beethoven
Romantic Period, 1825–1900
Style and Characteristics
Timeline of Music for the Concert Hall
Musical Elements
Box: The Romantic Orchestra
The Romantic Piano
Ballade in G minor—Frederic Chopin
Romantic Period Instrumental Genres
Program Music, Nationalism, and Impressionism
Program Music
Till Eulenspiegel's Lustige Streiche (Till Eulenspiegel's Merry Pranks)—Richard Strauss
Nationalism
Night on Bald Mountain—Modest Mussorgsky, revised by Nicolai Rimsky-Korsakov
Impressionism
L'Après-midi d'un faun (The Afternoon of a Faun)—Claude Debussy
The Romantic Symphony
The New World Symphony
Symphony #9, 2nd movement, Largo—excerpt Antonin Dvorˇák
Goin' Home—Melody composed by Antonin Dvorˇák, words by William Arms Fisher
Symphony #9, 4th movement, Allegro con fuoco (Fast with fire)—Antonin Dvorˇák
Twentieth/Twenty-First Century 1900–Present
Style and Characteristics
Perspective—Baroque to the Twenty-First Century (Part 2)
A New Musical Language—Re-Evaluating Common Practices
Serialism
Expressionism
Five Piano Pieces, two movements—Arnold Schoenberg
Langsam (Slowly)
Sehr rasch (Very quickly)
Primitivism
The Rite of Spring, excerpt "Adoration of the Earth"—Igor Stravinsky
Neoclassicism
Pulcinella, Overture and Allegro—Igor Stravinsky
Avant-garde: Experiments in Modern Music
The Banshee—Henry Cowell
Traditionalism
Twentieth/Twenty-First Century Tonality-Based Compositions
Rhapsody in Blue
Rhapsody in Blue—George Gershwin
Afro-American Symphony
Afro-American Symphony, 3rd movement "Animato"—William Grant Still
Symphony #2, Mysterious Mountain
Symphony #2, Mysterious Mountain, double fugue excerpt—Alan Hovhannes
In C
In C—Terry Riley
Symphony #3, 4th movement—Philip Glass
Crossover Music
Blackberry Winter, 3rd movement—Conni Ellisor
"Vivace" from Concerto Suite for Electric Guitar and Orchestra—Yngwie Malmsteen with David Rosenthal
Since 2000
Listening Chart
Lost Vegas for symphonic band—3rd movement "Fever"—Michael Daugherty
Sinfonia #3 La Salsa—1st Movement "Tumbao"—Roberto Sierra
Last Round—1st Movement—Movido, urgente— Macho, cool, and dangerous—Osvaldo Golijov
Song of Eight Unruly Tipsy Poets from Poems from Tang—Zhou Long
Summary
Suggested Further Listening
Question Assignment
Listening Exercises
Chapter 9 Music for the Movies
Early Years of Movie Music
The Jazz Singer
Toot, Toot, Tootsie, Goodbye—Gus Kahn, Ernie Erdman, Dan Russo
Kol Nidre—Jewish Prayer
Orchestral Scores
King Kong, Main Title Sequence— Max Steiner
The Sea Hawk, Main Title Sequence— Erich Wolfgang Korngold
Gone with the Wind, Main Title Sequence— Max Steiner
Alexander Nevsky—A Milestone in Movie Music
Alexander Nevsky, "Battle on the Ice"—Sergei Prokofiev, Two excerpts
Songs in Film
Somewhere, Over the Rainbow—music by Harold Arlen, lyrics by E.Y. Harburg
As Time Goes By from Casablanca—Herman Hupfield
An Evolving View of the Role of Music in Movies
"Circus Music" from The Red Pony—Aaron Copland
Musical Performances as Pivotal Scenes
Die Wacht am Rhein/La Marseillaise from Casablanca
The Storm Cloud Cantata from The Man Who Knew Too Much—Arthur Benjamin
Wild Signals from Close Encounters of the Third Kind—John Williams
Staged Musical Adaptations
What Makes Music—The Conductor
"Dat's Love" from Carmen Jones—lyrics by Oscar Hammerstein, music by Georges Bizet
Classical Compositions That Appear in Movies
Musical Biopics
Timeline of Music for Movies
Music for Animated Movies and Cartoons
Cartoon Shorts
Powerhouse—Raymond Scott
William Tell Overture—Gioacchino Rossini
Electronic Scores
Forbidden Planet, Main Title Sequence—Louis and Bebe Barron
Perspective 1—Music on Radio and Television
Perspective 2—Music for Video Games
Forbidden Planet, "Battle with Invisible Monster"—Louis and Bebe Barron
Chariots of Fire, Main Title Sequence— Vangelis
The Day the Earth Stood Still, "Prelude"— Bernard Herrmann
The Influence of the Director
"Ride of the Valkyries" from Die Walküre— Richard Wagner
Prominent Composers of Movie Music
"Murder" (Shower Scene from Psycho)—Bernard Herrmann
The Good, The Bad and The Ugly—Main Theme—Ennio Morricone
Gabriel's Oboe from The Mission—Ennio Morricone
Dr. No, "James Bond Theme"—John Barry
Biographical Spotlight: John Williams
Listening Chart
Jaws, "Main Title and First Victim"— John Williams
Star Wars, "Main Title Sequence"— John Williams
Since 2000
"Istanbul Grand Bazaar" from Skyfall— Thomas Newman
"The Luzhin Defence" from The Luzhin Defence—Alexandre Desplat
"Concerning Hobbits" from The Lord of the Rings: The Fellowship of the Ring—Howard Shore
"Main Theme" from Kingsglaive: Final Fantasy XV—Yoko Shimomura and John Graham
Summary
Suggested Further Listening/Watching
Question Assignment
Listening Exercises
Chapter 10 The Experience of Improvisation
Improvisation, a Uniquely Musical Experience
The Improvisatory Framework
Improvisation in Western Art Music
Lute Concerto in D major, 2nd movement— Antonio Vivaldi
Piano Concerto #1 in C major, 1st movement— Ludwig van Beethoven, Cadenza improvised by Galina Vracheva
Improvisation in the Contemporary "Classical" Context
A Night In Tunisia—Dizzy Gillespie, performed by the Turtle Island String Quartet
Muir Woods Suite, "Phase 5"—George Duke
Improvisation in Jazz
When the Saints Go Marching In—performed by Louis Armstrong
West End Blues—Louis Armstrong and His Hot Five
Biographical Spotlight: Louis Armstrong
One O'Clock Jump—Count Basie and His Orchestra
Take the "A" Train—Billy Strayhorn, performed by the Duke Ellington Orchestra
In the Mood—Glenn Miller Big Band
Straight No Chaser—Thelonious Monk
A Night in Tunisia—Dizzy Gillespie
Yvette—Stan Getz
So What—Miles Davis
Bitches Brew—Miles Davis
Improvisation in Rock Music
Good Golly Miss Molly—Little Richard
Roll Over Beethoven—Chuck Berry
The Experience of Improvisation Timeline
Perspective—Improvisation in Theatre and Dance
Rock Around the Clock—Bill Haley and the Comets
Spoonful—Willie Dixon, performed by Cream
You Enjoy Myself—Trey Anastasio, performed by Phish
Improvisation in Non-Western Music
Maqam Kurd—Traditional Arabic Improvisation
What Makes Music—Musical Instruments: Plucked Strings
Raga: Tilik Shayam—Performed by Ravi Shankar
Listening Chart
Summary
Suggested Further Listening
Question Assignment
Listening Exercises
Glossary of Key Terms
Glossary of Key People and Compositions
Appendix
Index of Key Terms
Index of Key People and Compositions
The Musical Experience has been a great success! For the first time I can honestly say students are truly engaged and interested in learning about music appreciation.
Norman Gamboa | Washburn University

I really love The Musical Experience! Several students thanked me for making the class fun and enjoyable, and a great part of that was because of this book. It actually makes the student appreciate music, and in a "Music Appreciation" class that is the main goal, right?
Bernardo Scarambone | Alcorn State University

The Musical Experience's combination of approaching music appreciation by genre and the wealth of contemporary examples made the subject matter much easier to grasp. This is the way music appreciation was meant to be taught!
Kenny Goodson | Northeast Texas Community College

Both my students and I have been very pleased with The Musical Experience and the online support that supplements it. I am particularly fond of the grade book and calendar functions. It makes organization of the course details a breeze.
Scott Johnson | Augustana College
Ebook Package
$95.00
ISBN 9781524998455
Details eBook w/KHPContent and KHQ 180 days