RETURN TO SEARCH RESULTS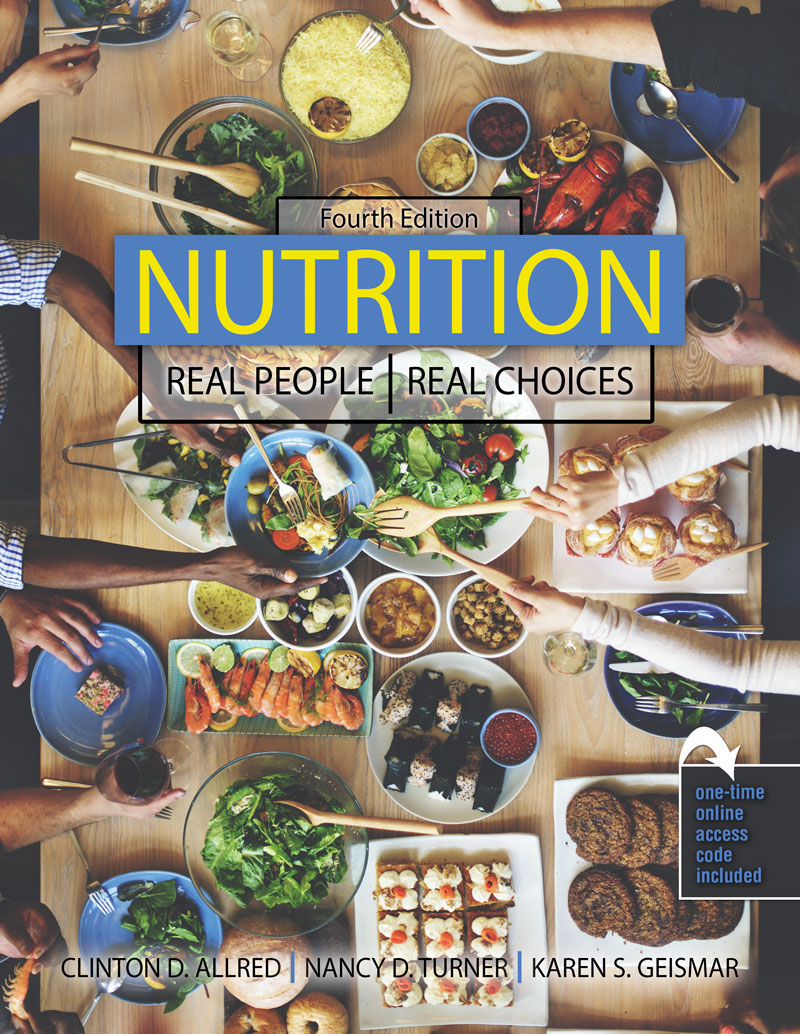 Details: Print Prod w/KHPContent Code | 180 days |
Nutrition: Real People, Real Choices is a research-driven text that has been developed and tested in response to and in partnership with more than 100 instructors across the country. It is also the product of feedback provided in survey data by hundreds of students. An extensive Instructor's Manual and Test Bank are available as part of the fully integrated ancillaries. These ancillaries are designed to meet student learning objectives.
Nutrition: Real People, Real Choices is an introductory nutrition text that engages and motivates students to care about nutrition and the impact it has on their health and everyday lives. Students are encouraged to apply what they have learned outside of the classroom, allowing them to make informed choices when it comes to a meal or a snack. Included are several applications to assist students in turning knowledge into action:
Application Tips
Make It a Practice
Self-Assessment
You Decide
Real People, Real Choices
Nutrition: Real People, Real Choices contains unique features:
Integrated Topics – Information on Dietary Supplements, Global Nutrition, Vegetarianism, and more are included throughout the text. This gives students some exposure to these topics not seen as requiring a dedicated chapter.
Scope of Coverage – Research indicated that two topics were identified as needing full chapter coverage. They are: Dietary Supplements and Alcohol.
Depth of Coverage – Annotated references in each chapter directs students to the companion website where topics are explored in greater detail and/or related topics are investigated. These are labeled in the margins as Want to Know More?
CHAPTER 1 The Food on Your Plate
CHAPTER 2 Think Before You Eat: Developing a Nutrition Plan for Health
CHAPTER 3 Carbohydrates: From Sugar to Fiber and All That's in Between
CHAPTER 4 Fats or Lipids
CHAPTER 5 Proteins: Not Just for Muscle
CHAPTER 6 Digestion, Absorption, and Metabolism: The Link Between Food and Energy
CHAPTER 7 Energy Balance and Obesity
CHAPTER 8 Water and Electrolytes: Striking a Balance
CHAPTER 9 Vitamins
CHAPTER 10 Minerals
CHAPTER 11 Supplements
CHAPTER 12 Pregnancy, Breastfeeding, and Infant Feeding
CHAPTER 13 Nutrition for Children, Adolescents, and Older Adults
CHAPTER 14 Sport and Exercise Nutrition
CHAPTER 15 Eating Disorders: Do Not Discriminate
CHAPTER 16 Alcohol and Your Health
CHAPTER 17 Assuring a Safe Food Supply
Print Package
$150.00
ISBN 9781792494420
Details Print Prod w/KHPContent Code 180 days