RETURN TO SEARCH RESULTS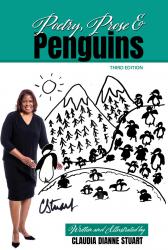 Poetry, Prose and Penguins
Author(s): Claudia Stuart
Edition: 3
Copyright: 2021
Pages: 218




Details: Print Product |
Reading poetry is almost as much an art form as is writing poetry. You don't just skim the words of one and go on to the next. You read the words, maybe even speak them aloud, and listen to what they have to say. You focus on your own reaction, hear what the words have said to your heart, find that knowing place where Truth lives. You hold that poem for a while, live with it, taste it. Only when you have absorbed all you can for the moment do you set it down gently and rest.
Claudia Stuart combines reflective poetry, powerful prose and whimsical penguin illustrations in her latest collection of textual and visual creations, Poetry, Prose & Penguins. Evocative as well as provocative, Poetry, Prose & Penguins features brilliant illustrations that portray the unique qualities of penguins, ever cooperative and communicative.
Poetry, Prose & Penguins:
Includes an opening section on free verse.
Features a unique format that encourages the reader to slowly and carefully navigate the witty ideas which serve as "food for thought."
Presents reflections on the author's personal life as well as pressing issues of the larger world around us – including human conditions in the aftermath of Hurricane Katrina and legal immigration.
Other Books
Foreword
Preface
Acknowledgment
I Poetry
A Man, a Plan and a Kitchen
A Tribute to Charles Warford
A Victim's Tale
Alliance
Apartheid
Believe
Black Lives Matter A Masterpiece
Blessed Be the Name of the Lord
Blessings
Bold and Bodacious
Break It to Me Gently
Breathe
Business as Usual, Not
Come to Me Softly
Come Ye Front and Center
COVID-15
COVID-19
Creative Writing A Must Do
Desire
Did I Ever Tell You How Much I Love You?
Don't Call Me a Refugee I Am An American
Don't Fan the Flames of Racism
Enter into the Sanctuary The Shooter
Everyday Is a New Day 41
Free
God Love
God's Love He Kept Me
Gratitude
Happiness
Harness the Power
Hell Has No Fury
I See the World
If Jesus Came Back into the World Today, Could I Afford to See Him? A Masterpiece
I'm So Glad my God Loves Me
It's A Mistake
It's Not Enough To Say, "I Love You"
Jesus
Lazy Days of Summer
Lies, Lies and More Lies
Listen as She Speaks
Lord I See You
Lord is Worthy
Love
Love II
Love, Perhaps
Mean Streets
Moments
Moments II
My Boys Are Gone
My Mother May on My Mother's Day
My Reality
New Citizens' Address I Come Here
No Time for Mess
Passion
Power Down
Power Up
Rain Dance
Reconciliation
Respect and Serve
Sequencing
Sing a Song
Smile
So, You Love Me
System's Failure
Take Charge
Thankful for the Harvest
The Miracle of God
The Perfect Gift
The White Hat
Thoughts
Time Flies
Too Long in the Shadows
Travel
Treasures
Turn Away from Sorrow
Unique
Ups and Downs
Van Gogh
Vision Quest
What Do You Want from Me
Where Is the Outcry
Wrap Me
II Prose
You Can Fix Things
When Life Hands
Make Up Your Own Mind
You Are Your Own
Keep Up
When You Dislike
Look Back
I Really Love
Life Is Precious
When People Are
Reach Out
Don't Overwhelm
When You Can
I Cannot Afford
Nothing Ever Means
If You Can't See It
Put Your Priorities
We Invest in
Don't Get Mad
Life Is A Stage
Check Out
Don't Spoil Me
Is It Really
A Journey Begins
You Were Born
Enjoy the View
Stop Swimming Upstream
In the World
Set Me Straight
In All That You Do
Too Many People
A Strong Sense of Self
If Set in Your Ways 200
Penguins
Penguin Art
Blessed
Penguins
Blessed
Penguins
Penguins
Penguins
Penguins
Penguins
Blessed
Penguins
Diversity
Penguins
Circle of Friends
Penguins
West Texas A&M University
Penguins
Blessed
All
Scattered
Circle of Friends
Circle of Hope
March of the Penguins
Penguins
Penguins
Penguins
Joy
Peace
Blessed
Penguins
Penguins
Penguins
Penguins
Family
Penguins
Print
$59.54
ISBN 9781792449895
Details Print Product