RETURN TO SEARCH RESULTS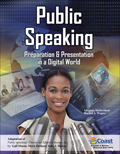 Details: Electronic Delivery EBOOK | 180 days |
A Complete & Customizable Public Speaking Course!
Now you can offer an innovative, turn-key public speaking course at your institution, and the course content is already created and waiting for your customization!

Online courses from Coast Learning Systems allow you to adopt it today, customize it tonight, and teach it tomorrow!
Public Speaking: Preparation & Presentation in a Digital World is an introductory college (100-level) textbook designed for both the on-ground and online instructor. One textbook is specifically for the face-to-face classroom and the second textbook has been created to be delivered with the online course.
Everyone has a distinct voice, and incorporating the principles of public speaking will help students to develop that voice into a potent instrument of influence, productivity, and interpersonal significance. Public Speaking focuses on how to present yourself and your messages in a way that increases the odds of being heard and getting what you want in an efficient and ethical manner. While the primary focus is on the more formal presentations life brings to us, (work, school, and community) Public Speaking also contains effective strategies for less formal venues of public speaking such as face-to-face conversations , conference calls, emails, status updates, and text messages.
The companion online course which expands on the textbook content can be adjusted to suit individual instructor needs: use all of the resources provided for a robust online learning experience or select only those topics/lessons you wish students to use. Instructors can make visible or invisible nearly all of the elements within the online course and they can also re-order lessons to align to their preferred topic delivery order. The course then becomes the customized course instructors will use over and over again! This course targets students at community colleges looking to satisfy their general education requirements for an Associate in the Arts degree or for transfer to four-year institutions.
Chapter 1 Public Speaking for Success
Chapter 2 Public Speaking Apprehension and Listening Strategies
Chapter 3 Verbal and Nonverbal Delivery
Chapter 4 Audience Analysis, Adaptation, and Presentation Ethics
Chapter 5 Speech Preparation and Critiquing Speeches
Chapter 6 Research and Supporting Material
Chapter 7 Organizing and Outlining Your Ideas
Chapter 8 Introducing and Concluding Your Speech
Chapter 9 Colorful Presentations: Vivid Language and Presentational Aids
Chapter 10 Informative Speaking
Chapter 11 Persuasive Speaking
Chapter 12 Speaking for Special Occasions
Chapter 13 Public Speaking in an Electronic World
Chapter 14 Presenting to or Working with Small Groups or Teams
Ebook
$71.36
ISBN 9781465209115
Details Electronic Delivery EBOOK 180 days