RETURN TO SEARCH RESULTS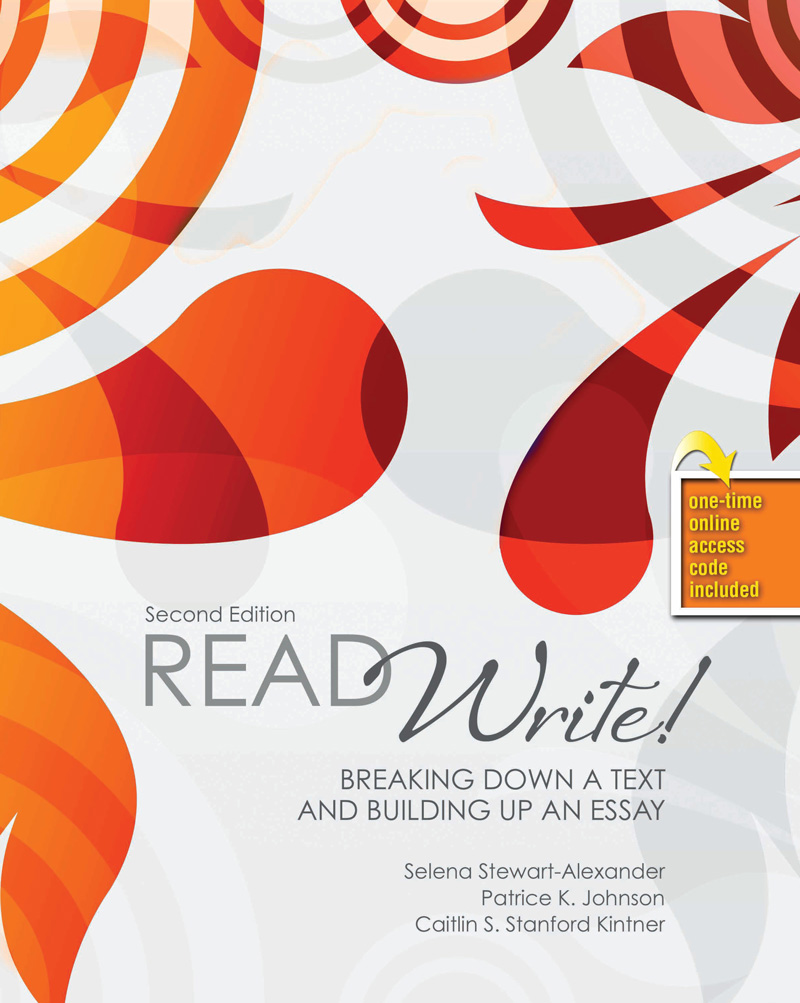 New Edition Now Available!
In order to improve your reading skills, you must write more, and in order to improve your writing skills, you must read more.
Read Write! Breaking down a Text and Building up an Essay truly integrates reading and writing. Students gain an understanding of the reading and writing connection, which strengthens both their reading and writing skills. Throughout this student-centered textbook, students learn about strategies and utilize tools to help them engage in synthesis based learning.
Using the PAUSE reading comprehension system, students learn to preread, annotate, understand, summarize, and evaluate a variety of texts.
As students become better readers, they also simultaneously learn about the different rhetorical modes and how to incorporate grammar and mechanical skills into their own writing.
Read Write! Tips are provided to help your students better grasp a concept or to help improve their study skills.
The text also includes strategies, activities, key terms, and more in an easy-to-identify color format to reinforce concepts and to assess comprehension.
The Read Write! website is available to serve as a technology component and to offer students 24 hour access to skill and drill practice.
Preface: The Reading and Writing Connection
How will Reading Improve Your Writing Skills?
How will Writing Improve Your Reading Skills?
Some Notes About this Text
Terminology
Read Write! Tips
Color Coding
Pages
The Reading and Writing Questionnaire
Author Bios
PART I The Reading and Writing Processes
Chapter 1 The Reading Process
Pause
Prereading
Annotating
Understanding
Summarizing
Evaluating
Ways to Improve Reading Attitude to Increase Altitude
Step 1: Admit that your reading skills need improvement
Step 2: Find a reason to want to improve your reading skills
Step 3: Read every day for at least 20 minutes
Step 4: Practice reading aloud
Read Write! Review Questions: The Reading Process
Read Write! Connection: Chapter 1
Chapter 2 Success Strategies for College Students
Note Taking and Study Tips
Paraphrasing
Mnemonic Devices
Other Reading Comprehension Strategies
KWL
SQR3
Graphic Organizers
Clustering
Building a Pyramid
Outlining
Venn Diagrams
Pros and Cons List
Drawing Pictures
Vocabulary Building
Vocabulary Journals
Using Notecards.
Demystifying Words: Prefix, Root, and Suffix
Practices for Success
The Ten Practices of Successful College Students
Read Write! Review Questions: Success Strategies for College Students
Read Write! Connection: Chapter 2
Chapter 3 The Writing Process
Prewriting
Audience and Purpose
Topic
Prewriting Strategies
Asking Questions
Drafting
Expressing a Main Idea
Organizing Your Ideas
Outlining Example for a Traditional Five-Paragraph Essay
Essay Construction
The Traditional Five-Paragraph Essay Layout
Revising
Unity
Support
Coherence
Editing
Titles
Publishing
Read Write! Review Questions: The Writing Process
Read Write! Connection: Chapter 3
Chapter 4 The Traditional Five-Paragraph Essay
Introductions
Background Information Method
General to Specific Method
Anecdote Method
Contrast Method
Quote Method
Question Method
Surprising Statement Method
The Body Paragraphs
Conclusions
Single Sentence Method
Multi-sentence Method
Summary Method
Suggestion Method
Prediction Method
Call-to-action Method
Two Full Conclusion Examples
Revisiting the Anecdote from the Introduction
Anecdote Introduction
Conclusion Example
Traditional Five-Paragraph Essay Example
Read Write! Review Questions: The Traditional Five-Paragraph Essay
Read Write! Connection: Chapter 4
PART II Critical Reading and Writing
Chapter 5 Analyzing a Text
The Levels of Reading
Organizational Patterns
Theme
Considering The Author
Author's Background
Audience and Purpose
Fact vs. Opinion
Author's Word Choice
Author's Bias
Read Write! Review Questions: Analyzing a Text
Read Write! Connection: Chapter 5
Chapter 6 Analyzing Your Own Writing
Credibility
Audience And Purpose
Facts Vs. Opinion
Word Choice
BIAS
Read Write! Review Questions: Analyzing Your Own Writing
Read Write! Connection: Chapter 6
Chapter 7 Writing with Sources
Evaluating Sources
Integrating Sources
The Quarter Rules
Direct Quotations
Paraphrasing
The Sandwich Method
MLA Style Parenthetical Citations
No Author
No Page Number
Two Authors
More than Two Authors
MLA Style Works Cited Pages
One Author
Two Authors
Three or More Authors
No Author or Editor
Article in an Online Journal
Article in an Online Newspaper
Read Write! Review Questions: Writing with Sources
Read Write! Connection: Chapter 7
PART III Reading and Writing the Rhetorical Modes
Chapter 8 Reading and Writing Exemplification
Exemplification Elements
Example of a vague or say-nothing paragraph
A Series of Examples
Example of a paragraph with a series of examples
The Extended Example
Example of a paragraph with an extended example
Example of a mixture of a series of examples and an extended example
Reading Exemplification
Writing Exemplification
Exemplification Essay Prewriting
Exemplification Thesis Statement
Exemplification Body Paragraphs
Exemplification Conclusion
Exemplification Outline
Read Write! Review Chapter 8: Exemplification
Suggested Exemplification Essay Topics
Read Write! Connection: Chapter 8
Chapter 9 Reading and Writing Descriptive-Narrative
Descriptive-Narrative Elements
The 5WH
Conflict
The Scene
Showing, Not Telling
Literary Devices and Figurative Language
Sensory Imagery
Dialogue
Tradtional Story Structure.
Reading Descriptive-Narrative
Writing Descriptive-Narrative
Descriptive-Narrative Essay Prewriting
Descriptive-Narrative Thesis Statement
Descriptive-Narrative Body Paragraphs
Descriptive-Narrative Conclusion
Read Write! Review Questions: Reading and Writing Descriptive-Narrative
Suggested Descriptive-Narrative Essay Topics
Read Write! Connection: Chapter 9
Chapter 10 Reading and Writing Comparison-Contrast
Comparison-Contrast Elements
Organizational Patterns
The Topic
The Title and Tone
The Main Idea
The Introduction
Supporting Details
Reading Comparison-Contrast
Writing Comparison-Contrast
Comparison-Contrast Prewriting
Comparison-Contrast Claim/Thesis Statement
Plan of Development Thesis Example
General Thesis Example
Comparison-Contrast Body Paragraphs
Comparison-Contrast Conclusion
Comparison-Contrast Outline: Block Method
Comparison-Contrast Outline: Point-By-Point Method
Read Write! Review Questions: Reading and Writing Comparison-Contrast
Suggested Comparison-Contrast Essay Topics
Read Write! Connection Chapter 10
Chapter 11 Reading and Writing Cause and Effect
Cause and Effect Elements
Organizational Patterns
Tone
Reading Cause and Effect
Cause and Effect
Cause and Effect Prewriting
Cause and Effect Thesis Statement
Cause and Effect Body Paragraphs
Cause and Effect Conclusion
Cause and Effect Outline
Read Write! Review Questions: Cause and Effect
Suggested Cause and Effect Essay Topics
Read Write! Connection: Chapter 11
Chapter 12 Reading and Writing Definition
Definition Elements
Organizational Patterns
The Definition
The Title
The Main Idea/Thesis Statement
The Introduction
The Supporting Details
The Conclusion
Reading Definition
Writing Definition
Definition Prewriting
Definition Thesis Statement
Definition Body Paragraphs
Definition Conclusion
Definition Outline
Read Write! Review Questions: Reading and Writing Definition
Suggested Definition Essay Topics
Read Write! Connection: Chapter 12
Chapter 13 Reading and Writing Arguments
Argument Elements
Organizational Patterns
The Appeals
Strategies for Arguing Effectively
The Topic
The Title and Tone
The Claim
The Introduction
The Supporting Details
Fallacies
Reading Argument
Writing Argument
Argument Prewriting
Argument Claim/Thesis Statement
Argument Body Paragraphs
Argument Conclusion
Argument Outline
Read Write! Review Questions: Reading and Writing Argument
Suggested Argument Essay Topics
Read Write! Connection: Chapter 13
Chapter 14 Summarizing
Benefits of Summarzing
Summaries as Multiple Choice Questions
Formal Summarizing
Structure of a Formal Summary
Writing a Formal Summary.
Summary Example
Writing a Response to a Reading
Read Write! Review Questions: Summarizing
Read Write! Connection: Chapter 14
Chapter 15 Reading and Writing Other Rhetorical Modes
Process
Suggested Process Essay Topics
Classification
Suggested Classification Essay Topics
Description
Combined Rhetorical Modes
PART IV The Mechanics Handbook
Chapter 16 Subject and Verbs
Subjects
Verbs
Verb Types
Things To Watch Out For When Identifying Subjects And Verbs
Chapter 17 Subject-Verb Agreement
Subject-Verb Agreement
The Rule of Subject-Verb Agreement
Phrases
Infinitives
The Subject and the Verb Reversed
Compound Subjects
Indefinite Pronouns as Subjects
Chapter 18 Sentence Patterns
Types of Clauses
Independent Clause
Dependent Clause
Sentence Patterns
Simple Sentences
Compound Sentences
Comma and a coordinating conjunction
Semicolon
Complex Sentences
Compound-Complex Sentences
Chapter 19 Sentence Fragments
Definition of a Sentence Fragment
Four Types of Sentence Fragments
Correcting Fragments
"For Example" and "For Instance": The Exceptions to the Connection Rule
Chapter 20 Run-ons and Comma Splices
Run-On and Comma Splice Definitions
Four Ways to Correct Run-Ons and Comma Splices
Make two separate sentences using a period
Connect using a semicolon by itself or a semicolon, a conjunctive adverb (transitional word), and a comma
Connect using a comma and one of the coordinating conjunctions (FANBOYS)
Connect using a subordinating conjunction (dependent word)
Chapter 21 Pronoun Usage
Pronouns
Pronoun Case
Who vs. Whom
Pronoun-Antecedent Agreement
The Rule of Pronoun-Antecedent Agreement
Common Problems with Pronouns and Pronoun-Antecedent Agreement
Chapter 22 Commas
Commas
Commas in a Series
Commas with Coordinating Conjunctions (FANBOYS)
Commas with Introductory Words, Phrases, and Clauses
Introductory Words
Introductory Phrases
Introductory Clauses
Restrictive and Nonrestrictive Information
Commas with Which and That..
Who Clauses
Appositives
Lead-ins for Lists
Interchangeable Adjectives
Direct Quotations
Commas with Names When Speaking Directly to the Person
Commas with Addresses and Dates
Addresses
Dates
Chapter 23 Apostrophes
Apostrophes
Apostrophes in Contractions
It's versus Its
Singular Possessive
Plural Possessive
Irregular Plurals
Possessive Compound Nouns
Possessive Pronouns
Possessive vs. Simply Plural Nouns
Two Common Apostrophe Mistakes: Verbs and Numerals
PART V Further Readings
Learning to Read and Write by Frederick Douglass
Take the Time to Manage Your Time by David Ramirez
The Cost of Plagiarism
Practical Mathematics by Stephen M. Kintner
Choose Wisely by Michelle Stewart-Thomas
Learning to Queue by Jane Stanford
The Girl behind the Scarf by Tasneem Basha
What Did You Steal This Time? by Kenny Wiley
Few Comments on the Benefits of Letting Go by Kerry L. Stanford
excerpt from My Marriage with Him by Nelda Contreras
Hero Shot by Malik Alexander
Annabel Lee by Edgar Allan Poe
Appendix
Outline Template
Pyramid Template
Literary Devices Quick Reference
Commonly Confused Words Quick Reference
Prefix, Suffix, and Root Quick Reference
The Parts of Speech
Editing Symbols
Ebook Package
$83.78
ISBN 9798765722329
Details eBook w/KHPContent Access 180 days