RETURN TO SEARCH RESULTS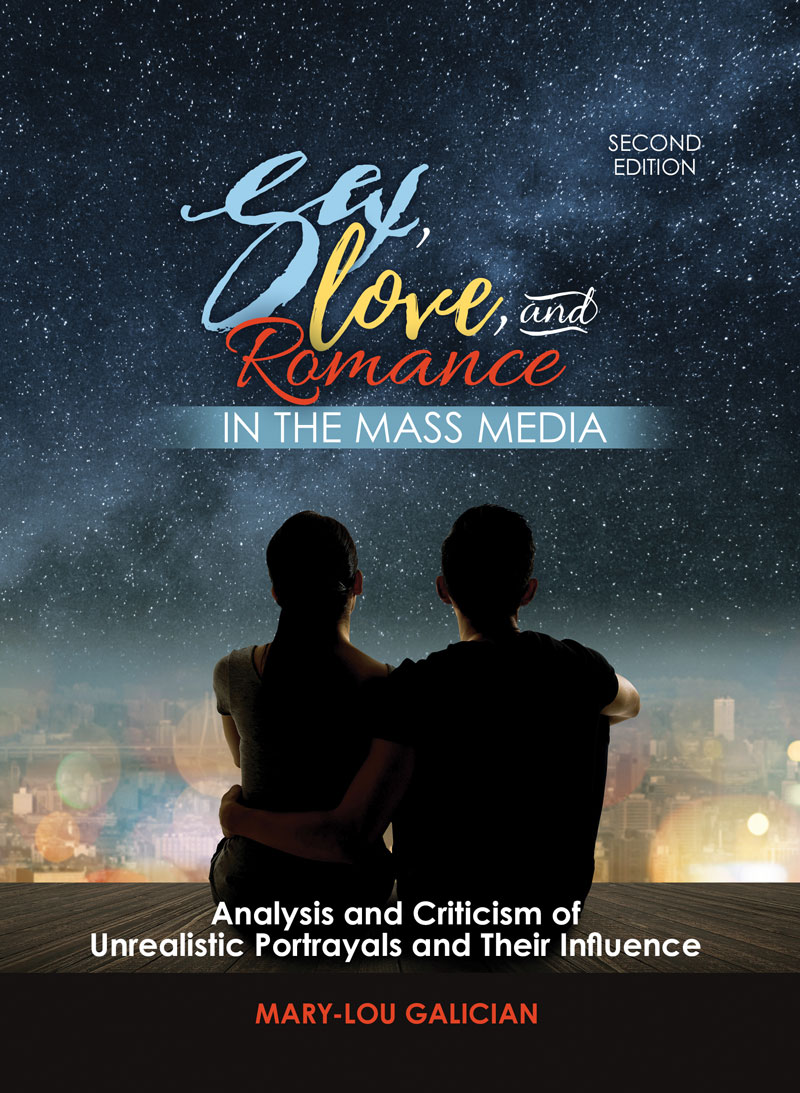 Sex, Love, and Romance in the Mass Media: Analysis and Criticism of Unrealistic Portrayals and Their Influence
Author(s): Mary-Lou Galician
Edition: 2
Copyright: 2018
Dr. FUN's Mass Media Love Quiz© is a valuable tool in media analysis and criticism that has been used by thousands of students, educators, and media literacy advocates.
Designed to capitalize on the information gleaned from the Mass Media Love Quiz, Mary-Lou Galician's Sex, Love, and Romance in the Mass Media: Analysis and Criticism of Unrealistic Portrayals and Their Influence helps readers to de-mythify mass media stereotypes that cultivate unrealistic expectations and dissatisfaction with their own real-life romantic relationships. In addition, it helps readers to become romantically realistic and realistically romantic.
The NEW second edition of Sex, Love, and Romance in the Mass Media:
Is Practical! It covers foundational theories and practical applications of analysis and criticism of mass media portrayals of sex, love, and romance from a media literacy framework.
Is Comprehensive! The content has been extensively revised (providing enhanced clarification of the central concepts and key components--and their application).
Is Up-To-Date! The material has been updated and expanded with 140 exemplary classic and recent media portrayals and 50 new research studies.
Part I – Foundations
Chapter 1: Key Foundational Terms & Concepts
What Do They Mean?
Chapter 2: Illusions (Unrealistic Models)
Myths of Stereotypes of Sex, Love, & Romance that Ruin Real-life Relationships
Chapter 3: Dis-Illusions (Realistic Models)
Prescriptions (Rxs) for Happier & Healthier Sex, Love, and Romance
Chapter 4: Mass Media Narrative Constructions
Mass Media Storytelling Approaches, Techniques, & Devices
Chapter 5: The Influence of the Mass Media
Research & Theories of Mass Media Effects on Individuals & Society
Chapter 6: Strategies & Skills of Media Literacy
Tools for Media Analysis & Criticism
Part II – Applications
Chapter 7: Dr. Fun's Mass Media Love Quiz Myth #1
Your Partner is Cosmically Predestined, So Nothing / Nobody Can Ultimately Separate You
Dr. Galician's Prescription – Rx #1: Consider Countless Candidates
Chapter 8: Dr. Fun's Mass Media Love Quiz Myth #2
There's Such a Thing as "Love at First Sight"
Dr. Galician's Prescriptions – Rx #2: Consult Your Calendar and Count Carefully
Chapter 9: Dr. Fun's Mass Media Love Quiz Myth #3
Your True Soul Mate Should KNOW What You're Thinking or Feeling (Without Your Having to Tell)
Dr. Galician's Prescriptions – Rx #3: Communicate Courageously
Chapter 10: Dr. Fun's Mass Media Love Quiz Myth #4
If Your Partner is Meant for You, Sex is Easy and Wonderful
Dr. Galician's Prescriptions – Rx #4: Concentrate on Commitment and Constancy
Chapter 11: Dr. Fun's Mass Media Love Quiz Myth #5
To Attract and Keep a Man, a Woman Should Look Like a Model or a Centerfold
Dr. Galician's Prescriptions – Rx #5: Cherish Completeness in Companions (Not just the Cover)
Chapter 12: Dr. Fun's Mass Media Love Quiz Myth #6
The Man Should NOT Be Shorter, Weaker, Younger, Poorer, or Less Successful than the Woman
Dr. Galician's Prescriptions – Rx #6: Create Coequality; Cooperate
Chapter 13: Dr. Fun's Mass Media Love Quiz Myth #7
The Love of a Good and Faithful True Woman Can Change a Man From a "Beast" into a "Prince"
Dr. Galician's Prescriptions – Rx #7: Cease Correcting and Controlling: You Can't Change Others (Only Yourself)
Chapter 14: Dr. Fun's Mass Media Love Quiz Myth #8
Bickering and Fighting a Lot Mean That a Man and a Woman Really Love Each Other Passionately
Dr. Galician's Prescriptions – Rx #8: Courtesy Counts; Constant Conflicts Create Chaos
Chapter 15: Dr. Fun's Mass Media Love Quiz Myth #9
All You Really Need is Love, So it Doesn't Matter if You and Your Lover Have Very Different Values
Dr. Galician's Prescriptions – Rx #9: Crave Common Core-values
Chapter 16: Dr. Fun's Mass Media Love Quiz Myth #10
The Right Mate "Completes You" – Filling Your Needs and Making Your Dreams Come True
Dr. Galician's Prescriptions – Rx #10: Cultivate your own Completeness
Chapter 17: Dr. Fun's Mass Media Love Quiz Myth #11
In Real Life, Actors and Actresses are Often Very Much Like the Romantic Characters They Portray
Dr. Galician's Prescriptions – Rx #11: (De)Construct Celebrities
Chapter 18: Dr. Fun's Mass Media Love Quiz Myth #12
Since Mass Media Portrayals of Romance Aren't "Real," They Don't Really Affect You
Dr. Galician's Prescriptions – Rx #12: Calculate the Very Real Consequences of Unreal Media
Epilogue
DON'T STOP! The End Can Be the Beginning of a Genuine Happily-Ever-After
Sources
Webcom
$58.50
ISBN 9781524946944
Details WEBCOM, GRT Product