RETURN TO SEARCH RESULTS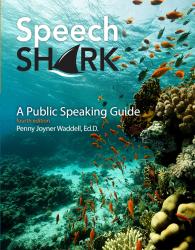 SpeechShark: A Public Speaking Guide
Author(s): Penny Waddell
Edition: 4
Copyright: 2022




Details: Print Product + Speech Shark app + KHP Content | 180 days |
New Fourth Edition Now Available!
Don't be the guppy in a shark tank; Be a SpeechShark!
SpeechShark: A Public Speaking Guide provides a practical approach for writing, preparing, and presenting effective speeches. This user-friendly workbook creates a foundation for novice and experienced speakers to organize thoughts and present content so that audiences will be begging for more. Sixteen chapters are sequenced to cover all aspects of planning and presenting highly effective speeches along with the help of assignment worksheets which can be easily removed from the printed book or edited using eBook features.
Access the included speech writing app, SpeechShark, to write, prepare, rehearse, present, and store speeches. These unique tips and tools will have you navigating effortlessly through the murky waters of public speaking and thinking like a speechwriter, organizing ideas, speaking with confidence, and developing the thick skin and fearless attitude of a SpeechShark!
The SpeechShark app helps you:
craft, draft, edit, manage, rehearse, present, and store speeches
design a speech presentation that is logical and effective
follow guidelines used by professional speech writers
rehearse using the notecards / timing feature before the presentation
speak confidently because you are prepared
It's the newest must-have app for business professionals, students, novice and experienced speakers!
Unit 1: Foundations of Public Speaking
Chapter 1 Public Speaking
Chapter 2 Speaker and Audience Responsibilities
Unit 2: Types of Speeches and Methods of Delivery
Chapter 3 Types of Speeches
Chapter 4 Specialty Speeches
Chapter 5 Methods of Delivery
Unit 3: Planning the Speech
Chapter 6 Conducting an Audience Analysis
Chapter 7 Defining the Purpose
Chapter 8 Choosing a Topic
Chapter 9 Conducting Research
Chapter 10 Understanding Speech Outlines
Chapter 11 Constructing the Outline
Unit 4: Creating Visual Aids
Chapter 12 Creating Effective Visual Aids
Chapter 13 Working with a Tech Team
Unit 5: Presenting the Speech
Chapter 14 Presentation Skills
Chapter 15 Rehearsing the Speech and Creating a Speech Day Checklist
Chapter 16 Evaluating the Speech
Glossary
Works Cited
Index
Photo Credits
Print Package
$72.45
ISBN 9798765711507
Details Print Product + Speech Shark app + KHP Content 180 days