RETURN TO SEARCH RESULTS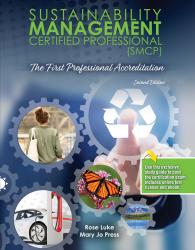 Sustainability Management Certified Professional (SMCP): The First Professional Accreditation
Author(s): Rose Luke, Mary Jo Press
Edition: 2
Copyright: 2020




Details: Print Prod w/eBook, Mobius | 180 days |
The members of the Sustainability Management Association, believe that we can reverse the course of environmental degradation, corruption, and climate change by taking action. Now is the time to do what we can to practice human kindness, governance, and stewardship. We believe that each one of us makes a difference, and together we can accomplish great feats.
The study guide serves four purposes:
1) to increase your sustainability management knowledge, skills and abilities to become a change agent
2) to prepare you to take the certification exam for the SMCP/SMCA
3) to train your workforce on managing sustainability
4) to develop and empower the frontline management team's ability to create a culture of sustainability
The Sustainability Management Certified Professional (SMCP), study guide is written by professionals for professionals and students to certify your exposure to a body of knowledge that attests to your knowledge, skills, and abilities in managing sustainability. The certifying body of the SMCP certification is the Sustainability Management Association.
( HYPERLINK "https://www.sustainabilityma.org")
Certification is granted in two levels of distinction:
Sustainability Management Certified Professional (SMCP)
Sustainability Management Certified Associate (SMCA)
The certification examination questions are derived directly from this study guide. This study guide organizes key management principles and concepts to strategically position organizations to achieve long-term success.
The study guide begins with strategic goals, drills down to developing tactics, and then project management for operations to manage environmental, social, and economic key performance indicators.
This study guide contains the license code needed to take the exam. The print book contains a scratch-off code. If purchasing the e-book, the certification exam code will be emailed right away. Please keep it in a safe place for when it is time to register for the online exam.
Foreword
Preface
About the Authors
Introduction
Chapter 1: Strategic Sustainability Management
Introduction
Learning Objectives
Strategic Management
What Is Sustainability Management?
Embedding Sustainability Management into Strategy
Benefits and Risks of Pursuing Sustainability Management
Sustainable Organization
Holistic Management Decision Making
Sustainability Management System (SMS) Policy
Sustainability Terminology and Frameworks
Engineering Approaches
Social Responsibility
ISO 26000—Social Responsibility
Summary
Experiential Exercise
Chapter 2: Systems Thinking Approaches and Environmental Metrics
Systems Thinking Approaches
Systems Thinking and System Dynamics Approaches
Achieving and Measuring Efficiency
Environmental Management Metrics
Emissions Management and Metrics—Carbon Footprint
Summary
Experiential Exercises
Chapter 3: Policies for Decision Making and Change Management
Introduction
Chapter Overview
Sustainability Management System (SMS) Policy
Environmental Management System (EMS) Policy
Environment Preferable Purchasing (EPP) Policy
Summary
Experiential Exercises
Chapter 4: Aligning Business Systems to Achieve Systemic Change
Introduction
Aligning Business Systems
Change Management
The Role of Senior Management
The Role of Middle-Level Management—Tactics
The Role of Operations Management
Aligning Business Systems—How Each Department Plays a Role
The Role of Human Resource Management
The Role of Environmental, Health, and Safety (EHS)
The Role of Facilities Management
The Role of Information Technology
The Role of Accounting and Finance
The Role of Marketing
Aligning Business Systems—Putting the Pieces Together
Experiential Exercises
Chapter 5: Supply Chain Management
Part I: Strategic Approaches
Part II: Operations and Terminology
Part III: Sourcing and Purchasing
Part IV: Sustainable Supply Chain Metrics
Summary
Experiential Exercises
Chapter 6: Certifications—Built Environment and Products
LEED/USGBC Green Associate
Energy Star Certification
WaterSense
NSF International
Green Seal
Chapter 7: Certifications—Triple Bottom Line Focus
Fair Trade USA
USDA Organic
Marine Stewardship Council
Forest Stewardship Council
Summary
Chapter 8: Communications and Sustainability Reporting
Sustainability Management Metrics—Triple Bottom Line Focus
Internal Communication
Informal External Communication
Formal External Communication
Global Reporting Initiative
Summary
Experiential Exercises
Conclusion
Print Package
$97.24
ISBN 9781792426339
Details Print Prod w/eBook, Mobius 180 days