RETURN TO SEARCH RESULTS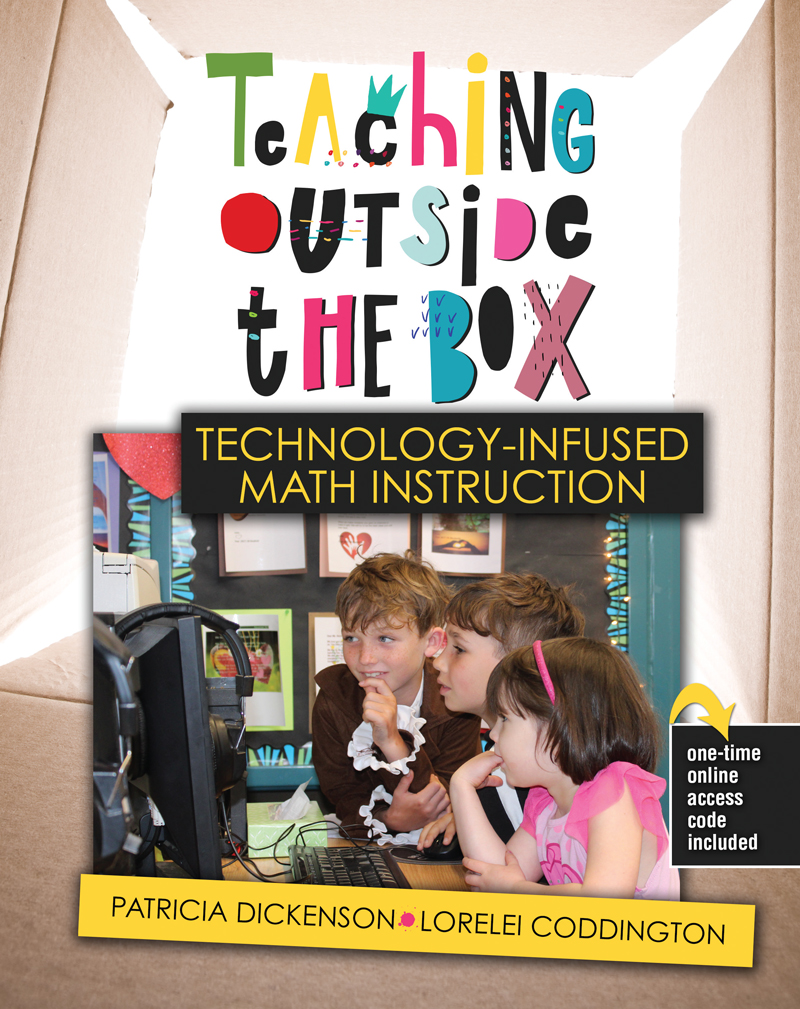 Teaching Outside the Box: Technology-Infused Math Instruction helps readers develop pedagogical practices that integrate technology as a tool for teaching and as a way for students to express what they know. The focus is on leveraging technology in fi ve research based math practices: Daily Routines, Open Ended Tasks, Project-based Learning, Problem Based Learning and Math Centers.
Written by teacher educators Patricia Dickenson and Lorelei Coddington, Teaching Outside the Box: Technology-Infused Math Instruction is:
Designed for preservice teachers pursuing teaching credentials as well as inservice​ teachers in the area of mathematics professional development.
Anchored in the Standards for Mathematical practice, with an emphasis on developmentally appropriate pedagogy in K-8 classrooms to support conceptual understanding and computational fluency.
Guides the reader through each chapter by first introducing the math pedagogical practice in the context of teaching and learning and then explaining the practice and how it is valuable for student learning.
Explores each practice through the lens of writing, assessing, speaking, questioning, and classroom discussions.
Includes interactive components such as Stop and Reflect, Watch It!, Make the Tech Connection and other vignettes to help the reader gauge their comprehension of the content and learn how to apply it to his / her classroom.
Teachers need to make instructional decisions that will support, challenge and accommodate the students they teach and this requires the flexibility to "step outside the box" and create personalized learning for all learners. Technology-infused math instruction means we recognize learners' differences and can use technology as a tool to create an optimal math classroom.
Introduction
Technology for Teaching and Learning
Integrating Technology into Your Math Practice
Chapter Contents
About the Authors
Author Background
1. The Case for Technology in the Mathematics Classroom
Starting With You!
Why Do You Need This Book?
The Power of Technology
Are Kids Really Different Today?
Technology of Tomorrow and Technology of Today
Why Technology in Mathematics?
Getting Started With Technology
Category of Web Tools
International Society for Technology in Education Standards for Students
Designing Technology-Integrated Lessons
Proposed Model for Technology Integration
Five Professional Commitments to Guide Technology Integration in the Classroom
Developing Your Teacher Toolbox
Summary
Additional Activities/Discussion Questions
Instructor Activities
2. The Foundations and Principles of CCSS
Starting with the Standards!
Plan to the Standard
A Case for New Standards
CCSS Mathematics
Unpacking the Standards
Standards for Mathematical Practice
Web Tools Resource List
Moving from the Concrete to the Abstract
Make the Connection
Research
Building Conceptual Understanding
Making Meaning and Virtual Manipulatives
Research on Virtual Manipulatives and Student Learning
Math Talk
Summary
Additional Activities/Discussion Questions
Instructor Activities
3. Understanding Design
Starting With Design!
Social Cognitive Theory
Zone of Proximal Development
Connecting Social Cognitive Theory to Mathematics
Thinking and Learning
Mastery Learning
Getting Started With Design
Understanding Student Thinking and Learning
Low-Floor High-Ceiling Tasks
Blooming With Technology
Cognitive Demand
Task Design
Planning Learning Experiences
Summary
Additional Activities/Discussion Questions
Instructor Activities
4. Developing Daily Routines in Your Mathematics Practice
The Purpose of Daily Routines
Putting Research into Practice
Connecting to Content Knowledge
Structure of Daily Routines
Getting Started with Daily Routines
The Role of the Teacher and Student
Assessment and Daily Routines
Academic Language
Questioning with Daily Routines
Writing with Daily Routines
Let's Explore Daily Routines
Daily Routine No. 1: Number Talks
K-2 Number Talks
Grade Span: Three to Eight Number Talks
Three Steps to Number Talks
Daily Routine No. 2: Calendar
Keep it Relevant with Calendar
Getting Started with Calendar
Daily Routine No. 3: Hundred Chart and Multiplication Chart
Daily Routine No. 4: Counting Collections
Make it Count with Counting Collections
Getting Started with Counting Collections
Daily Routine No. 5: Math Journals
Write it Out with Math Journals
Daily Routine No. 6: Warm-Up
The Problem with Warm-Ups
Make it Relevant
Daily Routine No. 7: Exit Ticket
Save the Best for Last
Twitter
Summary
Additional Activities/Discussion Questions
Instructor Activities
5. Open-Ended Tasks
The Purpose of Open-Ended Tasks
Putting Research into Practice
Structure of Open-Ended Tasks
Routines and Open-Ended Tasks
Tech for One and Tech for All
Attributes of Open-Ended Tasks
The Role of the Teacher and Role of the Student
Thinking and Open-Ended Tasks
Questioning with Open-Ended Tasks
Pancake Task
Planning Questions for Open-Ended Tasks
Writing Open-Ended Tasks
Prompting Classroom Discourse
Math Talk Moves
Assessment of Open-Ended Tasks
Types of Open-Ended Tasks
Tiered Activities: Creating Challenge for Every Learner
Primary Grade Example
Upper Grade Example
Implementing Tiered Activities
Developing Habits of Mind: Struggle
Games
Student-Created Open-Ended Tasks
Virtual Tools and Open-Ended Tasks
Open-Ended Tasks and Online Data
Getting Started with Using Data in Your Class
Putting it into Practice: Planning Guide
Summary
Additional Activities/Discussion Questions
Instructor Activities
6. Project-Based Learning
The Purpose of PjBL
Putting Research Into Practice
Putting Ideas Into Action
Meeting the Needs of All Learners
Structure of PjBL
Beginning PjBL with a Driving Question
Now It's Your Turn!
Creating PjBL Tasks
Going Digital with PjBL Tasks
Supporting Students with Digital Tools
Putting Tasks All Together
Creating a Hook
Review and Reflect
Assigning Groups: Group Work
The Challenge of Group Work
Connecting the Standards for Mathematical Practice to PjBL
Planning PjBL Activities
Stage 1: Setting the Scope
Stage 2: Goals and Targets to Support All Learners
Stage 3: Assessing and Reflecting
Assessment Products
Reflection Methods
Integrating Technology with PjBL
Assessing PjBL Tasks
Summary
Additional Activities/Discussion Questions
Instructor Activities
7. Problem-Based Learning
The Purpose of Problem-Based Learning
Putting Research into Practice
Making a Connection with PBL
Connecting Formal and Informal Strategies
Structure of PBL
Putting Planning into Action
PBL Does it All
The Role of Thinking in Problem-Solving
Students' Steps to Problem-Solving
Summary: Putting Ideas into Action
Student PBL Organizer
Make the STEM Connection
Scaffolding for Success
Scaffolding Tools
Scaffolding Organization
Scaffolding Language
3-Read Strategy
3-Reads Chart
Developing Group Norms and Roles
Creating an Emotionally Safe Classroom
Establishing Group Roles
Assessment
Distinctions of PBL
Resources for PBL Problems
Websites
Books
Summary
Additional Activities/Discussion Questions
Instructor Activities
8. Math Centers
The Purpose of Math Centers
So What Are Math Centers?
Putting Research into Practice
Conceptions of Math Centers
Tips for Managing Groups of Students
Going Digital
Math Games
Math Planning Sheet
Assessment & Math Centers
Summary
Additional Activities/Discussion Questions
Instructor Activities
9. Putting It All Together
Putting Research into Practice
Mindset in Mathematics Instruction
Organizing Your Math Block
Student Portfolios
Setting Goals in Your Math Practice
Fostering a Mathematical Mindset
Building Mathematical Identity
Supporting Inclusive Practice
Universal Design for Learning in Action
Developing Digital Literacy
Summary
Additional Activities/Discussion Questions
Instructor Activities
Bibliography
Appendix
Index
Webcom
$59.99
ISBN 9781524970321
Details WEBCOM, GRT Product