RETURN TO SEARCH RESULTS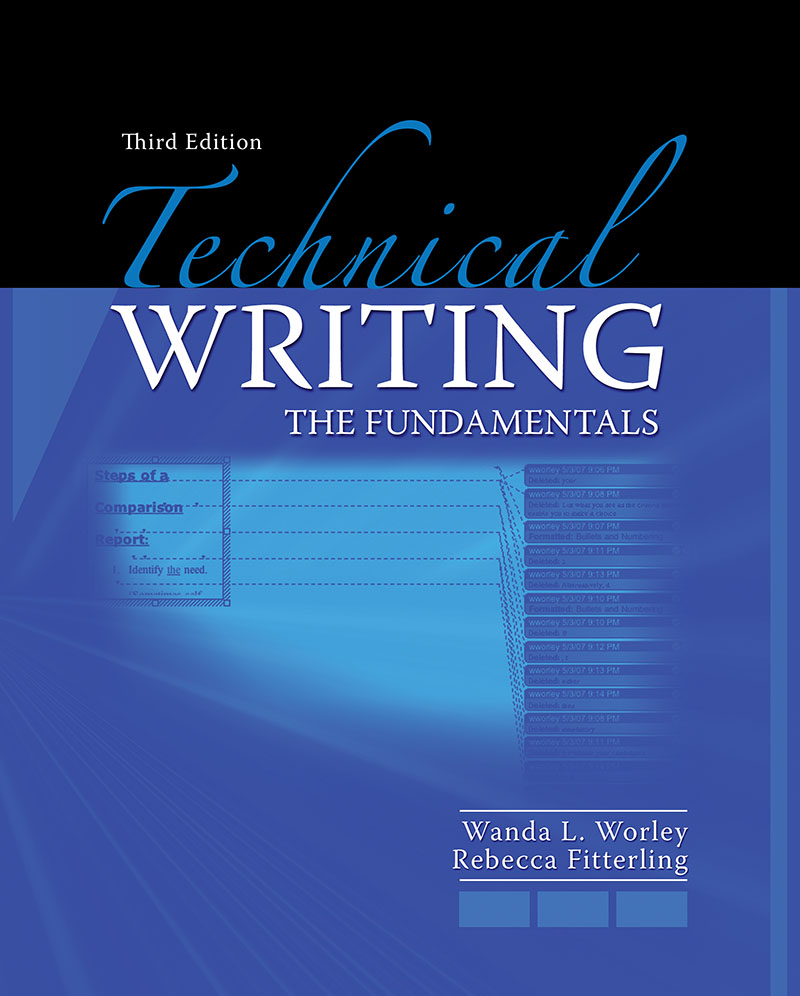 Details: Print Product Only (SA,CP, Pak, all Print) |
eBook Version 
You will receive access to this electronic text via email after using the shopping cart above to complete your purchase.
---
Technical Writing: The Fundamentals provides the reader with a set of tools needed to communicate effectively in the workplace. The publication effectively defines technical writing and compares and contrasts it with academic writing and technical communication. 
Technical Writing: The Fundamentals includes student friendly pedagogical features such as:
Introductions to each chapter that highlight important concepts presented and help focus the reader's attention. 
Helpful tips and definition vignettes in the sidebar for quick and effective reference.
Activities and action plans at the conclusion of each chapter to reinforce concepts learned and increase comprehension.
1 INTRODUCTION
Overview
Course Goals and Assumptions
What Is Technical Writing?
Academic Writing vs. Workplace Technical Writing
Different Purposes and Audiences
Same Principles: Different Approaches
Comparison of Concepts
Collaborative Writing
Ethics
International Issues
Chapter Summary
End of Chapter Activities

2 WRITING PROCESS AND STRATEGIES
Overview
Writing Process
Planning
Designing
Writing
Revising
Getting Feedback
Revising Again
Reflecting
Sample Peer Reviews
Chapter Summary
End of Chapter Activities

3 MEDIUM CHOICE
Overview
Electronic Mail, Memorandum, Letter
Writing Strategies
Electronic Mail
Memorandum
Letter
Reports: Formal and Informal
Podcasting
Wikis
Blogs
Web and Video Conferencing
Oral Presentations
Planning
Researching and Organizing Content
Preparing the Visual Aids
Practicing and Delivering Your Oral Presentation
PowerPoint
Face-to-Face Conversation
Chapter Summary
End of Chapter Activities

4 ORGANIZATIONAL STRATEGIES
Overview
Beginning
Middle
End
Executive Summary and Introduction
Preparation
Communication Strategy Worksheet
Design Worksheet
Peer Review Worksheet
Chunks and Headings
Chunks
Headings, Subheadings, and Sub-Subheadings
Heading Labels and Variations
Bullets, Lists, White Space
Sample Student Reports
Chapter Summary
End of Chapter Activities

5 TYPES OF INFORMAL REPORTS
Overview
Comparison Report
Gather Data
Identify and Define Criteria
Research Options
Comparison Log
Problem Analysis Report
Identify Potential Contributing Factors
Measure Their Effects
Problem/Solution Report
Identify Potential Contributing Factors
Measure Their Effects
Propose a Solution
Recommendation Report
Gather Data
Evaluate Data
Make Recommendation
Progress Report
Lab Report
Title Page
Abstract (Optional)
Introduction (Objective)
Materials (Physical Part Description) and Methods or Procedures
Results (Expected and Observed Results)
Discussion
Conclusion (Summary of Results)
References
Appendix
Sample Student Reports
Chapter Summary
End of Chapter Activities

6 INSTRUCTIONS/MANUAL
Overview
Audience Analysis
The Set of Instructions
Front Matter
Middle Matter
Back Matter
Usability Testing
Create a Plan
Perform Usability Testing
Revise Instructions Based on Results of Usability Testing
Writing Process Strategies
Sample Student Manuals
Chapter Summary
End of Chapter Activities
7 DATA AND INFORMATION SHARING STRATEGIES USING GRAPHICS/VISUALS
Overview
Ways to Present Data
Tables
Graphs
Pie (Circle) Graphs
Bar Graphs
Line Graphs
Ethics of Graphs
Charts
Photographs
Drawings and Diagrams
Screen Shots
Integrating Visuals into a Document
Chapter Summary
End of Chapter Activities

8 WRITING STYLE
Overview
How Do We Reveal Our Style?
Whose Style Is It ... Really?
Tone
Accuracy
Conciseness
There is ... There are .. There will be, ...
This (What?) and It
Language Use
Simple vs. Elaborate
Smothered Verbs
Passive vs. Active Voice
Positive vs. Negative Language
Sentence Structure
Parallelism
Chapter Summary
End of Chapter Activities
9 WORKPLACE RESEARCH
Overview
Purposes of Workplace Research
Primary Research
Quantitative Research Tools
Qualitative Research Tools
Secondary Research
Library Electronic Sources
Internet/World Wide Web
Trade Publications
Tips for Searching
Plagiarizing
Summarizing, and Paraphrase
Documentation Style
Chapter Summary
End of Chapter Activities

APPENDIX A: RESOURCES
Comparison Report Worksheets
Problem Analysis or Problem/Solution Report Worksheets
Recommendation Report Worksheets
Lab Report Worksheets
Progress Report Worksheets
Instructional Document Worksheets

APPENDIX B: BRIEF HANDBOOK
Conjunctions and Prepositions
Nouns, Pronouns, Case
Verbs
Who, Whom, That
Subject-Verb Agreement
Coordination/Subordination
Punctuation
Proofreading Tips
Print
$129.62
ISBN 9780757579271
Details Print Product Only (SA,CP, Pak, all Print)