RETURN TO SEARCH RESULTS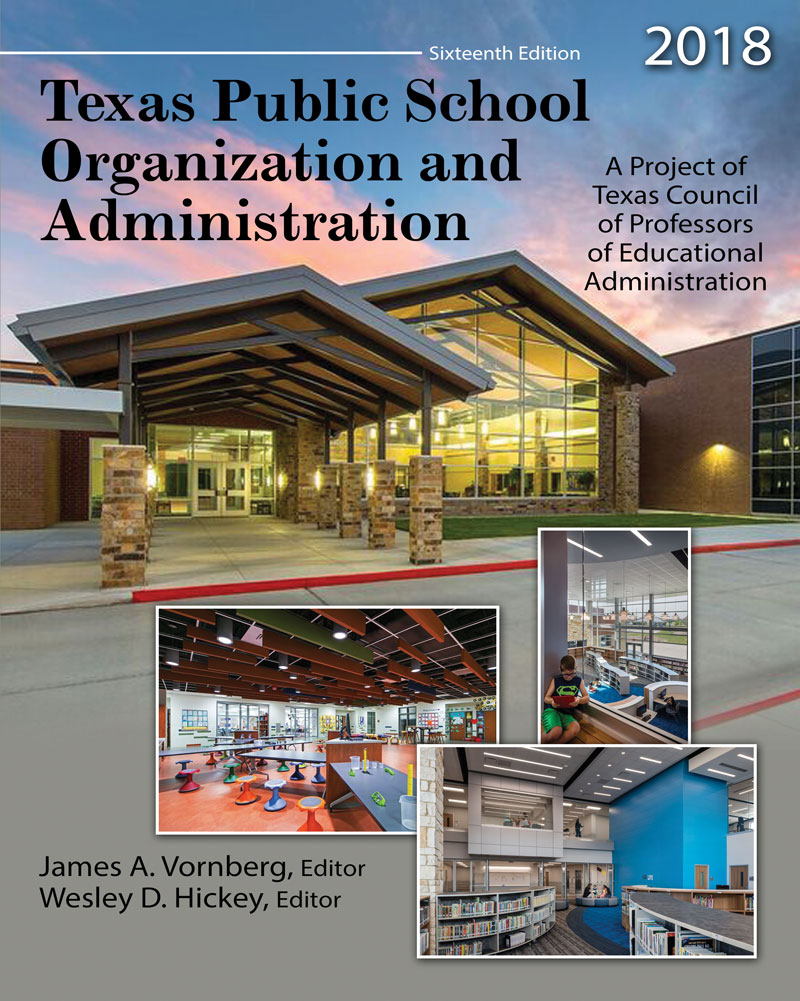 Details: eBook w/KHPContent Access | 180 days |
Principal and superintendent program students are the future educational leaders of Texas.
Texas Public School Organization and Administration: 2018 provides future educational leaders with an effective background for success in leading a campus or district.
The objectives of educational leadership preparation programs are often pragmatic. There is the desire to teach the skills of leadership, legal analysis, and management that ensure success in the challenges of school administration. The development of these leadership traits increases employment opportunities and professional attainment for students. In addition, professors expect the development of the skills to correlate with success on the TExES certification exam.
Texas Public School Organization and Administration: 2018 addresses these pragmatic factors as it has evolved along with educational leadership programs to meet the needs of professors and students.
Texas Public School Organization and Administration: 2018:
Has been updated to include actions from the 85th Texas Legislative Session as well as new requirements that have come from recent court cases.
Supports educational leadership professors in the development of their classes.
Is a focused educational reference developed for the needs of Texas administrator preparation.
Features a printed textbook that covers politics, technology, leadership, school reform, and legalities of school administration, including sections on foundational knowledge, principal and superintendent leadership, and special programs.
Includes access to an accompanying website with PowerPoint templates that can be used as a starting point in developing lessons, along with the key terms, questions, case studies, and TExES formatted questions to assist in preparation for the state certification exam.
PART 1 FOUNDATIONS
Chapter 1 The Organizational Structure of government and Its role in Texas Public Education
Carrie Y. Barron Ausbrooks
Historical Context for American Public Schooling
The Structure of Government and Sources of Law Relevant to Education
Federal Government Involvement in Education
Federal Laws and Constitutional Provisions
Selected Federal Court Decisions Affecting Education in the States
Federal Legislation Affecting Elementary and Secondary Education
Regulatory Functions of the U.S. Department of Education
Legal Basis for State Control over Education
State Legislative Control over Education
State Regulatory Control over Education
Summary
References
Legal References

Chapter 2 Governing and Supporting Education in Texas: The Texas Education Agency and Educational Service Centers
Elisabeth M. Krimbill and Catherine E. Robert
History and Interaction of Governing Entities
The State Board of Education
Commissioner of Education
Texas Education Agency
State Board for Educator Certification
The Legislative Budget Board
Education Service Centers
Conclusion
References

Chapter 3 Racial and Ethnic Groups in Texas:Who Are They?
Lillian B. Poats, Viveca A. Grant, and Nicole Walters
African–Americans
African–Americans in Texas
African–Americans Achieving Educational Excellence
Quality Early Learning
K-12 Reforms
College and Career Readiness
African Americans, Education, and Equal Educational Opportunity
Mexican Americans
Native Americans in Texas
Asians in America
Lesbian, Gay, Bisexual, Transgender, and Queer Students in Texas
Current Issues and Trends in Education
References

Chapter 4 Educational Leadership: Historical Perspectives and New Approaches
Julia Warren Ballenger
Definition of Educational Leadership
Leadership versus Management
Evolution of Leadership Approaches
New Faces, New Approaches
Social Justice Educational Leadership Supports Dual Language Learning
Conclusion
References

Chapter 5 Ethics and School Administration
Don M. Beach, Mark J. Weber and Tod A. Farmer
Definition of Ethics
Ethics and Decisions
Teleology and Utilitarianism (End-Based Ethics)
Deontology and Objectivisim (Rule-Based Ethics)
Axiology and Values (Care-Based)
Ethical Decision Making
The Legal Connection
The Formative Process
The Ethical Questions
The Culturally Diverse Environment
References

Chapter 6 Making Educators' Voices Heard: Strategies to Affect Change in Educational Policy Making
Gary Miller
Making Educators' Voices Heard: Voting
Making Educators' Voices Heard: Strategies for Advocating at All Levels
Making Educators' Voices Heard: Policy Advocacy
References

Chapter 7 Development and Uses of Theory for Educational Leaders
Rolando Avila and Anita Pankake
What is Theory?
Historical Overview
The Classical Period (Dominated Thinking Circa. 1890-1935)
Human Relations Period (Dominated Thinking Circa. 1935-1950)
Behavioral Sciences Period (1950-1980)
Behavioral Science Models
Modern-Day Theory (1980-Present)
Summary
References

PART 2 THE PRINCIPAL
Chapter 8 The Principal: Campus Leadership
Ray Thompson and Susan Nix
How Did We Get Here?
The Texas Principal
The Texas Principal of Today
The Texas Principal of the Future
Conclusion
References

Chapter 9 Curriculum and Instruction
Ross Sherman and Timothy B. Jones
Curriculum
Instruction
In Retrospect
References

Chapter 10 Texas Assessments and School Accountability
Yanira Oliveras-Ortiz
Historical Framework: Elementary and Secondary Education Act
History of Assessment in the United States
History of Texas Assessments
2018 Assessment Program
Texas Accountability System
Accountability Reports and Other Accountability Standards
Looking Ahead
References

Chapter 11 The Principal and Human Resources, Budgeting and Facilities
Gary D. Bigham
HR Administration
HR Environment
HR Development
Budgeting
Educational Plan
Spending Plan
Finance Plan
Evaluating Results
Facilities
Safety
Facilities Summary
Summary
References

Chapter 12 Cultivating Communication in Public Schools
Casey Graham Brown and Shelley Garrett
School-Community Relations
Building Relationships with Parents
Communication and Student Achievement
Leadership in Communication
District Communication Plan
Utilizing Technology in School Communication
Sharing of Information
Communicating with Diverse Populations
Communication Obstacles and Barriers
Communicating in Times of Crisis
Conclusion
References

PART 3 THE SUPERINTENDENT
Chapter 13 The Superintendency: Leading Change
Jennifer Jones, Pauline Sampson and Wesley D. Hickey
Visionary Leadership and Communication
Politics and School Governance
School Board Elections
School Board Functioning under the Open Meetings Act
School Board Functioning in Closed Meetings
Texas Public Information Act
Nepotism
Organizational Leadership
Current Issues for Texas Superintendents
Schools of Choice
District of Innovation
Benefits and Apprehensions
Texas Accountability A-F Rating System
Personnel Misconduct
Schools Safety
Conclusion
References

Chapter 14 Financing Texas Public Schools
Chuck Holt and Ray Thompson
The Significance of Money in Education
A Brief History of Public School Funding in Texas
The Property Tax System
State Formula Options for Financing Public Schools
Funding for Texas Public Schools
Summary
References

Chapter 15 School District Business and Financial Operations
Timothy B. Jones
Controlling Function
Budget Development and Administration Function
Purchasing and Supply Management Function
Summary
References

Chapter 16 The Superintendent and Human Resources
Chuck Holt and Gary M. Bigham
The Human Resource Function
Legal Issues Affecting Personnel Administration
Certification and Contracts
Employee Classification and Contracts
Principal Evaluation
Employee Grievances
Motivating Professional Employees
Summary
References

Chapter 17 The Superintendent and School Facilities
Vance Vaughn and Dalane Bouillion
The Impact of 21st-Century Learning on School Facilities
Architect as District Partner
Financing School Facilities
Fund Balance to Finance Facilities
The School Bond
Preparation for Delivery
Construction Delivery Methods
Maintaining School Facilities
Safety and Security in Design Considerations
The Federal Government's Role
Conclusion
References

PART IV PROGRAMS
Chapter 18 Students of Diversity: Challenges and Opportunities for School Leadership
Melissa Arrambide and Ava Muñoz
English Language Learners and Texas Public Schools
Legislation and the Education of Second Language Learners
Serving English Language Learners
Section 504 of the Rehabilitation Act 1973
Students with Disabilities and Special Education
The Basic Legislation That Supports Special Education
The Individuals with Disabilities Education Improvement Act (IDEIA) 2001 (P.L. 108-446)
Instructing Students in Special Education
The Continuum of Placements
Accountability/Evaluation and Students in Special Education
Students with GT Abilities
A Brief History and an Examination of Basic Legislation That Supports GT Education
Identification of Students Who Are GT
Instruction and Students in GT Programs
Accountability/Evaluation and Students in GT Education
Chapter Summary
References

Chapter 19 Career and Technology Education
Amy Burkman and Natasha Hawkins-Hampton
Legislation Specific To Career and Education Technology
Career and Technology Curriculum
Conclusion
References

Chapter 20 Technology and Education
Brian C. Brown and Mary P. Winn
Technological Trends in Education: A Brief Historical Perspective
Technological Standards for Administrators, Teachers, and Students
Technology Applications Standards for All Teachers
State of Texas Technology Reporting Requirements
State of Texas Technology Funding
References

Chapter 21 Toward Excellence: Perspectives and Dispositions on Leadership in Rural Schools
Nathan R. Templeton
Rural Schools as Political Structures
The Digital Divide
Rural Schools and the Brain Drain
Rural Schools and Human Capital Shortages
Rural Principals and Professional Development Needs
Leadership in Rural Schools
References

Chapter 22 A Closer Look at Urban Schools and Urban Students
Kris Kemp-Graham
Urban School Districts in Texas – Macro Perspective
Urban Schools in Texas – Micro Perspective
Urban Poverty and Student Academic Achievement
Ecological Approach: Impact of Out-of-School Factors on Academic Achievement
Internal Challenges
The Promise of the ESSA
Conclusion
References

Chapter 23 Student Rights, Parental Rights, and Attendance
David P. Thompson, Elisabeth M. Krimball and Catherine E. Robert
Student Rights
Parental Rights
Student Attendance
References

Chapter 24 Counseling in Schools: Contributing to Student Success
Karl J. Witt, Christine McNichols and Juawice McCormick
General History
Comprehensive Models
The Role of the Couselor
Recent Changes in the Profession
References

Chapter 25 Comprehensive School Reform in Texas: Alternative Education Programs
Alfredo Ramirez, Jr. and Maria de Lourdes Viloria
National Comprehensive School Reform Legislation
State Educational Reform Efforts
Comprehensive Educational Reform Efforts in Texas
Texas Virtual School Network
References

APPENDICES
Appendix A Standards for the Principal Certificate
TAC 241.15
Appendix B Standards for the Superintendent Certificate
TAC 241.15
Learner-Centered Values and Ethics of Leadership
Learner-Centered Leadership and District Culture
Learner-Centered Human Resources Leadership and Management
Learner-Centered Policy and Governance
Learner-Centered Communications and Community Relations
Learner-Centered Organizational Leadership and Management
Learner-Centered Curriculum Planning and Development
Learner-Centered Instructional Leadership and Management

Index
Ebook Package
$87.97
ISBN 9781524955069
Details eBook w/KHPContent Access 180 days