RETURN TO SEARCH RESULTS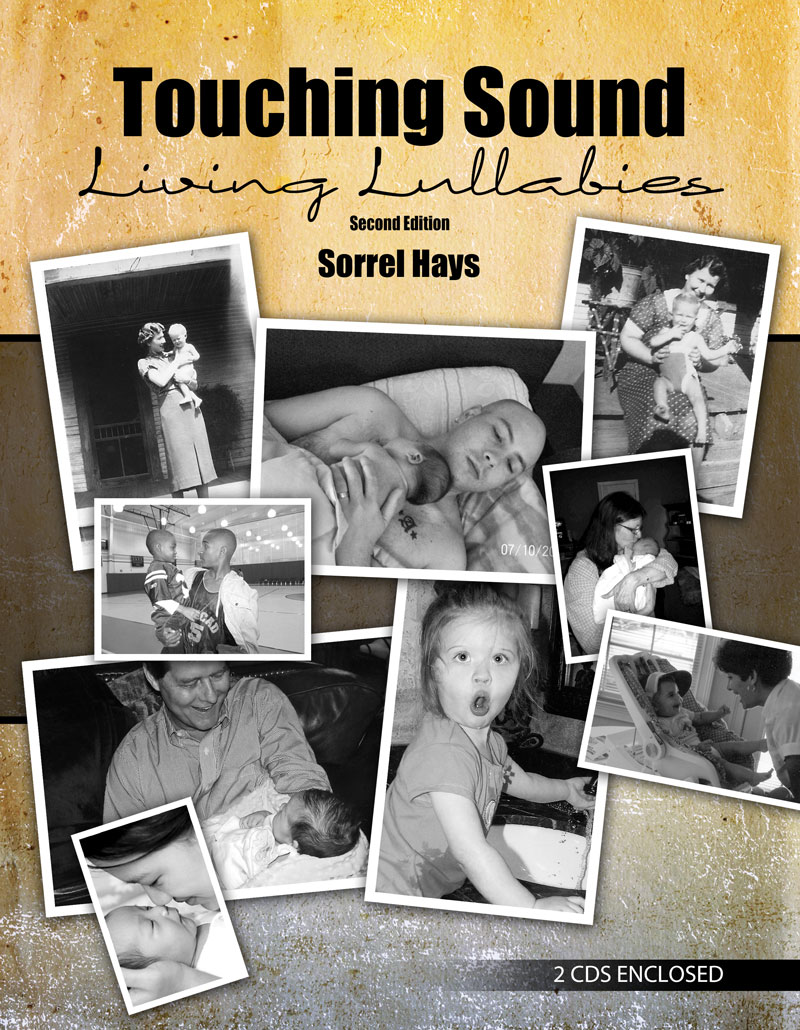 Touching Sound Living Lullabies
Author(s): Sorrel Doris Hays
Edition: 2
Copyright: 2016
Touching Sound Living Lullabies provides a refreshingly new and unique approach to understanding and valuing music. Author Sorrel Doris Hays begins with a simple song, the lullaby, as the initial focus, in a variety of cultural contexts from North and South America, Africa, China, Turkey and Europe, with substantive essays on the history and evolving nature of lull music and the science of psychoacoustics.
From lulls, Hays broadens the discussion to more complex contemporary forms of Western instrumental structures. Through conversations with veteran composers Pauline Oliveros and Annea Lockwood, Hays explores the effect of sound upon the body. Therapists, audio engineers, teachers, artists and hundreds of parents and other caregivers contribute to the discussion of sound and its physiological impact.
The book is anchored by 58 musical scores and 2 CDs of 84 original recordings with choirs, soloists, location recordings and instrumental ensembles.
Of interest to specialists in the fields of:
world music
music appreciation
music therapy
women's studies
psychoacoustics
electronic music
general music
contemporary music
music composition
Acknowledgements
List of Scores
Chapter 1 Opening the Treasure Chest: Describing the Songs
Why We Make Music
The Necessity for Community and Ritual
Lullaby Singing as Caregiver's Rite
Women's Position as Lull Singer
Lullaby as Foundation of Musical Culture
Cultural Pendulums, and What Is Valued
Lulls as Lamentations
Conversation with Avital Greenberg
Generational Differences
Nurturing by Caregivers
Chapter 2 Two Strings Vibrating
Vocal Vibration
Body Rhythms, Pitch Range and Repetition
Conversation with Annea Lockwood: Syllables as Lullers
Conversation with Pauline Oliveros
Intimacy of Singing
Nonsense Syllables
Contours of Babyspeak, Origin of Lullabies
Animals in Lullabies
Babies as Composers
Chapter 3 In Body Meant
Sounds of Satiety
Conversation with Annea Lockwood
Physiology of Pleasurable Sound
Conversation with Pauline Oliveros: Breathing Singly and Together
Chapter 4 Perpetual Motion
Cosmic Harmony, Earthly Vibrations
Grabbing Listeners, The Shapes of Sounds
Electromagnetic Harmony
How We Hear
Conversation with Ruth Anderson: Sound that May Be Healing
Conversation with Annea and Pauline
Microtones, Overtones and Tunings
Hearing and Listening
Babies as Deep Listeners
Rocking, Syncopation in Ewe Lullabies, Kwakiutl Cradle Strings, Science of Baby Oscillation
Conversation with Dr. Elizabeth Pease" Biofeedback and Rhythmic Generators
Tibetan Singing Bowl and Focused Consciousness
Repetition and Entrainment
Chapter 5 Pictures in the Ear
Conversation with Marilyn Ries: Mixing Audio with Nature Sounds
The Kaluli and Onomatopoeic Words
Audio Depth, Noise as Background
Conversation with Annea and Pauline: The Visual in Sound
Chapter 6 E-Motion
Womb Tempos, Oscillation and Emotion
Synchronicity
Communal Lullabies
Patterns of Connection
Conversation with Annea Lockwood: Environment and Audio Symbolism
Conversation with Pauline: In and Out of Synch with the Earth's Vibrations
Microwaves and Body Music
Chapter 7 The Quiet and the Roaring of Lulls and Laments
Sound as Consolation
Music Sets Tone of Human Conduct, Chinese Philosophy
Conversation with Annea and Pauline: The Power of Silence, Sutras and Buddhist Liturgy
Intimate, Quiet Times
Blues as Lamentations
Voices Mourning
Power in the Sound of Names
Laments, Victorious Transformers of Emotion
Death Tolls
Sleep as Death Metaphor
Conversation with Avital Greenberg: Lullabies as Goodbyes
The Beatas of Brazil and Sacred Harp
Conversation with Annea and Pauline: Lulling, Rituals of Grief
The Vietnamese Jeh: The Logba of Eweland
Weeping in New Guinea, Hysteria in Greece
Conversation with Annea and Pauline: Passionate Outbursts
Out of Silence, Burst of Grief: Alaskan Natives
Loud Through the Skin
Private Litanies of Comfort
Chapter 8 Liquid Sounds and Functional Music
Hildegard and Water's Power
Conversation with Marilyn Ries: Repetitious and Evocative Water
Water Mood Audio, Continuity of Nature's Rhythm
Nature Audio Moods
Conversation with Annea Lockwood: Water as Life Sound
Chapter 9 Missing Connections
Conversation with Mary Burt: Sound and the Autistic Child
Southern India, The Joyous Lullaby
Naming as Affection, Yoruban and Igbo Lullabies
Reparenting, The Allomothers
Community of Helpers
Conversation with Annea and Pauline: Why People Listen Together, Minimalist Music
Attention Focusing Sound
Conversation with Jeri Hilderley: Aural Memory and Physical Coordination
Time Out Music
Feeling the Sound Move
Kwakiutl Cradle Rocking Song
Chapter 10 Dreams, Rapture, Ritual
Building Bridges to the New—and Old
Conversation with Annea Lockwood: Easing Audiences in, Rituals of Listening
Dreams in Our Mind
Conversation with Annea Lockwood: Emotions and Dream States
Ritual in Improvisation
Remembered Sound
Glow of Motherhood, Ecstasy of Birthing
Music and Birthing
Eskimo Conjurer and the Great Sea of Emotion
Hildegard Ecstatic States
Conversation with Annea Lockwood: Where Does Music Originate?
Chapter 11 Future Lulls And Expectations
Ever Changing Songs
Lull Words Around the World
Expectations Through Songs
Conversation with Sheri Bauer-Mayorga: Reluctant Caregivers
Conversation with Annea and Pauline: Traditions, Or What's at Hand
Changes Over Generations, Personal Property Songs
Conversation with Annea Lockwood and Pauline Oliveros: Musicians' Lullabies
Formal and Informal Lullabies
Conversation with Christina Hays: Family Memories
Sharing Cultural Influences
Conversation with Pauline and Annea
Rounds
Future of Lulling Music
Afterword
Biographies and Discographies: Sorrel Hays, Annea Lockwood, Pauline Oliveros
Bibliography
Lullaby Scores
List of CD Tracks
Print Package
$92.00
ISBN 9781465297693
Details Print Prod w/Audio/Video