RETURN TO SEARCH RESULTS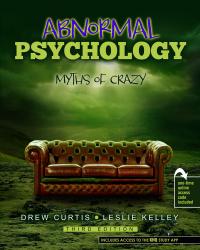 Details: Print Product w/KHPContent and KHQ | 180 days |
For over a century, movies and media have promoted myths of psychopathology and normalcy that have been absorbed into our daily perception.
Abnormal Psychology: Myths of 'Crazy' challenges students to reconsider the ideas they have concerning myths of "crazy" and how these ideas developed.
Abnormal Psychology: Myths of 'Crazy' guides readers in the deconstruction of these myths by means of a process designed to help formulate a sound approach to abnormality and a thorough understanding of various disorders through the lens of the DSM-5. Students will learn the importance of intentionally directing attention toward the humanity of the individuals who have various disorders, in order to develop more accurate perceptions of these individuals. The goal is to reflect on the humanity within abnormality rather than reducing people to a label and stripping them of their humanity. Readers will be confronted with the idea that abnormality is not exemplified by "crazies" in a straight-jacket, void of coherent words, but rather by human persons, who are often suffering, feeling immense pain, or who have impaired functioning in their life, which may even include being void of coherent words.
If you're ready to challenge your assumptions and expand your understanding of psychopathology, then crack this "crazy" book open and get to reading!
CHAPTER ONE Understanding Abnormality: A Look at "Crazy"
CHAPTER TWO Theory Informs Treatment
CHAPTER THREE Assessment and Diagnosis
CHAPTER FOUR The Value of Research: A Good Consumer
CHAPTER FIVE Neurodevelopmental and Elimination Disorders
CHAPTER SIX Schizophrenia Spectrum and Psychotic Disorders
CHAPTER SEVEN Depressive and Bipolar Disorders
CHAPTER EIGHT Anxiety Disorders, Obsessive-Compulsive Disorder, and Related Disorders
CHAPTER NINE Trauma and Dissociative Disorders
CHAPTER TEN Somatic Symptom and Related Disorders
CHAPTER ELEVEN Eating Disorders
CHAPTER TWELVE Sleep Disorders
CHAPTER THIRTEEN Sex and Gender Disorders
CHAPTER FOURTEEN Substance-Related, Impulse-Control, and Conduct Disorders
CHAPTER FIFTEEN Neurocognitive Disorders
CHAPTER SIXTEEN Personality Disorders
CHAPTER SEVENTEEN Myths and Controversies in Practice, Ethics, and Law
Abnormal Psychology: Myths of Crazy by Drew Curtis and Leslie Kelley has been an excellent addition to my Abnormal Psychology course. The information presented in the text is clear and concise; enough information is shared for students to understand the development, symptoms, and treatment of mental illness without going into too much depth regarding one perspective (psychodynamic, neuropsychological, etc.) The content was appropriate for both psychology majors and non-psychology majors. Additionally, the textbook is current on assessment, diagnostic, and treatment practices. One of the reasons I chose to switch to this textbook over others was because of the interactive perspective of using MYTHS to examine psychopathology. This allows for students to reflect on popular myths, their experiences, and the media and discuss how these relate to accurate and inaccurate portrayals of mental illness. This has lead to lively class discussions. Overall, the textbook is not too difficult for students to read, accurate, and a valuable source of knowledge for Abnormal Psychology classes. I've enjoyed using this textbook and would highly recommend it to others.
Brooke Mann | Lecturer
Fort Hays State University
Abnormal Psychology: Myths of 'Crazy' authored by Dr.Drew Curtis and Dr. Leslie Kelley was one of the most impactful college textbooks that I've read throughout my college career. Not only does the textbook break down complex disorders and content but it makes the material relatable. Based on the overarching theme of humanism, the book shows how the main difference between the average person and someone who suffers with psychopathology is the very fact that the person suffers with psychopathology and experiences symptoms at a greater frequency to the point that it impairs their functioning. This book clearly acknowledges and addresses common and damaging myths and stigma that surround people who suffer from psychopathology, with emphasis that they are still people. We often don't think about how functioning is impaired, we don't see the day in and day out of people who struggle with these symptoms, but after reading this textbook you can't help but see the turmoil and feel compassion and concern for people in these positions. Most textbooks are hard to comprehend and filled with words that students don't even begin to understand. However, Myths of 'Crazy' allows for students to understand material, solidify concepts by connecting real world experience to information, and most importantly, it helps us to rethink the way we see and treat people who live with abnormal disorders, and no, it's not too 'crazy'.
Amariah Pinchback | Student May 2019
Angelo State University
Print Package
$126.79
ISBN 9781792454097
Details Print Product w/KHPContent and KHQ 180 days