RETURN TO SEARCH RESULTS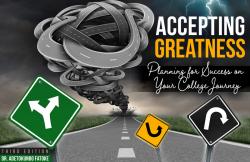 Accepting Greatness: Planning for Success on Your College Journey
Author(s): Adetokunbo Fatoke
Edition: 3
Copyright: 2020
Accepting Greatness: Planning for Success on Your College Journey introduces and prepares students for college. This textbook was designed to be a step-by-step guide to encourage, support, and motivate students as they matriculate though the first semester of their college journey. A tool for entering and retuning students, the chapters in this textbook offers an innovative approach to student development though life skills, study strategies, and methods for overcoming obstacles.
Additionally, Accepting Greatness also supports students socially as they transition to the cultural aspects of life as college students. Providing a wealth of information for social and academic growth, this text book inspires students to realize the value of college as they embark on a journey of life-long learning to reach their educational aspirations.
Accepting Greatness: Planning for Success on Your College Journey features:
Opening chapters to welcome students to the college-going process and provide tips and strategies to be embark on a successful college journey.
Practical and realistic tools to promote academic and social growth.
Strategically placed questions, activities, and writing prompts to provide students with a space to reflect on their college journey, including ending chapter exercises to bolster further reflection and discovery of learning.
An emphasis is placed on self-evaluation, as each chapter has a space for students to explore their beliefs and values in relation to their goals and college aspirations.
A myriad of tips and strategies for learning, text preparation, and methods for enhancing college textbook reading skills.
Entire chapters on improving students' abilities in writing and speaking and the understanding diversity.
PREFACE
ABOUT THE AUTHOR
Chapter 1 CREATING A SUCCESSFUL COLLEGE MINDSET
Chapter 2 CREATING A PURPOSE FOR COLLEGE
Chapter 3 CREATING METHODS TO OVERCOME FAILURES
Chapter 4 THE WORTH OF COLLEGE
Chapter 5 TIME MANAGEMENT
Chapter 6 ENHANCING YOUR SPEAKING AND WRITING SKILLS
Chapter 7 DEEP LEARNING
Chapter 8 SOCIAL AND EMOTIONAL INTELLIGENCE
Chapter 9 TEST-TAKING SKILLS AND STRATEGIES
Chapter 10 DIVERSITY AND THE COMMUNITY COLLEGE EXPERIENCE
Chapter 11 FINANCIAL LITERACY
Chapter 12 HEALTH AND WELLNESS
Chapter 13 EDUCATIONAL AND CAREER PLANNING AND DECISION MAKING
Chapter 14 CAREER EXPLORATION, PREPARATION, AND DEVELOPMENT
Website
$92.61
ISBN 9781792436628
Details KHPContent 180 days