RETURN TO SEARCH RESULTS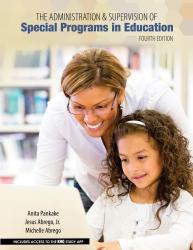 Details: Print Prod w/KHQ | 180 days |
In the first edition of The Administration and Supervision of Special Programs in Education (2001), Gwen Schroth and Mark Littleton wrote:
Schools of today are more sophisticated and offer a vaster array of programs than ever before. A single individual is unlikely to possess a complete understanding of every program that is delivered in the typical public school. The Administration and Supervision of Special Programs in Education is designed to provide school personnel – particularly school administrators and teachers who share in the leadership of the school – with the necessary knowledge base and concepts needed to successfully manage the various school programs. (p. iii)
Though written nearly twenty years ago, this same paragraph applies to the public schools of today. Each year schools become more complex, are given added responsibilities in a variety of areas-existing and new, wait anxiously to learn of the new rules and regulations promulgated at the local, state and national levels of government, and anticipate that funding will be the same or less though the expectations for performance have increased.
The Fourth Edition of The Administration & Supervision of Special Programs in Education (2020) is also designed to school leaders (administrators and teachers) an overview of many of the programs and services operating in most schools today. This edition has updated chapters that were included in previous editions and has added a few new ones. Every chapter is set up with chapter objectives, a scenario related to the chapter content, where appropriate, a history of the program, legal, financial and policy information, and a section focused on how leaders can and should use the information presented. At the end of every chapter the reader is provided with questions for thought, a section listing additional resources (including some informative websites) and a complete reference list of the sources used in developing the chapter.
Resources that can be found online to supplement chapter information include T/F and Multiple-Choice Quizzes for each chapter, a PowerPoint of the major issues from each chapter, a few teaching strategies that can be used with groups. Whether doing an individualized study, prepping for an interview, teaching a graduate course or a school district academy for aspiring administration, this book offers a general comprehensive overview of special programs that might be encountered in a school or a focused look at a particular program with which you are unfamiliar.
Acknowledgments
About the Authors
Contributors
Introduction
Chapter 1 Strengthening Diverse Families' Engagement in Schools
Michelle H. Abrego
Chapter 2 Special Education
Vickie J. Mitchell and Stacey L. Edmonson
Chapter 3 Section 504 of the Rehabilitation Act of 1973
Vickie J. Mitchell and Stacey L. Edmonson
Chapter 4 Title I and No Child Left Behind Act
Mark Littleton and Randy Tierce
Chapter 5 Brief: Title One from NCLB to ESSA
Michelle H. Abrego
Chapter 6 Title One and Every Student Succeeds Act
Michelle H. Abrego and Denise Magallenz
Chapter 7 Early Childhood/Early Childhood Special Education
Mary Kay Zabel
Chapter 8 Early Childhood Programs for Children with Special Needs
John A. Sutterby and Victor J. Young
Chapter 9 Achieving Equity through Enrichment: Bilingual and Dual-Language Education
Mónica B. Medina and Mariela A. Rodríguez
Chapter 10 Ensuring Success for Migrant Students
Velma D. Menchaca and Alejandro Garcia
Chapter 11 Programs for Gifted and Talented Students
Rebekah Miller-Levy
Chapter 12 College and Career Readiness Education
Karen M. Watt
Chapter 13 Brief: STEM Education
Ming-Tsan Pierre Lu
Chapter 14 Academic Preparation and Intervention Programs
Karen M. Watt, Hilda Silva, and Neda Ramírez
Chapter 15 Alternative Education Programs
Diana K. Freeman
Chapter 16 Student Activities
Jennifer T. Butcher and Freddie Titus
Chapter 17 Accessing Central Office Resources
Anita Pankake and Jesus (Chuey) Abrego
Chapter 18 Noninstructional Supports: Food Services and School Health Services
Marilyn L. Grady, Veronika Cummings, and Peggy L. Croy
Chapter 19 Counseling Programs
Fernando Valle, Charles Crews, Vanessa de León, and Ian Lértora
Chapter 20 Teacher Leaders
Jesus "Chuey" Abrego
Afterword
Index
Print Package
$161.70
ISBN 9781792407222
Details Print Prod w/KHQ 180 days