RETURN TO SEARCH RESULTS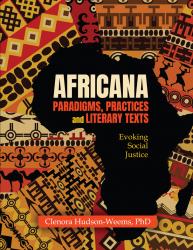 Africana Paradigms, Practices and Literary Texts: Evoking Social Justice
Author(s): Clenora Hudson-Weems
Edition: 1
Copyright: 2021
Pages: 266




Details: Print Product |
Many critical events occurred during the 20th & 21st centuries, but nothing more compelling than the global demonstrations among a diverse population, physically & spiritually demoralized by racial dominance, symbolized by "Till's bloated face, the embodiment of the ugliness of American racism," all in the amidst of a global occurrence—Coronavirus (Hudson-Weems, Emmett Till: The Sacrificial Lamb of the Civil Rights Movement 1994). Like today's "Till Continuums," this global pandemic affects the very fabric of every level of human existence. Thus, an interdisciplinary & intercultural focus, tailored for true social justice for all, is much needed, with a goal of transforming our world, guided by a genuine appreciation of True Cultural Diversity in not only color, but in thought & action as well!
Africana Paradigms, Practices and Literary Texts: Evoking Social Justice, a comprehensive volume of critical ideas, trends & possible solutions, composed of an array of authentic thinkers, offering useful Africana theoretical concepts, tools of analysis, & activities, loudly answers to that call for improving our minds for a better worldview. We need workable ideas for eradicating racial dominance via debunking it, believing that our initiatives and efforts will inevitably lead toward the fruition of a long overdue racial healing for true racial harmony.
Foreword Judge Joe Brown
Preface Benjamin W. Jones—Medical Student, University of Kansas | Jamica Jacobs—Biological Sciences, Sen, McNair Scholar, MU
Introduction Clenora Hudson-Weems, PhD
PART I Africana Theories: Inter-Cultural/Inter-Disciplinary Movements
Chapter 1 Africana Womanism: Authenticity and Collectivity in Securing Social Justice Clenora Hudson-Weems, PhD
Chapter 2 Afrocentricity and Transformation: Understanding a Movement Molefi Kete Asante, Phd
Chapter 3 Black Women Adult Educators—The Utterers of Black Leadership Preparation: Africana Womanism and the Afrocentric Praxis Jacqueline Roebuck Sakho, EdD
PART II Africana Moments & Persuasions in Re-Shaping Our Lives
Chapter 4 The Essential James Baldwin: Life and Literature, At Home and Abroad Pamela D. Reed, PhD
Chapter 5 The African American Literary Tradition Clenora Hudson-Weems, PhD
Chapter 6 The Significance of HBCUs: The Social, Academic, & Career Determining Benefits of HBCUs Sharon H. Porter, EdD
Chapter 7 Africana Studies and Economics, In Search of a New Progressive Partnership James B. Stewart, PhD
Chapter 8 When Will We Learn? It's Not Their Heads, It's Their (Broken) Hearts S. Renee Mitchell, EdD
PART III: Evolutionary Movements: Beliefs, Ideas and Action
Chapter 9 Networks of Steel: How Reparations for European Enslavement of Africans Unite the African Diaspora Raymond A. Winbush, PhD
Chapter 10 "The Modern Civil Rights Movement" (1994) Clenora Hudson-Weems, PhD
Chapter 11 End Emmett Till Continuums: Beyond George Floyd, Breonna Taylor, and Ma'Khia Bryant Ngeri Nnachi, JD, MPPL
Chapter 12 Nourish to Flourish: Maroonage—Woodsonian Philo-Praxis and the Education of Black Children Lasana D. Kazembe, PhD.
Chapter 13 Be Woke! Black America and the Holy Trinity—A SERMON Rev. Debra Walker King, PhD
Conclusion
Coda SANKOFA—Learn the lessons of the past in order to move forward for a successful future.
Reflections on Our Past, Present, and Future Possibilities
From Filmscript—Emmett's Liberation/Whitten's Redemption
THE CHRONICLE OF HIGHER EDUCATION
"Professor Seeks to Make Film About Lawyer Who Defended Racist Murderers" by Jennifer Ruark
COLUMBIA DAILY TRIBUNE
"The Civil Rights Movement, Then and Now: Anti-Racism to Stop the Emmett Till Continuum in a 5-Step Solution" by Clenora Hudson-Weems
Print
$105.00
ISBN 9781792461910
Details Print Product