RETURN TO SEARCH RESULTS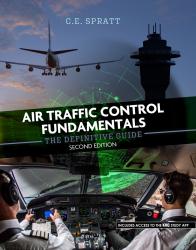 Air Traffic Control Fundamentals: The Definitive Guide
Author(s): CHARLES SPRATT
Edition: 2
Copyright: 2021




Details: Ebook w/KHQ | 180 days |
To be a good controller requires an innate ability to accept constructive criticism, to know one's own capabilities and limitations, to be relatively good with numbers, to be able to recall obscure regulatory information at a moment's notice, and to be able to listen to and interpret numerous conversations all at the same time.
Air Traffic Control Fundamentals: The Definitive Guide emphasizes that when it comes to aviation safety, the duties and responsibilities of air traffic controllers are indispensable—not just in the air, but on airport surfaces as well.
The publication introduces the history of the FAA, paperwork, airports, airspace, communications, flight progress strips, and more. In addition, it explains wake turbulence, aircraft separation, hazardous weather, aircraft emergencies, and more.
The publication integrates photos, graphics, and diagrams throughout to present concepts and utilizes case to demonstrate concepts presented and how they can be applied to real life situations.
In addition, readers are presented with an example letter of agreement, airspace classes quick reference chart, a weather hazards matrix, and a vital guide to abbreviations, phrases, and pronunciation.
SECTION I THE BASICS
Chapter 1 The History of the FAA
Chapter 2 FAA Organization
Chapter 3 The National Airspace System
Chapter 4 The ATC System
Chapter 5 Flight Rules
Chapter 6 ATC Facilities
Chapter 7 The Traffic Management System
SECTION II THE PAPERWORK
Chapter 8 Terms and Definitions
Chapter 9 Orders and Manuals
Chapter 10 Changes, Notices, and Supplements
Chapter 11 Letters of Agreement
Chapter 12 Standard Operating Procedures
SECTION III AIRPORTS
Chapter 13 Airport Markings
Chapter 14 Airport Lighting
SECTION IV AIRSPACE
Chapter 15 Airspace Classifications
Chapter 16 Special Use Airspace
Chapter 17 Other Airspace
SECTION V COMMUNICATIONS
Chapter 18 Radio and Interphone Communications
Chapter 19 Numbers Usage
Chapter 20 Identification Phraseology
Case Study: Similar Sounding Call Signs
Chapter 21 Route and Navigation Aid Description
Chapter 22 Coordination
SECTION VI FLIGHT PROGRESS STRIPS
Chapter 23 Terminal Flight Progress Strips
Chapter 24 En Route Flight Progress Strips
Chapter 25 Flight Progress Strip Symbols
SECTION VII AIRCRAFT CHARACTERISTICS AND RECOGNITION
Chapter 26 Same Runway Separation Categories
Chapter 27 Aircraft Performance and Weight Classes
Chapter 28 Aircraft Designators
Chapter 29 Aircraft Identification Features
SECTION VIII WAKE TURBULENCE
Chapter 30 Terms and Definitions
Chapter 31 Factors Affecting Wake Turbulence Intensity
Chapter 32 Wingtip Vortices
Chapter 33 Induced Roll
Chapter 34 Helicopters
Chapter 35 Wake Turbulence Impact on Air Traffic Control
Case Study: Wake Turbulence Encounter
SECTION IX AIRCRAFT SEPARATION
Chapter 36 Vertical Separation
Chapter 37 Non-Radar Lateral Separation
Chapter 38 Non-Radar Longitudinal Separation
Chapter 39 Radar Separation
Chapter 40 Runway Separation
Chapter 41 Visual Separation
Chapter 42 Holding Procedures
SECTION X CLEARANCES AND INSTRUCTIONS
Chapter 43 Clearance Purpose and Prefixes
Chapter 44 Types of Clearances
SECTION XI HAZARDOUS WEATHER AND AIR TRAFFIC CONTROL
Chapter 45 Adverse Winds
Chapter 46 IFR Weather
Case Study: John F. Kennedy, Jr.
Chapter 47 Turbulence
Chapter 48 Icing
Chapter 49 Thunderstorms
Chapter 50 Low Level Wind Shear
Chapter 51 Density Altitude
SECTION XII PILOT WEATHER REPORTS AND WEATHER ADVISORIES
Chapter 52 PIREP Recording and Decoding
Chapter 53 In-Flight Advisories
SECTION XIII AIRCRAFT EMERGENCIES
Chapter 54 Terms and Definitions
Chapter 55 Minimum and other Required Information
Chapter 56 Roles and Responsibilities
Chapter 57 Types of Aircraft Emergencies
SECTION XIV SEARCH AND RESCUE
Chapter 58 National Search and Rescue Plan
Chapter 59 Search and Rescue Roles and Responsibilities
Chapter 60 Overdue Aircraft Procedures
APPENDICES
Appendix A Common Aircraft
SRS Category I
SRS Category II
SRS Category III
Appendix B Example Letter of Agreement
Appendix C Airspace Classes Quick Reference Chart
Appendix D Weather Hazards Matrix
Appendix E Abbreviations, Phrases and Pronunciation
Glossary
Ebook Package
$85.00
ISBN 9781792467561
Details Ebook w/KHQ 180 days