RETURN TO SEARCH RESULTS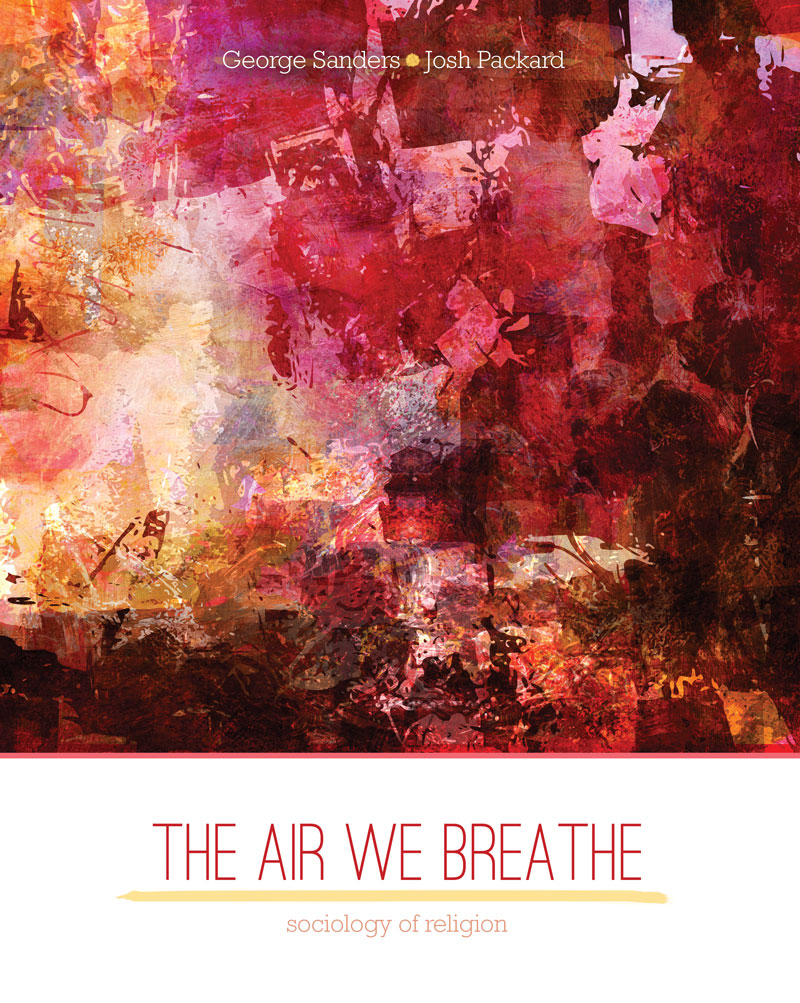 The Air We Breathe: Sociology of Religion
Author(s): George Sanders, Josh Packard
Edition: 1
Copyright: 2016
Pages: 284 - no change for LSI printing




Details: Print Product Only (SA,CP, Pak, all Print) |
Religion plays a vital role in geopolitics and in the course of student's lives – even if they are not religious.
Yet, students often lack a framework for understanding how current arrangements and situations came to be or for understanding why religion operates as such an important force.
Featuring a unique approach, The Air We Breathe: A Sociology of Religion helps students learn sociology by studying religion. The book is situated around themes that apply across the field, not just to religion, and includes theories and ideas from outside of the subfield when appropriate (e.g., gender, organizational theory, group theory, etc.).
The Air We Breathe: A Sociology of Religion by George Sanders and Josh Packard:
Gets readers to apply the sociological perspective by drawing on the available research and theories in the sociology of religion and the larger discipline of sociology to answer overriding questions about how religion shapes and is shaped by larger social forces.
Incorporates more recent empirical and theoretical developments that have taken place outside of the sociology of religion.
Is organized around central, interesting questions that students find accessible. These questions are answered with current research that has been applied in order to highlight the pragmatism of sociology of religion research.
Features an international, pragmatic, comparative approach that illustrates the unique role of religion in the modern world and highlights how it shapes and is shaped by other social forces and institutions.
CHAPTER 1 Religious Universes and Spiritual Lives
Key Terms
Objectives
What is Sociology?
Types of Sociological Analysis
Levels of Analysis
What does Religion Do?
Abrahamic Religions
Islam
Buddhism and Hinduism
Denominations
Religious "Nones"
Discussion Questions
CHAPTER 2 Becoming Religious: Navigating Beliefs, Negotiating Expressions
Key Terms
Objectives
Religiosity
Social Construction
Is Religion in Decline?
Religious Socialization
The Religious Economy
Church and Sects
Discussion Questions
CHAPTER 3 Religion and Economics and the Worlds between Them
Key Terms
Objectives
Social Stratification
Rationalization
Weber's Thesis
Consumerism and "Liquid Religion"
Liquid Religion and Commitment
Discussion Questions
CHAPTER 4 Religion and Equality for All: African American Activism
Key Terms
Objectives
Introduction
Agency and Structure
Racial Equality
After Slavery
Institutionalized Racism
The 1950s and Beyond
Black Power
The Social Gospel
Discussion Questions
CHAPTER 5 The Religious Right
Key Terms
Objectives
Introduction
Christian Evangelicalism and Christian Fundamentalism: Some Basics
Historical Background on Fundamentalism
Millenarianism
Fundamentalism in the 20th Century
Fundamentalism as it is Lived Today
The Rise of Televangelism
TV Becomes Political
Neoliberalism
Discussion Questions
CHAPTER 6 Sexed and Sexual Souls
Key terms
Objectives
Women in the World
Religion and Women
Gender and Sex
Religion and Gender
Separate Spheres
Women at the Forefront
Masculinity
Sexual Expression
What Is Normal?
LGBTQ
Complexity
Discussion Questions
CHAPTER 7 The End of Religion As We Know It, or Just a New Beginning?
Key Terms
Objectives
Introduction
Society Divinized
Civil Religion
Privatization of Religion
Therapeutic Religions
What Are We Celebrating Now?
Discussion Questions
CHAPTER 8 From Chapels to Arenas
Key Terms
Objectives
Introduction
The Theory of McDonaldization
Megachurches
Seekers
The "Business" of the Megachurch
Another Perspective
The Key Difference
Discussion Questions
CHAPTER 9 Past Religion but Post-Secular
Key Terms
Objectives
The Radical Lack
Postmodern Religion
Postmodernity
Heaven's Gate
Edge Religions
Conclusion
Discussion Questions
CHAPTER 10 Trends in Religious Affiliation
Key Terms
Objectives
Introduction
Where Are We Now?
How Did We Get Here?
So, Where Are We Going?
Stepping Boldly Into the Future
Discussion Questions
Glossary
Bibliography
Index
Print
$86.82
ISBN 9781465287519
Details Print Product Only (SA,CP, Pak, all Print)