RETURN TO SEARCH RESULTS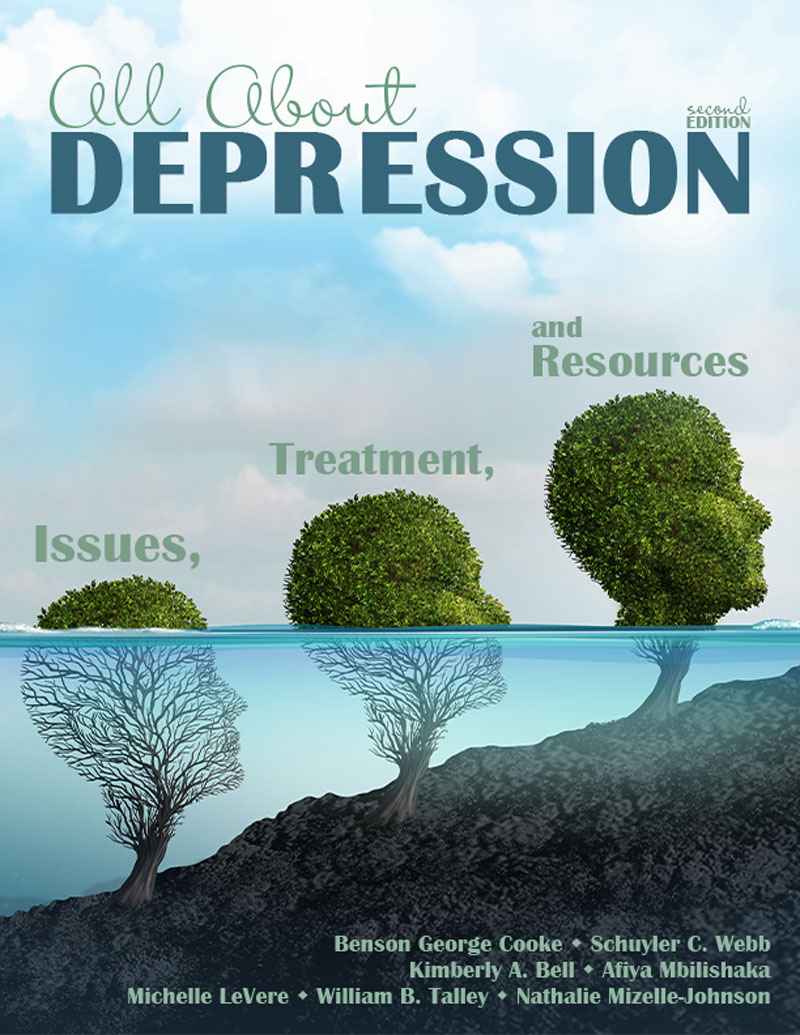 The impact of depression on the lives of many Americans has been profound. It manifests itself across issues of race, ethnicity, gender, age, physical ability/disability, and sexual orientation. Indeed, no group is immune from its effects.
The general public has had its awareness of the issue increased and its interest peaked, but most remain largely unsophisticated about recognition and treatment possibilities, other than medication. Furthermore, certain segments of the public believe that depression is relegated to particular racial/ethnic groups, and that some of us simply do not have to worry about it.

The ground-breaking publication All About Depression destroys these myths by reminding the reader that these cannot be further from the truth.

All About Depression:
Navigates the pathways to a more informed and enlightened approach to dealing with this most formidable of mental health challenges.
Is a coherent and functional publication that challenges assumptions about who can be effected by mental illness, who can be educated about a particular illness like depression, who can be enlisted for support, what type of interventions are appropriate, and what type of resources are broadly available to assist an individual or family in confronting the challenges associated with depression.
Offers comprehensive yet understandable explanations about the social, biological, physiological, and psychological factors that impact issues of depression.
Is more than just an informational resource - it is about issues of empowerment. More than statistics, this book is about hope. More than simply treatment regimens, this document is about possibility.
Preface to Second Edition
Acknowledgments
PART I—Short Story: "What Happens When My Mind Gets Sick?"
The Next Day . . . Mom Takes Dad to the Doctor
Later That Day
Doctor Beatriz Garcia Identifies Dad's Condition
The Story Continues
PART II—Defining Depression
Goal of the Book
What Happens When One Is Depressed?
Who Gets Depressed?
Prevalence of Major Depressive Episode Among Adults
Major Depressive Episode With Impairment Among Adults
Prevalence of Major Depressive Episode Among Adolescents
Major Depressive Episode With Impairment Among Adolescents
Data Sources
Statistical Methods and Measurement Caveats
Historic Development of Psychiatry to Treat Depression and Other Mental Illnesses
Some Data about Depression and Suicide
Research Findings
Sources
What Is Suicide?
Who Is at Risk for Suicide?
Are Certain Groups of People at Higher Risk Than Others?
Why Do Some People Become Suicidal, While Others With Similar Risk Factors Do Not?
What Are the Warning Signs of Suicide?
Do People Threaten Suicide to Get Attention?
If You Ask Someone About Suicide, Does It Put the Idea Into Their Head?
What Should I Do if I Am in Crisis or Someone, I Know Is Considering Suicide?
What If Someone Is Posting Suicidal Messages on Social Media?
Suicide Rates
Trends Over Time
Demographics
Suicide Rates by State
Suicide by Method
Number of Suicide Deaths by Method
Percent of Suicide Deaths by Method
Cost of Suicide Deaths
Suicidal Thoughts and Behaviors Among U.S. Adults
Data Sources
Statistical Methods and Measurement Caveats
National Survey on Drug Use and Health
The Process of Beginning Treatment for Depression
The (Medical) Examination
What Else Could Be Happening to Me?
The Role of Anxiety in Depression
The Relationship between Stress and Depression
Problems of Definition
Summary of Stress Assessment
PART III—Biology of Depression
Dopamine
Serotonin
Norepinephrine
Gamma-aminobutyric acid
General Principles of Neurons, Neuropathways, and Cortical Structures
Antidepressant Action in the Brain
The Role of Genetics: Examining the Influence of Epigenomics or Gene Expression
Examining the Influence of Epigenomics or Gene Expression
The Psychosocial and Ecological Impact of Nutrition and Physical Activity on Epigenomics
Behavioral Considerations: The Psychological Impact Epigenomics Stress Factors
The Impact of Oppression and Racism on Epigenomics
Relevance and Importance to African American People
Multifactorial Conditions Common to African Americans: Impact of Anxiety Disorders on Cardiovascular Disease, High Blood Pressure, and Diabetes
The Psychosocial Impact of Cardiovascular Disease on Epigenomics
Evidence of Culturally Grounded and Consistent Information/Ideas
Implications for Restoration of African American Wellness (Mental Health)
Recommendations
Summary Considerations
PART IV—Treatment Approaches: Depression and Psychiatric Rehabilitation
How Does Psychotherapy Resolve Depression?
Ways of Helping People
Psychodynamic Therapies
Psychoanalysis
Cognitive-Behavioral Therapy: Are We What We Think?
How Does Thinking Affect Depression?
Interpersonal Therapy
Reality Therapy Postulates Choice Theory
Group Psychotherapy
Light Therapy
Electroconvulsive Therapy (ECT)
Repetitive Transcranial Magnetic Stimulation (rTMS) vs. ECT
New Drug in Psychiatry to Treat Depression: Esketamine
Choosing Your Talk Therapy
Definitions of Culture
Culturally Sensitive Approaches
Coping Styles and Cultural Influences that Affect Treatment
Cultural Competency
Understanding Diversity
Complementary/Alternative Therapies
Holistic vs. Conventional Medicine
Exercise and Depression
How Does Exercise Help?
Herbs, Dietary, and Nutritional Supplements
Homeopathy
Body Work and Energy Healing
Energy Psychology
Relaxation Techniques
Acupuncture
Massage Therapy
How Therapeutic Massage Works
Meditation
Religiousness/Spirituality's Effect on Depression
Self-Transcendence/Spirituality Issues and Their Effect on Depression
Spirituality and Depression
Spiritual Growth
Spirituality and Personal Enlightenment
Young Adults and Spirituality
Religion of Our Ancestors
What is Spirituality's Relevance to Self-Awareness and Healthy Thinking?
Why is Spiritual Growth Important?
Additional Facts about Depression
Thyroid Conditions that Resemble Depression
Depressive Disorder and Treatment in the Military Context
Depression in the Military Context
Clusters of Symptoms—Intrusive Symptoms
Prevention and Treatment: Military Approaches and Strategies
Recommendations
Twenty-First-Century Community Clinical Strategies
Part 1: Online Therapy
Part 2: Shifting Mental Health Services to Community Members
Part 3: Coping in Community-Based Spaces
Examining Social Work Treatment Approaches in Situations in Which Depression Is Impacted by Trauma
Defining Trauma
Responses to Trauma
Treatment Implications
Conclusion
Depression and Psychiatric Rehabilitation
The Historical Roots of Psychiatric Rehabilitation
The Evolution of Thinking About the Mentally Ill
Psychiatric Rehabilitation (PSYR) Today
The Focus and Process of Psychiatric Rehabilitation
The Intake Process
The Case Management Process
Follow-Up
A Practical, Interdisciplinary, and Integrated Approach
The Unique Nature of Depression
A View Toward Long-Term Care
Incidence
Coexisting or Co-occurring or Comorbid Conditions
Psychiatric Rehabilitation PSYR
Knowledge, Competencies, and Certification of the Psychiatric Rehabilitation Counseling
Code of Ethics
Closing Thoughts
Follow-Up
Closing Statement
PART V—Appendix and Resources
African Americans
Need for Mental Health Care
Availability of Mental Health Services
Access to Mental Health Services
Use of Mental Health Services
Appropriateness and Outcomes of Mental Health Services
Asian Americans/Pacific Islanders
Need for Mental Health Care
High-Need Populations
Availability of Mental Health Services
Access to Mental Health Services
Use of Mental Health Services
Appropriateness and Outcomes of Mental Health Services
Latinx/Hispanic Americans
Need for Mental Health Care
High-Need Populations
Availability of Mental Health Services
Access to Mental Health Services
Use of Mental Health Services
Appropriateness and Outcomes of Mental Health Services
Native American Indians
Need for Mental Health Care
High-Need Populations
Availability of Mental Health Services
Access to Mental Health Services
Use of Mental Health Services
Appropriateness and Outcomes of Mental Health Services
Culture Counts: The Influence of Culture and Society on Mental Health/Mental Illness
Demographic Trends
Diversity within Racial and Ethnic Groups
Growth Rates
Geographic Distribution
Impact of Immigration Laws
References
Resources
Organizations:
Department of Health and Human Services
General Federal Government Websites
Online Resources
Asian American/Pacific Islanders
Native American Indians
Latinx and/or Hispanics
African Americans
Multicultural and Immigrant Populations
Muslim American
LGBTQ
Office of Patient Care Services
Office of Mental Health Services
Fact Sheet
Overview
FY 2010
FY 2010 OEF/OIF/OND
Current Initiatives
Outreach
Research
Public Health Contribution to Suicide Prevention in America
Bibliography
The Biology of Depression References
Thyroid Disorder References
Further Reading for Hands-On Healing
Appendix References
Author Biographies
Benson G. Cooke
Schuyler C. Webb
Kimberly A. Bell
Afiya M. Mbilishaka
Michelle LeVere
William B. Talley
Nathalie D. Mizelle
Initially, this was a layperson's Handbook on depression, from the perspective of the African American. Basic research that formulated evidence-based practice materials, often did not include research on the African American community. Presently, the primary focus is on understanding depression in minority, immigrant, and underserved communities. The present scope emerges from the current understanding of biological research findings on the depression. The influences of genetic expression—epigenomics—on depression; e.g., examining the impact of health factors and social factors at critical developmental periods, as well as the impact of anxiety rooted as the catalyst of oppression and racism. With this understanding, to establish generational treatment approaches for depression becomes viable. Currently, included there has been an update of government research findings: e.g., the prevalence of depression, suicide and populations impacted by depression. Additional resources include information about LGBTQ, Muslim, and military support services. We no longer can afford to work in professional silos, and must incorporate the best science from Community Clinical, Social Work, and Rehabilitation Psychology/Counseling to establish healing strategies. Historically, the Black Church has opened its doors to innovative programs. Dr. Cooke and his colleagues have been invited by health and wellness organizations to address mental health issues impacting specific communities. There was a plethora of questions on depression with only a dearth of knowledge about depression—thus, the book. The United States is a multiethnic, pluralistic, and linguistically diverse population, to that end, this handbook elaborates on issues of depression as experienced by minority, immigrant, and underserved communities.
Edwin J. Nichols, Ph.D., (NIMH retired)
Director, Nichols and Associates, Inc.
In this highly technical age of social media that has created environments of impersonality, superficiality and anonymity in person to person contact has made openly talking about depression even more difficult. That makes this revised, updated version of ALL ABOUT DEPRESSION even more relevant, essential, and critical. Daily we see professional athletes, movie stars, and entertainers unlike ever before, sharing their struggles with depression which has made it much easier for individuals to disclose their similar battles with mental depression. Clearly, the boldness with which such popular figures have shared their battles with depression has made it much easier for many in the African American community openly admit their depression without fear of being labeled as "crazy." Come now Dr. Cooke's and Dr. Webb's second volume of their seminal work ALL ABOUT DEPRESSION. This book is most timely because it offers not only time-tested professional therapeutic intervention approaches but their continued extensive practical experience in treating those suffering mental depression makes this dynamic presentation not only a classroom instructional tool but also a handbook for both individuals and families affected by depression. This volume aptly amplifies their thought that the spiritual principle of collective responsibility as our "brother's keeper" greatly lessens the tendency to be "self-focused" when dealing with depression. As a longstanding pastor, I know first-hand how important support of others is to the healing of any problem Expression. One of my mentors, the highly acclaimed spiritual thinker Dr. Howard Thurman once stated that "it is specious to think that the God of religion is not also the God of life." Cooke and Webb parallel this quote in their understanding that spirituality in its true essence leads to the discovery of true identity and purpose. Such knowledge by these two very pensive and thorough authors clearly evidences that they are not just psychological theoreticians but spiritual agents on assignment to bring those in deep wells of darkness into bright horizons of light. As a pastor, theological scholar and one devoted to helping others I thoroughly appreciate and agree with their profound insight and perspective. I highly recommend this book to not only those suffering with depression, but to all helping professionals as well as those suffering from depression.
Rev. Dr. Willie F. Wilson
Senior Pastor, Union Temple Baptist Church Washington, DC

Ebook
$49.61
ISBN 9781524993160
Details Electronic Delivery EBOOK 180 days