RETURN TO SEARCH RESULTS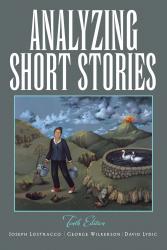 Details: Electronic Delivery EBOOK | 180 days |
Analyzing Short Stories takes a classic, tried and true approach to the study of literature.
The book gives students the easiest place for them to begin learning the concepts of analysis and evaluation because the structure and elements are generally the same; each story contains a conflict, characters, a setting, an emphasis on language, and a clear distinctive voice.
Analyzing Short Stories provides the information students need to understand the principles of literary writing and promotes a format for writing analytical papers about short stories.
Once they have mastered the analytical process, students discover a new appreciation of literature and how to objectively judge a story's quality. And this analytical skill can be generalized and extended to nonliterary subjects, providing them with a solid approach to writing about subjects in the sciences and humanities.
Foreword
1 The Central Idea
THE CENTRAL IDEA
THE CENTRAL IDEA AS THE GUIDING FORCE
The Central Idea and the Elements of Fiction
THE CENTRAL IDEA AS THE INTERPRETATION
SOURCES FOR CENTRAL IDEAS
Psychological Stories
Sociological Stories
Philosophical Stories
Didactic Stories
Escapist Stories
IF THE CENTRAL IDEA ISN'T A MORAL, WHAT IS IT?
WRITING THE ANALYSIS
SAMPLES
COMMON INTERPRETATION PITFALLS
Differing Interpretations
Complex Ideas
Ideas That Conflict with Your Own
Meaning Beyond the Story
2 Character
CHARACTER TYPES
Round and Flat Characters
Details
The "Gray Area"
Complexity
Major and Minor Characters
Major Characters
Minor Characters
Stereotypes
Static and Dynamic Characters
The Static Character
The Dynamic Character
CHARACTER PRESENTATION OR EXPOSITION
What the Narrator Says (Direct)
What the Character Does (Indirect)
What the Character Says (Indirect)
What the Character Thinks (Indirect)
3 Conflict
DEVIATING FROM CHRONOLOGICAL ORDER
THE MAJOR ELEMENTS OF A PLOT
CONFLICT AND PLOT
EXTERNAL CONFLICTS
INTERNAL CONFLICTS
CONFLICT RESOLUTION
CONFLICT AND THE CENTRAL IDEA
CONFLICT AND CHARACTER
4 Point of View
THE FIRST PERSON POINT OF VIEW
The First Person Narrator's Perspective
Confusing the Narrator with the Author
Contributions the First Person Makes to a Story
THE OMNISCIENT POINT OF VIEW
Total vs. Limited Omniscience
Contributions Omniscience Makes to a Story
THE DRAMATIC POINT OF VIEW
Contributions the Dramatic Makes to a Story
COMBINATIONS AND CONSISTENCY IN POINT OF VIEW
5 Setting
SPECIFIC VS. GENERAL SETTINGS
THE SETTING AND THE CENTRAL IDEA
6 Language
DICTION
Denotation and Connotation
IMAGERY
Literal and Figurative Images
Similes and Metaphors
Imagery and Other Elements
Imagery and Character
Imagery and Setting
Imagery and Tone
Allusions
Repetition
SYMBOLISM
Universal Symbols
Contextual Symbols
Characters as Symbols
Objects as Symbols
Actions as Symbols
Allegory: The Symbolic Story
IRONY
Verbal Irony
Dramatic Irony
Situational Irony
DIALOGUE
SYNTAX
The Periodic Sentence
7 Tone
DISCOVERING AND DESCRIBING THE TONE
Similes and Metaphors
Allusions
Repetition
Diction
Symbolism
Dialogue
Syntax
The Periodic Sentence
Irony
DEFINING THE TONE
A Comical/Humorous Tone
A Sorrowful/Sad Tone
Eerie/Fearful/Terrifying
TONE AND THE ELEMENTS OF FICTION
Character
Conflict
Point of View
Language
Setting
Shift in Tone
8 The Creative Writing Process
THE REVISION PHASE
Character Revisions
Conflict Revisions
Point of View Revisions
Setting Revisions
Language Revisions
Syntax
Diction
Imagery
Symbolism
Irony
Tone
9 Additional Methods of Analysis
ANALYSIS THROUGH A DOMINANT ELEMENT
Alice Munro's "How I Met My Husband" by Dana Ross
A Comparative Analysis of Katherine Mansfield's "Miss Brill" and James Thurber's "The Secret Life of Walter Mitty" by Mark Hall
A Comparative Analysis of Roald Dahl's "The Way Up to Heaven" and James Thurber's "The Catbird Seat" by Lee Anne Aspra
READING FOR COMPARISON/CONTRAST
10 Sample Essays
An Analysis of Kate Chopin's "The Story of an Hour" by Brandi Grissom
An Analysis of Nathaniel Hawthorne's "Young Goodman Brown" by Carlos Salinas
An Analysis of Character in Guy de Maupassant's "The Necklace" by Rachel Back
A Comparative Analysis of John Updike's "A & P" and Sherwood Anderson's "I'm a Fool" by Dwight Paul Waites
A Documented Analysis of Language in John Updike's "A & P"
11 Analyzing Other Forms of Literature
ANALYZING A NOVEL
Central Idea
Plot
Conflict
Characters
Setting
Point of View
Language
ANALYZING A PLAY
Plot
Conflict
Characters
Setting
Point of View
Language
ANALYZING A SCREENPLAY
Plot
Conflict
Characters
Setting
Point of View
Language
ANALYZING A POEM
Symbolism
Metaphors (and Similes)
Diction
Syntax
The Periodic Sentence
Irony
SUGGESTED READINGS
Novels
Plays
Screenplays
Poems
Stories for Further Study and Analysis
"A & P" by John Updike
"A Jury of Her Peers" by Susan Glaspell
"Arrangement in Black and White"by Dorothy Parker
"Astronomer's Wife" by Kay Boyle
"Carlyle Tries Polygamy" by William Melvin Kelley
"Désirée's Baby" by Kate Chopin
"Haircut" by Ring Lardner
"Harrison Bergeron" by Kurt Vonnegut
"Inflexible Logic" by Russell Maloney
"Offloading for Mrs. Schwartz" by George Saunders
"Paul's Case" by Willa Cather
"Soldier's Home" by Ernest Hemingway
"Son in the Afternoon" by John A. Williams
"Ten Miles West of Venus" by Judy Troy
"The Chrysanthemums" by John Steinbeck
"The Furies" by Paul Theroux
"The Girls in Their Summer Dresses" by Irwin Shaw
"The Lottery" (1948) by Shirley Jackson
"The Most Dangerous Game" by Richard Connell
"The Moths" by Helena María Viramontes
"The Possibility of Evil" by Shirley Jackson
"The Secret Life of Walter Mitty" by James Thurber
"The Star" by Arthur C. Clarke
"The Story of an Hour" by Kate Chopin
"The Trusty" by Ron Rash
"The Way Up to Heaven" by Roald Dahl
"This Is What It Means to Say Phoenix, Arizona" by Sherman Alexie
" To Build a Fire" by Jack London
"Yolanda" by Oscar Casare
Ebook
$58.00
ISBN 9781792416965
Details Electronic Delivery EBOOK 180 days