RETURN TO SEARCH RESULTS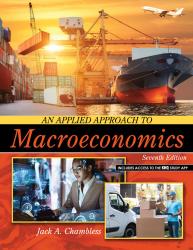 An Applied Approach to Macroeconomics
Author(s): Jack A Chambless
Edition: 7
Copyright: 2021




Details: Print Prod w/KHQ | 180 days |
Some people would rather perform root canal surgery on a rabid wolverine than sit through a discussion of Federal Reserve policies.
Jack A. Chambless' An Applied Approach to Macroeconomics prepares readers to become economically literate human beings by presenting real world issues in a somewhat controversial and humorous manner. The book is organized with a story in mind. The story takes the reader from the basic foundation of economic-thought through the market process and into the forces that shape the economic conditions we face every day.

An Applied Approach to Macroeconomics fills a niche in the economics textbook market by openly promoting the concept of free markets, economic liberty, and limited government. This does not mean that the book fails to point out the shortcomings and costs of free markets. Far from it. You will find ample material that examines the risks associated with economic liberty.

Virtually every chapter includes one or more topics devoted to current events like the post-Recession economic sluggishness, immigration issues, global warming, the controversial health care legislation, the 2016 election, oil prices and more.

An Applied Approach to Macroeconomics includes the following features:
Concept Checks – questions created to make the reader think critically about issues that are central to the study of economics.
Classroom Debates – current event topics that can be added to classroom discussions to enhance the reader's analytical tools.
An Online Course Website with links to lectures, speeches, videos, audio essays, and more.
Preface
About the Author
Acknowledgments
Dedication
CHAPTER ONE Introduction to Economics
CHAPTER TWO The Economics of International Trade
CHAPTER THREE The Economics of Capitalism
CHAPTER FOUR The Economics of Socialism
CHAPTER FIVE Economics as a Science
CHAPTER SIX The Market Equilibrium Process
CHAPTER SEVEN Changes in Supply and Demand
CHAPTER EIGHT Government Interference in the Market
CHAPTER NINE Health Care Economics
CHAPTER TEN GDP, Unemployment, and Inflation
CHAPTER ELEVEN Aggregate Demand and Aggregate Supply Analysis
CHAPTER TWELVE Hayek, Keynes, and the Monetarists
CHAPTER THIRTEEN Supply-Side Economics
The United States Constitution
Index
"An exciting read."
Dr. Walter E. Williams, Professor of Economics, George Mason University
"A book that puts strong emphasis on real world applications of economic theory is a welcome addition. Professor Chambless' common sense approach explains economics in a manner that relates to people with all levels of economics backgrounds."
Dr. Paul White, Vice-President of Economic Research Services, Washington, D.C.

"The writing is always lively. The real-world examples are fun and are well integrated into the presentation of economic principles. Quite a few are very recent, which adds a sense of relevance and credibility to the subject matter."
Dr. Stephen F. Margolis, Professor, North Carolina State University

"Mr. Chambless has created an extraordinarily readable book. After reading from the Chambless text students come to class with opinions, and applications of economic principles from their own life, which makes class discussion both more fruitful and enjoyable. Mr. Chambless is a master at writing for young adults. He speaks at their level of interest and comprehension and uses examples that are intriguing and relevant to them. There is nothing dismal about the way Mr. Chambless presents economics."
Joseph Brignone, Adjunct Professor of Economics, Brigham Young University

"Venturing far beyond standard textbook examples Professor Chambless' text is laden with meticulous research and careful examination to provide students with one of the most intensive and comprehensive economics books available. The sound insight into the sphere of economic thought enriches the students ability to not only understand the material-at-hand but, most importantly, how to apply it to the world-at-large."
Tara R. Garcia, Student, The University of South Florida

"Professor Chambless has provided both his students and readers alike with an unparalleled opportunity to truly grasp foundational economic principles and develop the ability to apply these principles to the real world. Frederic Bastiat once said, "The great economist takes into account both the effect that can be seen and those effects that must be foreseen." Professor Chambless has this foresight, and his economic prowess is represented by his writing with understandable ideas that are relevant and engaging. This book has influenced me to advocate personal responsibility, and it will continue to be a guideline throughout my educational career."
Ryan Furey, Student, Harvard University

"I, like countless other students, dreaded taking another mandatory class like Economics, but it turned out to be the best class I've ever had. Though typically a dull subject, Chambless' transformed Economics into something interesting, applicable for everyday life, and relevant for everyone."
Lizz Walsh, Student, University of Central Florida
"Professor Chambless has managed to relieve economics of its boring reputation and enhance the subject humorously with engaging arguments, and insightfully with relevant real-world applications. Whether a first time or experienced economics student, the author allows for all levels to utilize both the foundations of economic thought and basis of personal responsibility, to become a more economicallyliterate human being. He has masterfully created an economics book that I, like many other students, enjoy reading cover to cover. This book has forwarded my professional and academic pursuits to advance concepts of economic liberty, free markets, and limited government."
Holly Jean Soto, Student, George Mason University Director and Editor of GMU Economics Society Blog
"Professor Chambless takes a subject that is typically viewed as trite and transforms it into a captivating read. This book not only gives real world examples but also breaks down difficult material into a level that can be understood by someone without an economics background. He takes a free market perspective and gives real insight to current economic situations."
Madison Rodriguez Student, Florida State University​
Print Package
$130.10
ISBN 9781792458934
Details Print Prod w/KHQ 180 days