RETURN TO SEARCH RESULTS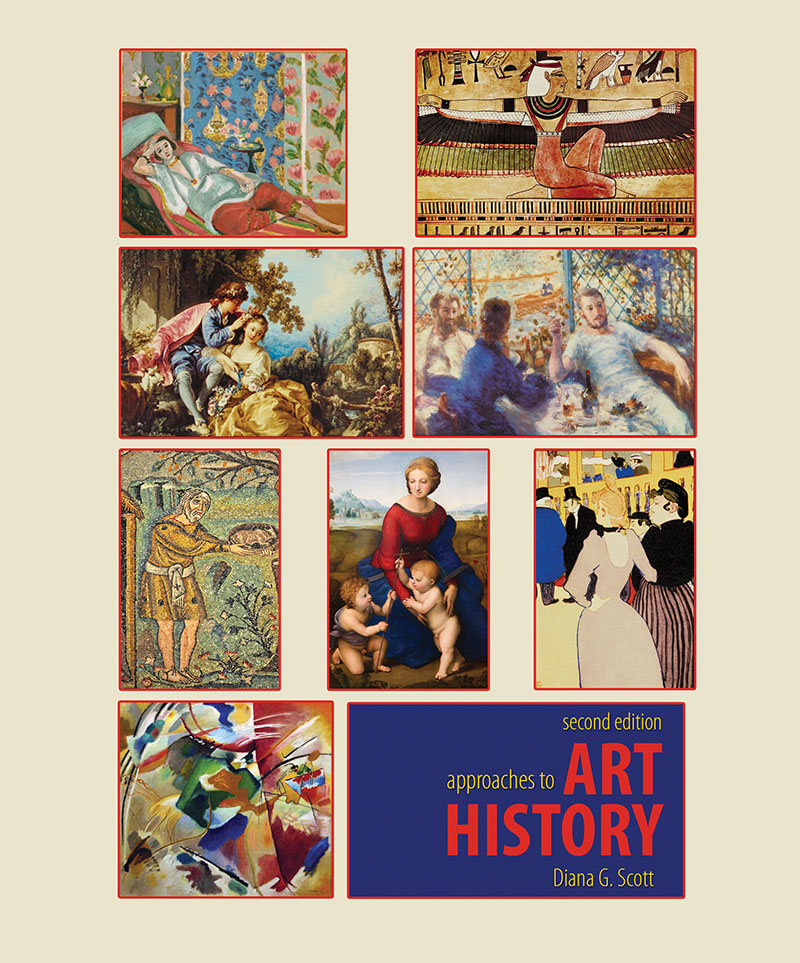 Approaches to Art History
Author(s): Diana G Scott
Edition: 2
Copyright: 2013
Pages: 308




Details: Electronic Delivery EBOOK | 180 days |
Approaches to Art History is a remarkably engaging, instructive, and versatile publication that inspires readers, generates thoughtful discussion, and develops strong visual literacy skills.
Approaches to Art History is an accessible introduction to the history of Western European art from Prehistoric cave painting through mid-20th century Modernism. 
Designed as a stand-alone text or as a complement to the standard college-level art history textbooks, Approaches to Art History gives students an insightful entree into the stylistic movements and trends unique to the Western tradition. 
Approaches to Art History:
Introduces students to the basic vocabulary of art and the various analytical tools by which scholars have evaluated and interpreted it over time. Questions of aesthetics, value, and methodology are addressed. 

Discusses culture, art movement and style with an emphasis on placing the artwork and the artists within the cultural, philosophical, religious, and historical context of their time. 

Includes a comprehensive bibliography after each section to encourage further reading and research. 

Features a group of study questions to help students assess their knowledge and develop and practice analytical and critical thinking skills. 

Lays out a straight forward step-by-step process on writing a formal analysis or a comparison (includes practice writing exercises).
---
Introduction 
Chapter 1—Getting Started: Some Basic Terminology
Line
Shape
Color
Value
Texture
Space
Style
Form and Content
Realism/Naturalism
Idealism
Abstract/Non-Objective
Aesthetics
Selected Bibliography
Chapter 2—Evaluation and Interpretation: The History of Art History
Style Linked to Cultural Development
Formalist Approach
Modernist Approach
Postmodernist Approach
Marxist/Socialist Approach
Sociological Approach
Iconography/Iconology Approach
Feminist Approach
Biographic/Autobiographic/Psychological Approach
Semiotics: Structuralism, Post-Structuralism, Deconstruction
Selected Bibliography
Chapter 3—The Ancient World
Prehistoric Art
The Art of Ancient Egypt
The Art of Mesopotamia
Art of the Aegean
Greek Art
Etruscan Art
Roman Art
Early Christian Art
Byzantine Art
Discussion Questions
Selected Bibliography
Chapter 4—Medieval Art
The Early Middle Ages
Migratory
Hiberno-Saxon
Carolingian
Ottonian
Romanesque Art
Gothic Art
Early Gothic
High Gothic
Late Gothic/Proto-Renaissance
Discussion Questions
Selected Bibliography
Chapter 5—Renaissance Art
The Early Renaissance
The High Renaissance in Florence and Rome
The Venetian Renaissance
The Late Renaissance and Mannerism in Italy
The Northern Renaissance
Discussion Questions
Selected Bibliography
Chapter 6—Art of the 17th and 18th Centuries
Baroque Art—The 17th Century
Italian Baroque
Spanish Baroque
Flemish Baroque
Dutch Baroque
French Baroque
Rococo Art—The 18th Century
France
England
Italy
Discussion Questions
Selected Bibliography
Chapter 7—The Modern World
19th Century Art
Neoclassicism
Romanticism
Realism
Impressionism
Post-Impressionism
Symbolism
Into the 20th Century
Fauvism
German Expressionism
Cubism
Futurism
Abstract/Non-Objective Art
Dada
Surrealism
American Art in the 1920s and 1930s
Abstract Expressionism
Pop Art
Post-Painterly Abstraction and Minimalism
Discussion Questions
Selected Bibliography
Chapter 8—Writing about Art
Description vs. Formal Analysis
The Formal Analysis Essay
Appropriate Introduction and Documentation
Thesis Statement
What is a thesis statement?
Detailed Overall Description
Analysis
What is plagiarism?
Interpretation
Conclusion
The Compare and Contrast Essay
Rubric for Paper Assignments
Getting Started: How to Identify the Formal Elements
Questions for a Painting Analysis
Questions for a Sculpture Analysis
Questions for an Architectural Analysis
Putting it Together: Develop an Outline
Start Writing
Writing Exercises
Selected Bibliography
Chapter 9—Art and Art-Related Terminology
Architectural Terms
Chapter 10—Materials and Methods
---
Ebook
$72.51
ISBN 9781465237071
Details Electronic Delivery EBOOK 180 days