RETURN TO SEARCH RESULTS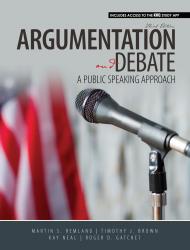 Details: Print Prod w/KHQ | 180 days |
Argumentation and Debate: A Public Speaking Approach addresses the needs of students with no prior experience in formal debate, limited experience in public speaking, and little or no plans to compete in speech and debate tournaments. The publication takes content beyond the classroom by featuring a chapter dedicated to discussing argumentation and debate in different professional contexts.

NEW 3rd Edition of Argumentation and Debate: A Public Speaking Approach by Martin Remland, Timothy Brown, and Kay Neal:
Helps all students develop or enhance their argumentation and debate skills in analysis, research, case construction, presentation, refutation, and cross-examination.
Stresses basic public speaking skills such as managing speech anxiety, doing research, understanding your audience, preparing a speech, speaking with limited notes, and so on.
Focuses on debate and include the topics of analyzing debate propositions, and constructing and presenting cases for and against propositions.
Includes a new chapter focusing on ethics in argumentation.
Preface
Chapter 1 Introduction to Argumentation and Debate
What Is Argumentation and Debate?
The Nature of Argumentation and Debate
The Value of Argumentation and Debate
A Public Speaking Perspective on Argumentation
Argumentation and Audience Analysis
Summary
References
Chapter 2 Developing and Testing Arguments
Analyzing an Argument
Recognizing and Testing Arguments
Summary
References
Chapter 3 Recognizing Fallacious Arguments
Formal Fallacies
Informal Fallacies: Faulty Assumptions
Informal Fallacies: Diversionary Tactics
Summary
References
Chapter 4 Using and Testing Evidence
Types of Evidence
Categorizing Evidence
Researching for Evidence
Evaluating Evidence
Summary
References
Chapter 5 Analyzing Propositions
The Nature of Debate Propositions
Types of Debate Propositions
Advocacy and Debate Propositions
General Analysis of Debate Propositions
Specific Analysis of Debate Propositions
Summary
References
Notes
Chapter 6 Constructing a Convincing Case
Preparation for Constructing a Case
Guidelines for Constructing a Case
Constructing Cases on Value Propositions
Constructing Cases on Policy Propositions
Summary
Reference
Notes
Chapter 7 Presenting a Convincing Case
Managing Speech Anxiety
Delivering the Speech
Attacking and Defending Arguments
Cross-Examining the Opposing Side
Summary
References
Notes
Chapter 8 Ethics in Argumentation
What is Ethics?
Applying Ethics in Academic Contexts
Practical Advice for Ethical Argumentation
Summary
References
Notes
Chapter 9 Argumentation and Debate in Different Educational Formats
Origins of Academic Debate
Academic Tournament Debate
Popular Debate Formats
Judging Tournament Debates
Summary
References
Chapter 10 Argumentation and Debate in Different Professional Contexts
Argumentation and Law
Argumentation and Business
Argumentation and Politics
Summary
References
Appendix A Argumentation Activities
Argumentativeness Scale
Reasoning Matching Quiz
Reasoning Identification Quiz
Fallacy Matching Quiz
Fallacy Identification Quiz
Types and Tests of Evidence
Analyzing Supporting Evidence
Appendix B Debate Activities
Identify the Type of Proposition
Choosing a Debate Topic
Who has the Burden of Proof?
Stock Issues Worksheet
Recording Evidence
Speech Outline Worksheet for Policy Debate
Unscramble an Affirmative Case Outline
Unscrambling Case Outlines
Stock Issues Debate Judging Ballot
Debate Timekeeping Forms
Appendix C Argumentation and Debate Books
Books on Argumentation
Books on Debate
Glossary
Index
Print Package
$162.07
ISBN 9781792425943
Details Print Prod w/KHQ 180 days