RETURN TO SEARCH RESULTS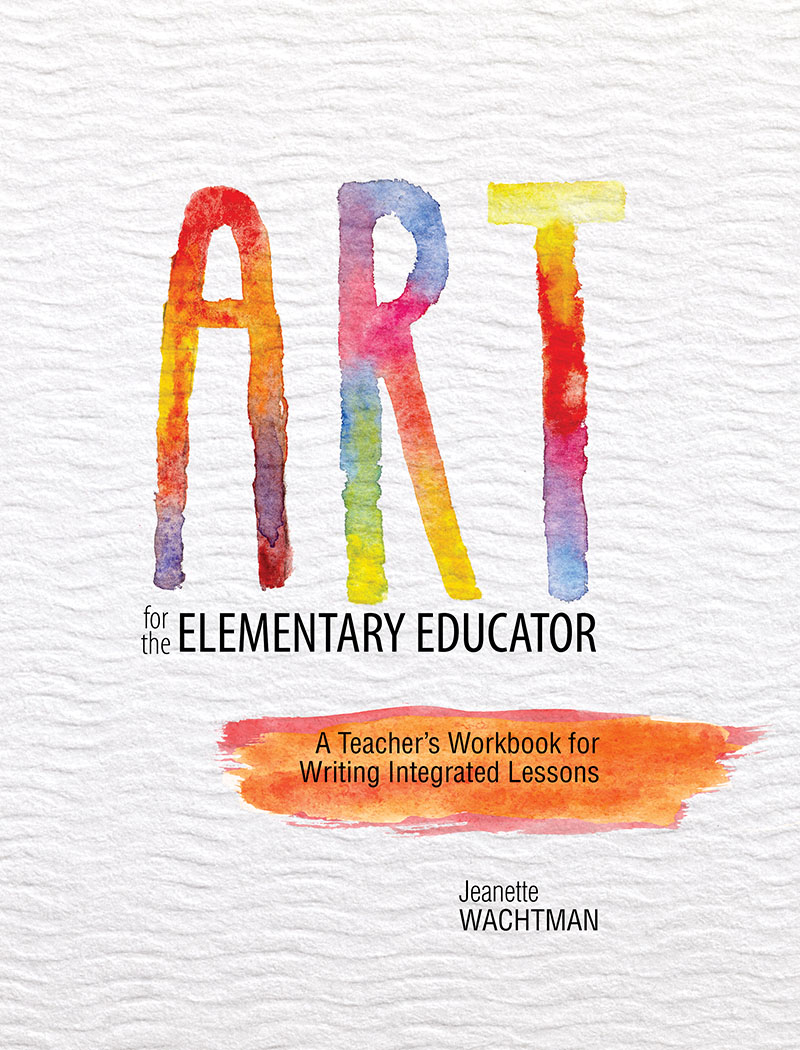 Art for the Elementary Educator: A Teacher's Workbook for Writing Integrated Lessons
Author(s): Jeanette Wachtman
Edition: 1
Copyright: 2015
Pages: 254
CHOOSE FORMAT ?
Details: Electronic Delivery EBOOK | 180 days |
The workbook, Art for the Elementary Educator, is an excellent resource for education and art majors at the college level, current art and classroom teachers, and home-schooled students. It encompasses art education concepts and ideas with strategies for writing integrated lessons for grades kindergarten through fifth grade.
This workbook is not the 'traditional' academic textbook. It is written as an engaging narrative with a fictitious principal, art teacher and classroom teachers. It chronicles twenty school days with examples of integrated lessons, student artwork, art techniques and original rhymes as a teaching tool.
The book's interactive feature contains art pages for displaying photos of student artwork, art assignments and directions for the teacher to dabble in art making. The majority of articles and activities speaks to creativity, art styles, art criticism, art history, lesson planning, a thematic approach to study cultures, addresses stages of children's art and features a copious amount of children's artwork
Day One: Monday
Outer Space Adventure – Creativity in the Classroom

Day Two: Tuesday
An Integrated Approach – Geometric Super Robot

Day Three: Wednesday
Art Workshop on Art Education – Importance of Art Education
Connecting the Dots: Guideline for Integrating Art in Classroom Lessons

Day Four: Thursday
An Integrated Lesson – Under the Sea

Day Five: Friday
Through the Lens – Photography in the Elementary School Art and the Aesthetics of Technology

Day Six: Monday
A Thematic Approach for Teaching a Cultural Unit
American Roots: Native American Culture

Day Seven: Tuesday
An Integrated Lesson – What Time Is It? – Motivation Strategies

Day Eight: Wednesday
Art Workshop – Art Styles and Aesthetics

Day Nine: Thursday
Cultural Diversity in the Classroom – Symbols

Day Ten: Friday
Flower Garden – Collaboration

Day Eleven: Monday
Looking at Lowenfeld – Art Stages of Children's Art

Day Twelve: Tuesday
Space and Time – Dinosaurs Lived a Long Time Ago
I'm Digging It… An Archaeological Dig

Day Thirteen: Wednesday
Art Workshop – Art Criticism: How to Talk About Art

Day Fourteen: Thursday
An Integrated Lesson – Storytelling Quilts
Teaching Strategies

Day Fifteen: Friday
Classroom Learning Centers Supporting Multiple Intelligences

Day Sixteen: Monday
Special Needs – Assumptions, Expectations, and Surprises

Day Seventeen: Tuesday
Personality Styles – What Style Are You?

Day Eighteen: Wednesday
Art Workshop – Integrating Disciplines –Examining Strategies

Day Nineteen: Thursday
Seasons – An Integrated Teaching Unit with Art Education Components

Day Twenty: Friday
An E-mail from Sharlene: Art Workshops: A Summary Welcome to the ADS Art Website, Finding Answers to Art Questions

Art Gallery:
Art History – Aesthetic Expressions Through Time

References

Photo Credits
Ebook
$44.00
ISBN 9781465288714
Details Electronic Delivery EBOOK 180 days