RETURN TO SEARCH RESULTS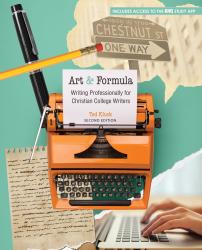 Art & Formula: Writing Professionally for Christian College Writers
Author(s): Ted Kluck
Edition: 2
Copyright: 2022




Details: Print Prod w/KHQ | 180 days |
Writing this textbook has given me the opportunity to highlight what I deem important, to teach you from my mistakes, and perhaps most importantly, to write joyfully about something that I care about. This has been fun for me, and I hope it's fun for you.
The content is very much a reflection of its author's strengths and weaknesses. It is strong where I tend to be strongest as a writer, and most interested – features, creative nonfiction, interviewing, and opinion work. It is weak where I tend to be the least interested as a writer, and it is where I have drawn most heavily on some exceptional source material that has helped me greatly in the classroom. I owe a debt of gratitude to the talented Union University students whose work I showcase in this book. I wrote this book with student writers and student publications in mind, so it made sense to me to acknowledge excellent work from those publications.
You'll notice it doesn't get close to covering "everything" – especially in the areas of Communication Law, Public Relations, AP Style, and Investigative Journalism. Rather, the goal was to make it narrative, engaging, and digestible.
I believe great writers teach themselves, and college is most about helping writers understand what it is they like to do. The great thing about writing is no one professor or textbook has the secret to success. Success, in this professor's opinion, comes when there is such joy in the work that the student is hungry to read and write more. This book was written humbly, and in that spirit. Enjoy it.
Preface
Acknowledgments
Ted Kluck Author Bio
Part One Art
Chapter 1 Meet Me on a Street Corner in Philly: A Writer's Journey
Chapter 2 The Awareness: Writing the Feature Story
Chapter 3 Never Write Angry: Opinion Writing and Building Your Brand
Chapter 4 I Stole a Book from a Guy and it Changed my Career: Creative Nonfiction and Immersion Journalism
Chapter 5 Semi-Funny Observations and Being a Decent Person: Interviewing
Chapter 6 Saying Thank You and the Art of Being Cool
Part Two Formula
Chapter 7 News Leads and Newsworthiness
Chapter 8 The Inverted Pyramid News Story
Chapter 9 Sports Writing
Chapter 10 Public Relations Writing
Chapter 11 AP Style, Grammar, and Word Choice: Common Mistakes
Chapter 12 Pitching Stories (and Pitching Yourself)
Appendix A Podcast Stuff
Source List
Print Package
$133.40
ISBN 9781792468391
Details Print Prod w/KHQ 180 days