RETURN TO SEARCH RESULTS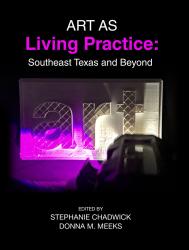 Details: Print Prod w/KHPContent Code | 180 days |
Art as Living Practice introduces a variety of artistic media and processes, provides insights into their histories, and explores how and why artists work as they do. Exploring connections between local and global art, this textbook highlights canonical artworks while investigating art on campus and in the regional Southeast Texas community. Familiarizing you with a broad array of images and the specialized vocabulary of art and its history, this book empowers you to better appreciate the art you see here (in these or other printed pages), in digital media, on campus, and in museums in the community or abroad. In featuring the voices of art, art history, art education, and graphic design faculty as well as museum curators and nonprofit art advocates, this book is designed to enrich engagement with art on campus, in Southeast Texas, and beyond.
Features of Art as Living Practice include:
hundreds of color images.
locally, regionally, and globally recognized artworks.
vocabulary to inform discussions and write about art.
art, media, and processes explained by top professionals in their fields.
suggestions for appreciating art on campus and in community art spaces.
tips for understanding relationships between art and visual culture.
guidance on careers in art, art history, art education, and graphic design.
ACKNOWLEDGMENTS
INTRODUCTION Through the Authors' Eyes
Dr. Stephanie Chadwick, Assistant Professor of Art History, Department of Art, Lamar University
Donna M. Meeks, Professor of Painting, Chair of the Department of Art, Lamar University
Why Look at Art?
Who Makes Art?
Why Make Art and Why Study It?
What Is the Value of Art?
Why Consider Art History?
What Are Some of Today's Artistic Themes?
Who Are the Authors of This Book?
Careers in Art and Design
CHAPTER ONE Through the Lens of History: A Look at World Arts Through Time
Dr. Stephanie Chadwick, Assistant Professor of Art History, Department of Art, Lamar University
Art at the Origins of Human Cultures
Prehistoric Sculpture
Agriculture and Large-Scale Sculpture in the Neolithic Age
Cities and the Development of Early Civilizations
Investigate: Explore the Art of Ancient China
A Brief History of Art History
Cultural Specificity and Hybridity in Premodern, Modern, and Postmodern Art
SPOTLIGHT—Dr. Stephanie Chadwick
Glossary
Bibliography
CHAPTER TWO Looking at Art: Elements of Art
Kurt Dyrhaug, Professor of Sculpture and Design, Department of Art, Lamar University
Donna M. Meeks, Professor of Painting, Chair of the Department of Art, Lamar University
Introduction: Elements
Line
Shape and Form
Mass
Space
Time and Motion
Light, Value, and Color
Texture
Conclusion
Glossary
CHAPTER THREE Looking at Art: Principles of Design
Kurt Dyrhaug, Professor of Sculpture and Design, Department of Art, Lamar University
Donna M. Meeks, Professor of Painting, Chair of the Department of Art, Lamar University
Introduction: Principles
Unity and Variety
Balance and Symmetry
Emphasis
Directional Forces
Contrast
Repetition and Rhythm
Scale and Proportion
Endnote
Glossary
Bibliography
CHAPTER FOUR Through the Artist's Eyes: Drawing
Christopher Troutman, Assistant Professor of Drawing, Department of Art, Lamar University
Drawing Materials
Drawing History
Drawing Applications
Drawing as Expression
Drawing as Fine Art
Drawing Today
SPOTLIGHT—Christopher Troutman
Glossary
Bibliography
CHAPTER FIVE Through the Artist's Eyes: Painting
Donna M. Meeks, Professor of Painting, Chair of the Department of Art, Lamar University
Philosophical Approaches
History and Practice
Expressive Painting
Nonrepresentational Painting
Series
Composition
Conclusion: Contemporary Practice
Tradition and Beyond: New Approaches to Painting
SPOTLIGHT—Donna M. Meeks
Endnotes
Glossary
Bibliography
CHAPTER SIX Through the Artist's Eyes: Sculpture
Kurt Dyrhaug, Professor of Sculpture and Design, Department of Art, Lamar University
Introduction: Sculpture Methods and Materials
Additive and Subtractive Sculpture
Relief Sculpture: Low and High Relief
Freestanding Sculpture
Materials
Conclusion
SPOTLIGHT—Kurt Dyrhaug
Endnote
Glossary
Bibliography
CHAPTER SEVEN Through the Artist's Eyes: Ceramics
Greg Busceme, Instructor of Art Appreciation, Department of Art, Lamar University,
Director of The Art Studio Inc.
Introduction
Kilns
Surface Treatment and Glazes
Modern and Contemporary History
SPOTLIGHT—Greg Busceme
SPOTLIGHT—Linnis Blanton
Glossary
Bibliography
CHAPTER EIGHT Through the Lens of History: Art in Ancient Greece and Rome
Dr. Julia C. Fischer, Assistant Professor of Art History, Department of Art, Lamar University
Ancient Greece
Art during the Roman Empire
Conclusion
SPOTLIGHT—Dr. Julia Fischer
Glossary
Bibliography
CHAPTER NINE Through the Lens of History: Photography
Keith Carter, Professor of Photography, Walles Chair of Performing Arts, Lamar University
Dr. Stephanie Chadwick, Assistant Professor of Art History, Department of Art, Lamar University
Introduction
Roots in Prehistoric Mark Making
The Camera Obscura—A Mechanical Eye
Photography's Inventors
Innovations in Portraiture
Portraits of History: Documentary Photography
Landscape and Urban Photography
Amateur Photography—The Birth of the Snapshot
The Art of Photography
Mid-Century Culture and Street Photography
Postmodern Photography
Conclusion: Photography in the Digital Age
SPOTLIGHT—Keith Carter
Glossary
Bibliography
CHAPTER TEN Through the Designer's Eyes: Graphic Design
Sherry Saunders Freyermuth, Assistant Professor of Graphic Design, Department of Art, Lamar University
Introduction
History of Graphic Design
Process of Graphic Design
Technologies of Graphic Design
Conclusion: Career Pathways in Graphic Design
SPOTLIGHT—Sherry Saunders Freyermuth
Bibliography
CHAPTER ELEVEN Through the Eyes of the Educator: Aesthetic Puzzles in Art Education
Dr. Joana Hyatt, Assistant Professor of Art Education, Department of Art, Lamar University
With student contributions by Virginia Johnson, Laci Gibson, and Danielle Crouch
Introduction
Aesthetic Puzzles
Case Studies: Aesthetic Puzzles in Practice
Discussion for Secondary Students
Conclusion
SPOTLIGHT—Dr. Joana Hyatt
Endnotes
Glossary
Bibliography
CHAPTER TWELVE Art on Campus: University Museums and Public Art
Dennis Kiel, Director of the Dishman Art Museum, Lamar University
Kim Steinhagen, Development Officer and Co-Chair of the Public Art Committee, Lamar University
Introduction
The Dishman Art Museum, Dennis Kiel
The Lamar University Public Art Collection, Kim Steinhagen
Conclusion
SPOTLIGHT—Dennis Keil
SPOTLIGHT—Kim Steinhagen
Bibliography
CHAPTER THIRTEEN Art in the Community and Beyond: Museums and Nonprofit Organizations
Lynn Castle, Executive Director of the Art Museum of Southeast Texas
Sarah Beth Wilson, Curator of Exhibitions and Collections of the Art Museum of Southeast Texas
Katrina (Trina) Nelson Thomas, Director of Stark Art & History Venues, Nelda C. and H.J. Stark Foundation.
Sarah E. Boehme, PhD, Curator of Stark Museum of Art
Dr. Lynne Lokensgard, Professor Emerita of Art History, Lamar University; Board member of Beaumont Art League
Greg Busceme, Instructor of Art Appreciation, Lamar University; Director of The Art Studio, Inc.
Kim Steinhagen, Development Officer and Co-Chair of the Public Art Committee, Lamar University; Art Museum of Southeast Texas Board Member; Art Patron and Collector
Rob Clark, Architect, Art Patron and Collector
Introduction
Art Museums
—The Art Museum of Southeast Texas, Lynn Castle, Executive Director, and Sarah Beth Wilson, Curator of Exhibitions and Collections
—The Stark Museum of Art, Katrina Nelson Thomas, Director, and Sarah E. Boehme, PhD, Curator
Community Art Organizations
—The Beaumont Art League, Lynne Lokensgard, Beaumont Art League Board member and former Professor of Art History, Lamar University
—The Art Studio, Inc., Greg Busceme, Art Studio Director and Instructor, Lamar University
Art Collectors
—Interview with Kim Steinhagen
—Interview with Rob Clark
Conclusion
SPOTLIGHTS—About The Authors
CONCLUSION Art in Your Future
Dr. Stephanie Chadwick, Assistant Professor of Art History, Department of Art, Lamar University
Donna M. Meeks, Professor of Painting, Chair of the Department of Art, Lamar University
Appreciating Art
Careers in Art and Design
GLOSSARY
Print Package
$81.59
ISBN 9781792488061
Details Print Prod w/KHPContent Code 180 days