RETURN TO SEARCH RESULTS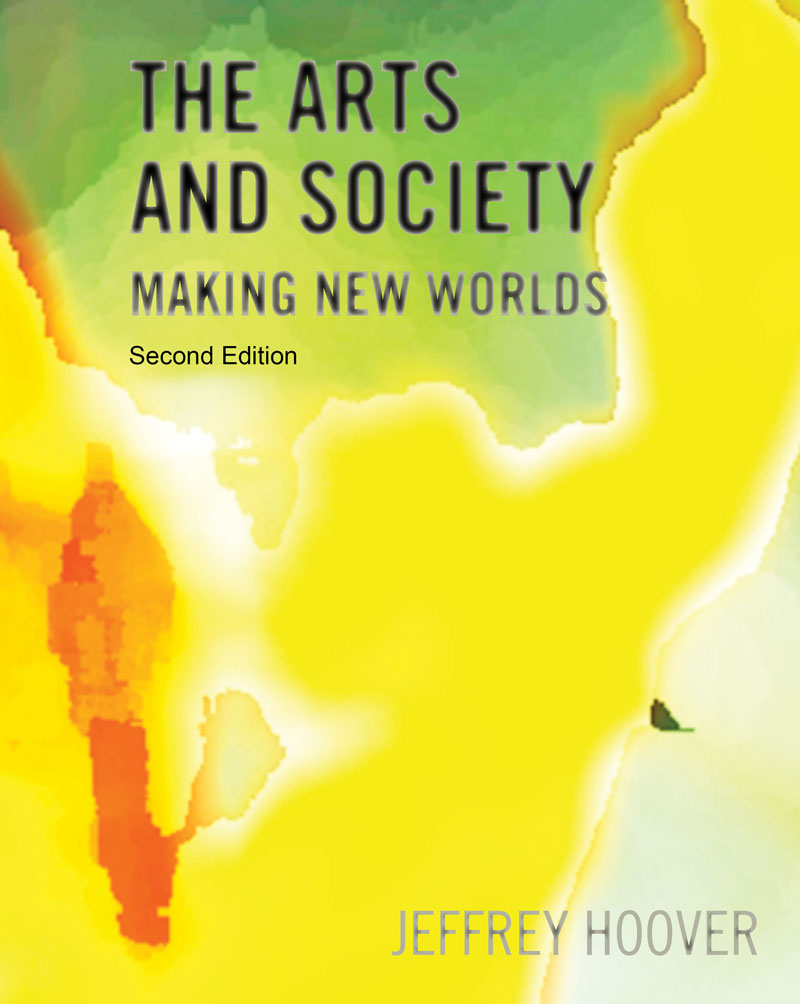 The Arts and Society: Making New Worlds
Author(s): Jeffrey Hoover
Edition: 2
Copyright: 2016
The Arts and Society: Making New Worlds, by Jeffrey Hoover, describes the evolving world of the arts and how it impacts our lives. This book was written to help one enter into a significant dialogue about the arts while leveraging ideas and values communicated by this mirror of society.
Both fundamentals and more advanced concepts are presented for the visual arts, music, theater, poetry, dance, architecture, and film. This book considers not only the product but also the process: how work is created, presented, the resources required, and how society is ultimately served. Technical aspects of making art are discussed as well as society's shaping forces.
Through both contemporary and historic perspectives, as well as discussion of significant works (including numerous American works), this book expands understanding of the roles of the arts. In addition to the artworks and primary source material, there are analyses, case studies, and commentary by active practitioners.
Part I - THREE WORLDS OF THE ARTS
Chapter 1 The World of the Integrated ArtistThe Roles and Purposes of the Arts
The arts inspire and entertain us.
The arts enrich our spiritual lives and are integral to worship.
The arts tell the story of who we are and affirm our identity.
The arts give us perspective.
Changing Roles and Expectations of Artists
Chapter 2 The World of Presenters
Serving a Greater Good
Mission, Vision, and Values for the Arts
Toledo Museum of Art
Alvin Ailey American Dance Theater
Phamaly Theatre Company
Integrated Arts Program, University of Baltimore
Who Are the Players in Presenting the Arts?
The Arts as Business
Boards and Committees
Strategic Planning
General Operations Hierarchy
Educational Institutions: Presenters and Patrons of the Arts
As Presenters
As Patrons
Chapter 3 The World of the Audience—Choices and Decisions
Aesthetics—What Is Beautiful and Valuable?
Beauty and Theories of Art
Institutional Theory of Art
Biological Substitution
Ways and Means
Creating Structure
Determining Value—The Phenomena of Artwork: The Feldman-Mittler Model
Phenomenology Employed
Balance in Phenomenology
The Idea of Multiple Categories for Evaluation
Applying Phenomenology to a Painting—Escaping Criticism
Expanding Phenomenology—Considering Elements and Principles in the Arts
Broadly
Architecture
Art
Theater
Poetry (and Text-based Works)
Dance and Movement
Music
Film
Parallels and Connections—Expanding Phenomena to All the Arts
Three Ideas about the Arts—The Commonwealth of the Arts
Part II - FUNDAMENTALS
Chapter 4 Music and Dance—Time-based Art
Music
Jazz and Classical Music
Structures and Processes in Music
Larger Musical "Architecture"
Case Study: Three Sacred Musical Works by Josquin des Prez, Johann Sebastian Bach, and Olivier Messiaen
Dance
A Brief History of Dance
Five Major Approaches to Training Ballet Dancers
Methods to Preserve Dance
Two Approaches to Dance—Narrative and Abstract
Jazz Dance
Modern Dance
Chapter 5 Art through Words and Actions
Poetry
The Meaning of Words
Five American Poets: Louie Clay, Marsha L. Dutton, Jeffrey Bismayer, Judith Cofer, and Abraham Terian
Theater
Genres of Theater and How Space Impacts Storytelling
Types of Stages
The Tragedy of Othello, the Moor of Venice
Chapter 6 Art That Is Fixed
Art
Art and the Human Figure
Egyptian, Greek, and Roman Figures
A Late Nineteenth-Century American Portrait
Architecture
Circles and Rectangles—Central-Plan and Basilica-Plan Architecture
Columns, Capitals, Arches, Vaulting, and Buttresses
Chapter 7 Synthesis
From Opera to Film
Camerawork Tells the Story
Point-of-View
Shot Length
Motion and Special Equipment
The Importance of Filmscores
Part III – ECONOMICS
Chapter 8 Art's Economics in Society
Artistic Success and Economic Success
Artistic Success
Economic Success
Pop Art and Economics
Richard Florida and the Creative Economy Debate
Criticisms of the Creative Class Concept
Arts Districts and Arts Partners
Reflection: The Arts Where You Live
Chapter 9 Economics and the Individual Artist
The Two-Season Cycle in an Artistic Year
Ramifications of Normalizing the Art Market
Artist Representation and Management
Self-Representation
Management and Representation
Cooperatives as Management
Three Approaches for Artist Marketing and Representation
Brand Marketing (Relationship Building)
Social Media Marketing
Direct Marketing
Chapter 10 Museums, Challenging Matters, and Art Forgery
Museums
Public Art
Percentage for the Arts
Copyright: Who Owns Art?
When Art Is Stolen or Forged
Art Theft
Art Forgery
Methods of Art Forgery
Deception, Philosophy, and Authenticity
Part IV – POLITICS
Chapter 11 Government and Commentary
Issues Surrounding Government Sponsorship
Global Arts and Politics
Modern Dance in China
Case Study: Censorship and Propaganda / Dmitri Shostakovich, composer
Chapter 12 Controversy and the Role of Artists
The Artist as Social and Political Provocateur
An Exhibition—Robert Mapplethorpe
Three Photographs from "The Perfect Moment" Exhibition
Photographs—Andres Serrano
Plays against Apartheid—Athol Fugard
Chapter 13 Calling for Change
Manifestos—Where Art and Politics Collide
Futurism and Artistic Manifestos
Timeline—Manifestos of Futurism
The Futurist Manifesto—Filippo Marinetti
A Romantic Manifesto—Ayn Rand
Creating a Manifesto for Change
Part V - EXPLORATION
Chapter 14 Reaching Outward and Inward—Time and Space
An Odyssey through Art
An Important Concept
Georges Méliès—Le Voyage dans la Lune (The Trip to the Moon)
Galileo Galilei—Sidereus Nuncius (Starry Messenger)
Pillars of Creation (European Space Agency [ESA] / Hubble)
Vincent van Gogh—De sterrennacht (The Starry Night)
The Painting
William Butler Yeats—Sailing to Byzantium
Details of the Poem
Part VI – ARTISTS AT WORK
Chapter 15 The Practices and Perspectives of Artists
Thinking, Feeling, and Mapmaking—Sketching and Journaling
Sketching—Da Vinci, Mozart, Goldberg, and Beethoven
Journaling—Progoff and Cameron
The Perspectives Artists Bring to the Task
Three Davids by Sculptors Michelangelo di Lodovico Buonarroti Simoni, Donato di Niccolò di Betto Bardi, and Gian Lorenzo Bernini
When Artforms Inform One Another
Afternoon of a Faun—A Poem, Orchestral Music, and a Ballet
Chapter 16 Secular and the Sacred Space—Architecture Revisited
The Art We Inhabit: Earthly and Spiritual Materials
Buildings and Cities
Louis Sullivan
Frank Lloyd Wright
Frank O. Gehry
Léon Kier
Urban Renewal and Millennium Park, Chicago
The Lincoln Memorial as a Greco-Roman Temple
A Temple for All People: The Bahá'í House of Worship for North America
The History and Construction of the Temple
Part VII - ARTISTIC GROWTH and AGENDA
Chapter 17 Paths for Growth
Artist Colonies and Retreats
The Individual Artist's Agenda—A Focused Commitment to Create
How Does an Agenda Play Out?
What Leads to an Agenda?
Arriving at an Agenda
An American Sculptor with an Agenda—Martin Puryear
Chapter 18 Perception and Connection
Making the Unseen Seen—Ray Pierotti, Artist
Ray Pierotti Discusses His Suite of Paintings, Sound Intervals
The Layered Process
Synesthesia: When Sensory Responses Mix and Collide—Kaitlyn Hova, Violinist
Self-Portraits: Mental Health and Creating New Work—Virginia Woolf (Writer) and Hugo Wolf (Composer)
Challenges in Making Art
Challenges for Musicians
Freewheeling
Dancing in Silence
Part VIII - MAKING THINGS NEW
Chapter 19 The Promise of Newness
When Artforms Combine
Case Study: Golden—A Musical Composition, a Painting, and a Poem
Comments about Making Something New
Technology at the Cusp of Imagination
Projection Mapping
Seeing Sound
Chapter 20 Today's World and How Art Is a Part of It
What People Hope (and Expect) the Arts to Do for Society
Artist Statements as Social Covenants
Personal and National Identity through the Arts
Can Art Help Shape the Future?
Trends in Education
Spreading Ideas
What the Arts Need to Look Like
Ebook Package
$63.40
ISBN 9781524907709
Details eBook w/KHPContent Access 180 days