RETURN TO SEARCH RESULTS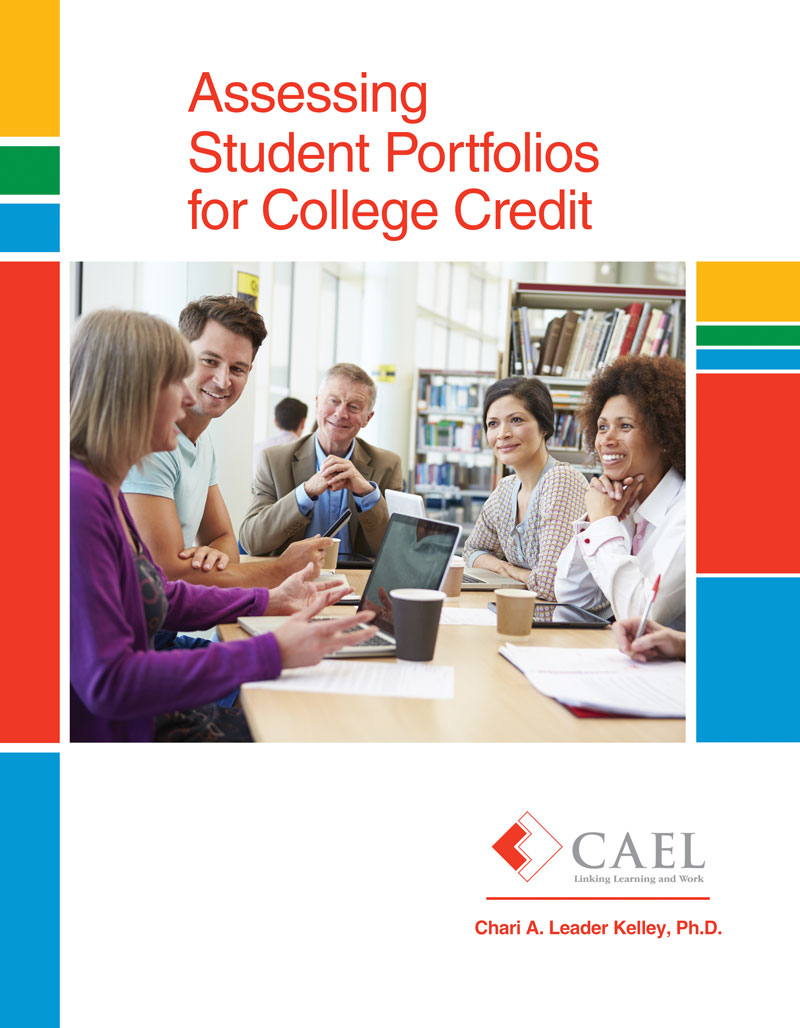 CHOOSE FORMAT ?
Details: Print Product |
Portfolio assessment is an important strategy that supports retention, persistence, and adult student success.
Assessing Student Portfolios for College Credit: Everything you Need to Know to Ensure Academic Integrity in Portfolio Assessment, unlike many books on higher education that are written with an emphasis on theoretical constructs without concrete examples, includes actual student portfolios and discusses how to effectively assess students' portfolios. The author, Dr. Leader Kelley, also addresses the myths that have grown up around prior learning assessment, allaying the fears of faculty and administrators through concrete evidence of the value of using portfolio assessments to help adult students succeed.
Translating, deciphering, bridging, and/or equating what a learner knows and can do in order to receive college credit can be tricky, daunting, and even overwhelming. Without integrity, the process can undermine the value of the credentials it seeks to make accessible. At its best, the process can provide an academically responsible, motivating, and meaningful bridge to postsecondary education. If taken to scale, this process can unleash unrealized talent and light a pathway toward more meaningful personal and professional lives for millions of individuals, especially adults with some college and no degree.
This book provides a valuable resource for a wide range of individuals. Administrators and practitioners will benefit from the pragmatic and accessible information embedded in the multiple portfolio examples. Faculty members can view examples of portfolios that mirror their own syllabi, providing evidence of learning through a written narrative and supportive documentation. The portfolio examples demonstrate how students meet and exceed the learning outcomes for real college courses.
Scott Campbell
Vice President for Higher Education, CAEL
Acknowledgements vii
Foreword
Introduction
PLA Methods
Portfolio Assessment's New-Found Popularity
Using This Book
A Student's Point of View
Chapter 1 Trials and Tribulations
A Brief History
1974 CAEL Project Institutions
Portfolio Assessment Overview
Dispelling the Myths
Assessment in Portfolio Assessment
David Kolb's Cycle of Learning Model
Kolb Examples Extracted from Actual Student Narrative
Chapter 2 Let's Take a Look
Anatomy of a Portfolio: Example #1—Jacqueline
Course Description
Jacqueline's Learning Narrative Introduction
The Body of the Learning Narrative
Documentation
The Assessment
Chapter 3 Learning Outcomes, Competencies, and Credit
Learning Outcomes and Competencies
Student Portfolio Example #2—Christine
Christine's Documentation
The Assessor's Evaluation
What Makes a Great Portfolio?
Chapter 4 Portfolio Assessment in Real Life
Step One: Advising Portfolio Students
Step Two: The Portfolio Development Course or Workshop
Step Three: The Portfolio Development Process
Step Four: The Assessment
Portfolio Appeals
Step Five: Student Feedback
Program Oversight
Student Portfolio Example #3—Bill
Example of an Excellent Letter of Verification
Effective Feedback
Examples of Good Assessor Feedback
Chapter 5 Assuring Quality Assessment
Five Tenets of Adult-Oriented Assessment and Related Propositions
about Learning
Working with the Rubric
Checks and Balances
The Important Role of the Assessor
A Faculty Member's Perspective on Portfolios and Assessment
Melissa Nemon, PhD
Student Portfolio Example #4—Andrea
Student Portfolio Example #5—Michael
Chapter 6 Applying Portfolio Assessment Principles
Student Portfolio Example #6—Lynn
Your Assessment
Chapter 7 Frequently Asked Questions
Chapter 8 Taking Portfolio Assessment into the Future
Portfolio Assessment as Part of a Larger Framework
A Vision for the Future
References
Appendix A PLA Historical Timeline
Appendix B CAEL's 10 Standards for Assessing Learning
Appendix C Assessment Example
Appendix D Career and Technical Education Portfolio
Print
$40.96
ISBN 9781524913434
Details Print Product