RETURN TO SEARCH RESULTS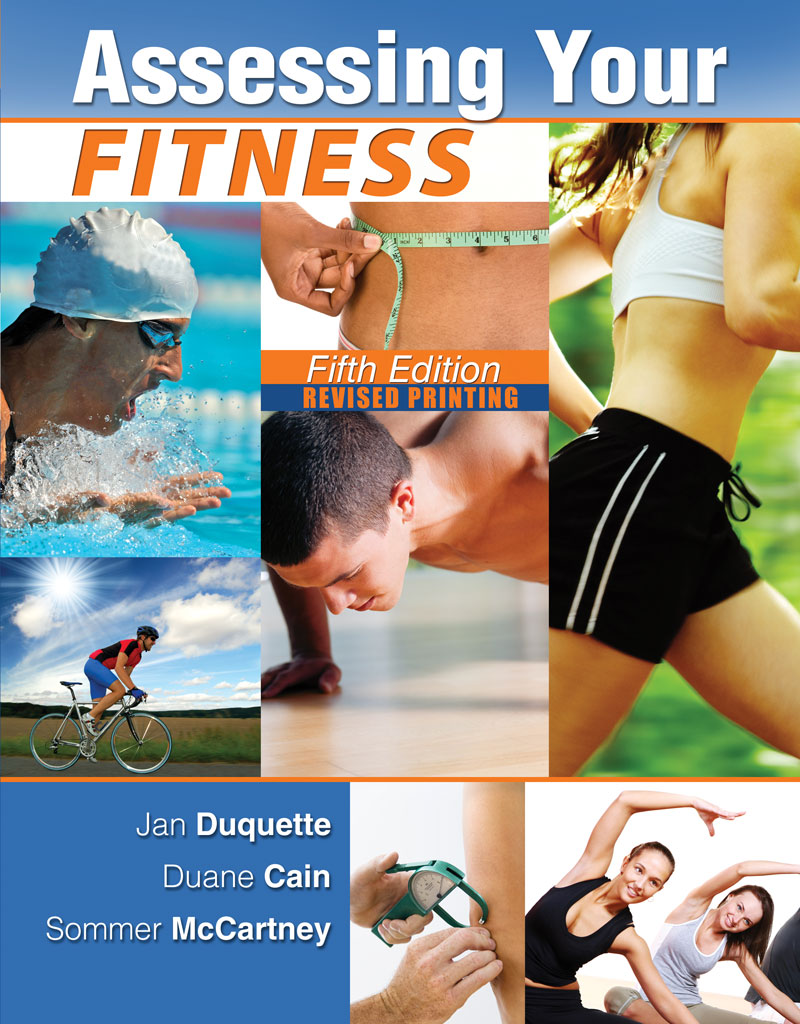 Details: Print Product |
Assessing Your Fitness is for college undergraduates who, like the general public, are probably undergoing a barrage of media information related to fitness.
Assessing Your Fitness helps students assess their own health and fitness, and provide them with a starting point upon which they can determine their pathway to a healthier lifestyle and future fitness goals. This guide address family history, body composition, cardiovascular fitness, skill-related fitness, nutrition, and other factors contributing to a healthy lifestyle. By following guidelines in each chapter, students will chart out a sound program for reducing any shortcomings in their fitness profile.

Features of Assessing Your Fitness include:
worksheets for students to learn about their own fitness personality, as well as new fitness information.
lab exercises which guide students through their personal fitness assessments.
charts, graphs and photos for step-by-step guidance.
web links for additional online resources.
(The previous edition of this book was titled Fitness Assessment Workbook)
Preface
Acknowledgments
1 Fitness Appraisal
Primary Risk Factors
Secondary Risk Factors
WORKSHEET 1: Lifestyle Appraisal
Glossary of Terms
Related Websites
Study Questions
2 Cardiovascular Endurance and Flexibility
Energy Systems
Measuring Heart Rates
Ratings of Perceived Exertion (Borg Scale)
General Principles of Training
Two Types of Popular Training
Flexibility
Three Basic Techniques for Increased Flexibility
Warming up for a Safe Workout
The Five Minute Stretch
Contraindicated Stretching Exercises (Do's and Don'ts of Flexibility Stretches)
Low Back Health
Low Back Exercises
Alternative Low Back Treatments—Decide What's Best for You
WORKSHEET 2: Cardiovascular Endurance
LAB 1—Cardiovascular Fitness Test
LAB 1—12 Minute Walk/Run and Flexibility Test
LAB 1—Flexibility Test
Glossary of Terms
Related Websites
Study Questions
3 Basics of Nutrition
Nutrition News
Keys to Nutrition
Phytochemicals
Energy Drinks
Facts About Our Body's Fuel
Trans Fat
WORKSHEET 3: Fat Intake
Glossary of Terms
Related Websites
Study Questions
4 Body Composition and Weight Management
Body Composition
Measuring Body Fat
Weight Management
Physical Activity and Energy Expenditure
Strategies for Weight Management
Hype? What Is Right?
Extreme Approaches to Weight Loss
Lean Body Mass
WORKSHEET 4: Current Diet Programs
LAB 2—Waist to Hip Ratio
LAB 2—Body Composition
LAB 2—Body Composition
Glossary of Terms
Related Websites
Study Questions
5 Muscle Strength and Muscle Endurance
Types of Muscle
Muscle Strength
Muscle Endurance
Types of Contractions
Weight Training Programs
Resistance Equipment
Special Strength Training Programs
Typical Training Systems
Safety Considerations
WORKSHEET 5: Muscle Strength
Muscle Endurance
LAB 3—Muscle Endurance Test
LAB 3—Muscle Endurance Test (Men)
LAB 3—Muscle Endurance Test (Women)
LAB 3—Muscular Strength Test
LAB 3—Muscular Strength Test
Glossary of Terms
Related Websites
Study Questions
6 Skill-Related Fitness
Skill-Related Fitness
Balance as a Part of Fitness
Components of Skill-Related Fitness
LAB 4—Agility Test
LAB 4—Balance Test (Dynamic)
LAB 4—Balance Test (Static)
LAB 4—Power Test
Swimming: Safety and Fundamentals
LAB 5—Aquatic Ability
WORKSHEET 6: Skill-Related Fitness
Glossary of Terms
Related Websites
Study Questions
7 Stress Management
Test Anxiety
Quick Fixes Which Are Not Recommended
Stress and Personality Types
Stress Management Alternatives
WORKSHEET 7: Vulnerability to Stress Questionnaire
Glossary of Term
Related Websites
Study Questions
8 Fitness for Life
Physiology of Aging
The Right Exercise Program for You Starts Here
Environmental Concerns
Special Populations
Physical Activity Related Injuries
WORKSHEET 8: Your Overall Fitness Assessment
Glossary of Terms
Related Websites
Study Questions
Supplemental Definitions
References
Index
Print
$54.99
ISBN 9781792401299
Details Print Product