RETURN TO SEARCH RESULTS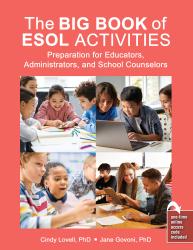 The Big Book of ESOL Activities: Preparation for Educators, Administrators, and School Counselors
Author(s): Cindy Lovell, Jane M Govoni
Edition: 1
Copyright: 2023
Pages: 436




Details: Print Product |
Coming Soon!
The Big Book of ESOL Activities: Preparation for Educators, Administrators, and School Counselors is a collection of ready-to-go activities for college classrooms and ESOL endorsement training. More than 60 critical concepts are introduced and reviewed through 200+ engaging activities. Through application, readers expand their knowledge and skills while developing applications to use in their schools and classrooms.
Concepts are presented alphabetically and coded for specific audiences: Educators, Administrators, and School Counselors. Many activities relate to the areas of the arts, STEM, and reading and are coded as such.
The authors have developed these activities after decades of instructing TESOL/ESOL endorsement courses at the undergraduate and graduate level. Today's readers are looking for ways to apply what they are learning, and these innovative and engaging activities are classroom-proven. The perforated pages make it easy to tear out pages to submit for grading and other purposes, such as portfolio compilation. Most importantly, students share that these activities provide them with real-world application for their schools and are an excellent resource when reviewing for teacher certification exams.
I cannot recommend this text enough! The 'Big Book' has become an invaluable resource in my ESOL Methods class. I teach the required courses for ESOL endorsement, and for years I have been looking for a book of engaging activities that would appeal to all of my students - educators across disciplines, school counselors, and administrators. This is the text! It is comprehensive, but the 200 varied activities are well-organized and beautifully presented. I especially appreciate the uniquely coded layout because not only is the information easily accessible to undergraduates, new teachers, and graduate students, but seasoned professionals can find what they need quickly and efficiently. As a bonus, every section offers an excellent overview of the concepts and terminology I cover in the courses I teach prior to the Methods course. Lovell and Govoni have given all of us who work with linguistically and culturally diverse students a precious gift. The text truly is a marvel.
Maria Alvarez PhD | ESOL Professor
Quincy University, Illinois
The growth in English learners (ELs) across the United States is a significant and persistent trend across public schools. One of the most important in-school factors to affect EL student learning is educator effectiveness. Effective teachers of ELs need to draw from a wide variety of knowledges, resources, and materials. Using their decades of experience and extensive work with teachers, Drs. Lovell and Govoni have created a treasure trove of resources for educators at all levels who work with EL students and who provide academic, social, and emotional support for students and families. Readers will enjoy the ease of using the materials, the quick reference to concepts and key topics, and immediate application to school classrooms and environments. These materials go a long way in assisting educators with EL students and learning.
Maria Coady PhD | Goodnight Distinguished Professor in Educational Equity
College of Education | North Carolina State University
The Big Book of ESOL Activities is a rich resource for educators working with English learners in K-12 settings. Based on their long-standing experiences as English as a second language teachers and teacher educators, Cindy Lovell and Jane Govoni provide an A-Z of tried-and-true classroom activities for multilingual learners. Each activity is clearly explained and illustrated with concrete examples. A terrific resource for classroom teachers and teacher educators!
Ester J. de Jong, EdD | Professor, Culturally & Linguistic Diverse Education (CLDE) Program
School of Education and Human Development | University of Colorado-Denver
Print
$65.00
ISBN 9798765740255
Details Print Product