RETURN TO SEARCH RESULTS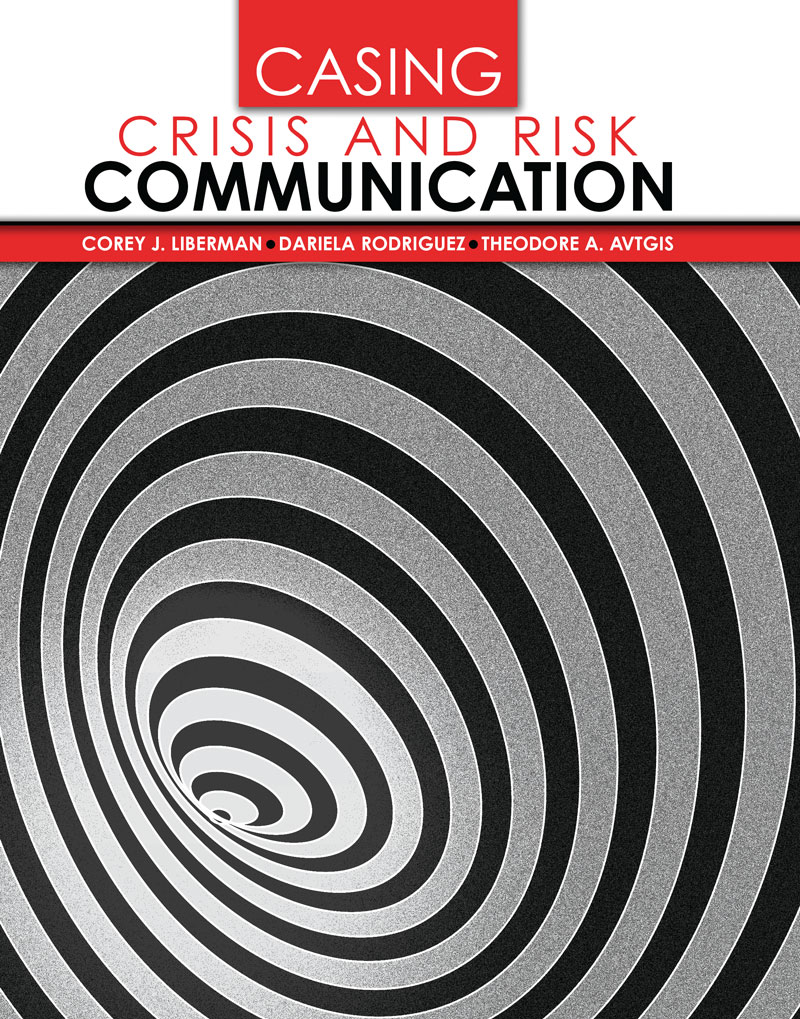 Details: Print Product |
Crisis and risk communication are equally important to the structure of society. Without understanding how to effectively respond to, and potentially avoid, crisis and risk, individuals could find themselves in a state of everlasting collapse.
Casing Crisis and Risk Communication explores specific events that arose and describes how effective communication was responsible for sensemaking. The publication helps the reader develop a deeper understanding of, appreciation for, interest in, and dedication to, crisis and risk communication.
Casing Crisis and Risk Communication, by Corey J. Liberman, Dariela Rodriguez, and Theodore A. Avtgis:
Bridges the theoretical with the practical by using a series of case studies that deal with crisis and communication. Cases include Apple's "Bendgate" crisis, the Blue Bell Listeria crisis, the case of Paula Deen, Carnival's response to the Costa Concordia crisis, and much more.
Presents an abundance of theories, models, and data on crisis and risk communication.
Describes effective communication strategies when dealing with crisis or risk. Strategies include providing information to affected, or potentially affected, individuals regarding appropriate actions, providing answers to questions regarding possible risk outcomes, and providing messages in easily-decodable forms.
Introduction
About the Authors
Chapter 1 Chaos, informational voids, and emergent organizations: The case of West Virginia's water and freedom industries
Getchell & Sellnow
Chapter 2 When Edward Burhardt spoke, the crisis worsened: The dangers of crisis miscommunication
Coombs
Chapter 3 Eric Shinseki's image repair for the Veteran's Administration Health Care scandal
Benoit
Chapter 4 Image repair in a Chinese brand identity crisis: Will the real herbal tea company please stand up?
Xiong, Taylor, & Kent
Chapter 5 Informational and affective needs: Considering media dependency theory in the context of twitter and natural disasters
Lachlan
Chapter 6 We all scream without ice cream: The blue bell Listeria crisis
Rodriguez & Avtgis
Chapter 7 Passing bad paper
Zaremba
Chapter 8 Social media crisis in the global age: Lessons from the Siemens "Refrigerator Gate" in China
Chen, Ji, Li, & Stacks
Chapter 9 Using the Social-Mediated Crisis Communication (SMCC) model to examine post-crisis rhetoric: A case study of Deflategate
Liberman, Stassen, & Rennie
Chapter 10 Carnival's response to the Costa Concordia crisis: A test of situational crisis communication theory
Magee & Venette
Chapter 11 Organizational sensemaking in a mixed-media environment: The case of Paula Deen
Chewning
Chapter 12 Susan G. Komen foundation and planned parenthood: An application of Neo-PR
Caldiero
Chapter 13 Apple's "Bendgate" crisis and the technology-image expectancy gap
Maresh-Fuehrer
Chapter 14 Crisis communication node: The case of UT-Rio Grande Valley start up
Sturges
Chapter 15 A tender song for tough times: When crisis communication goes viral
Cowden
Chapter 16 Risk communication: Community relations efficacy or calamity?
Heath
Chapter 17 Don't drink the water: Warning communication in a Northern Ohio water emergency
Seeger & Seeger
Chapter 18 Hawksbill turtle conservation in the Eastern Pacific: Weighing biodiversity and livelihood risks
Peterson & Liles
Chapter 19 Communicating a surge of information: How do individuals understand, react, and respond to storm surge media messages?
Eosco, Rickard, & Scherer
Chapter 20 Risk communication at the neighborhood level following superstorm Sandy
Phelan
Chapter 21 From Lujo with love
Wrench & Taylor
Print
$57.89
ISBN 9781465288059
Details Print Product