RETURN TO SEARCH RESULTS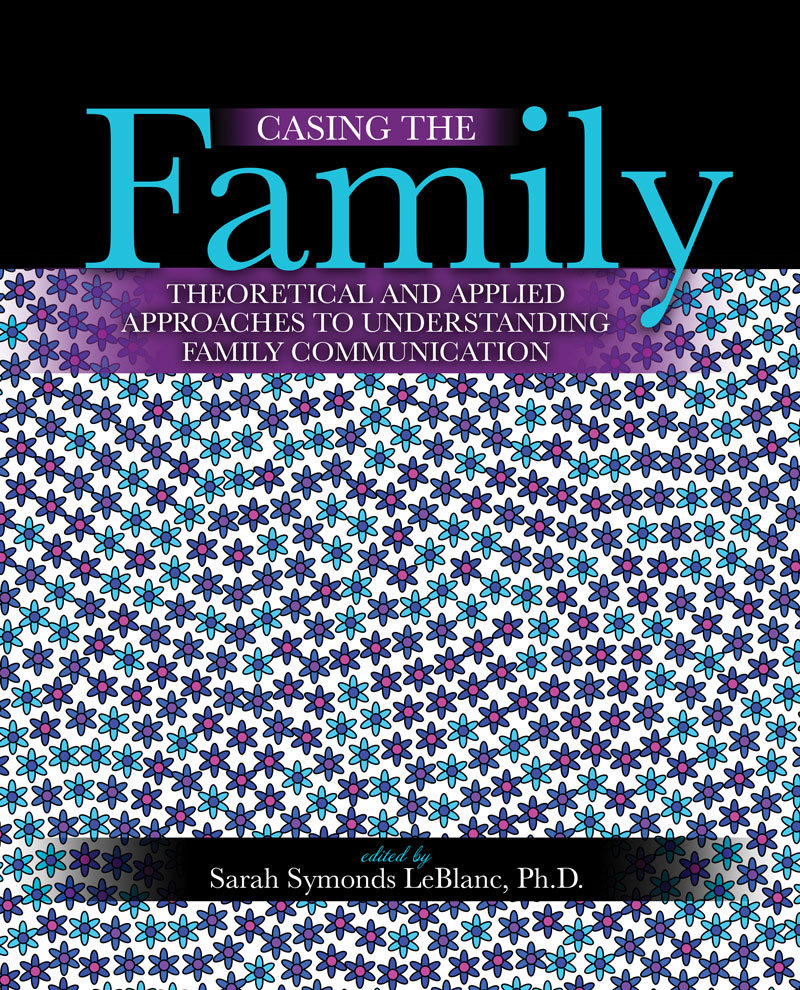 Casing the Family: Theoretical and Applied Approaches to Understanding Family Communication
Author(s): Sarah Symonds-LeBlanc
Edition: 1
Copyright: 2019
Pages: 412




Details: Print Product |
There is no one strict definition of family communication, because each family is different.
Sarah Symonds LeBlanc's Casing the Family: Theoretical and Applied Approaches to Understanding Family Communication fuses case studies with communication theories to examine various family types and scenarios that US families encounter. By examining the family and the scenario from each case study, students are able to critically analyze and discuss a "safe" family.
Featuring 35 expertly written case studies, Casing the Family, is divided into five comprehensive sections:
Changing Nature of Family examines different types of family and illustrates how much the definition of family has changed in our culture.
Relationships, Parents, and Culture features a myriad of intercultural and interpersonal issues such as societal norms, divorce's impact on families, and race & gender.
Negotiation of Boundaries within the Family discusses in-law relationships, relationships between birth parents and grandparents, parent-teen communication, and multi-generational care issues.
Dark Side of Family presents the growing epidemic of addiction with families, how bi-partisan parents' communication influences their children's beliefs, how family estrangement affects family's get-togethers, and much more.
Health and Family discusses siblings with mental-disabilities, emotional regulation theory when dealing with a disease, couples communication through miscarriage, navigating healthcare and treatment decisions, and family conflict when adult children have to make health care decisions about their parents.
Acknowledgments
Contributors
Introduction
The Third Day of Class
Sarah Symonds LeBlanc
I. The Changing Nature of Defining Family
1. Family Communication Influences in the Academic Context
Jordan Atkinson and Scott Myers
2. "You Don't Know What You Don't Know": Mitigating Uncertainty in Transracial Adoption
Eletra Gilchrist-Petty
3.Just the Two of Us: The Ups and Downs of an Empty-Nest
Mary E. King
4.Dealing with the Development of Children's Ethnic Identity in Interracial Marriages
Narissra Maria Punyanunt-Carter
5.First Generation Students and Family Identity
Tiffany Wang and Kaitlin Phillips
6.Conflict and Coping in High-Stress Careers: A Case Study on Spousal Communication During Wartime Deployments
Diana G. Zulli
II. Relationships, Parents, and Culture
7.Flying Under the Radar: Finstas and Nonresidential Parenting
Falon Kartch and Lindsay Timmerman
8.Lost in Translation: The Challenges of Intercultural Relationships.
Anthony Machette
9.Parenting Styles Across Generations and Corporal Punishment
Courtney Waite Miller,
10.Treasure or Trouble: The Impact of Inherited Artifacts on Family Communication
Amy M. Smith
11.Mommin' Ain't Easy: Conforming to Societal Expectations on Facebook and in Real Life
Tennley A. Vik and Jocelyn M. DeGroot,
12.When One Just Doesn't "Fit": Family Dynamics in the Context of Fat and Fitness
Phillip E. Wagner
13.I Get It from My Mamma: Doing Race, Doing Gender
Savaughn Williams and Kathy Denker
III. Negotiation of Boundaries within the Family
14.In-Law Communication and Privacy Management: Rules, Boundaries, and Turbulence
Jocelyn M. DeGroot and Valerie J. Young
15.New Parents and Grandparents
Tim Dun
16."Help, My Teen is Sexting!": Understanding Parent-teen Communication about Sexting from an Attachment Theory Perspective
Elizabeth M. Jenkins,
17.0 to 30 to 60 to 90: Four Generations
Michael Kramer
18.Recalibrating Privacy Rule in the Eldercare Family
Kristina Wenzel Egan
IV. Dark Side of Family
19.Family Communication and Political Identities: A Negative Case Analysis of Parental Partisan Socialization
Jayne Goode
20."It was Shocking to See Her Make It, Eat it, and Love it!": How a Mobile App can Transform Family Food and Health Conversations in Low-Income Homes
Deborah Neffa-Creech, Joanna Glovinsky, Susan H. Evans, and Peter Clarke
21.Don't Mention the Office: Workplace Bullying Spillover at Home
Sarah E. Riforgiate and Lynn Turner
22."I Won't be Home for Christmas": Accomplishing and Maintaining Family Estrangement
Kristina Scharp
23.When is the Right Time to Have "the Other Talk?": Parental Privacy and Conversations About Depression
Shawn Starcher
V. Substance Abuse
24.Using CPM to Understand (Im)Permeable Boundaries: Stories of Adult Children of Alcoholics
Kerry Byrnes-Loinette and Maria Brann
25."Don't Talk, Don't Feel, Don't Trust" and Family Systems Theory
DeAnne Priddis
26.Substance Abuse Within the Family: Coping Through Family Communication
Sydney O'Shay-Wallace
27.Family Matters: An Autoethnographic Narrative of Addicted Selves and Addicted Others with/in the Family.
Liahnna Stanley
28.Relationship Wreckage and Recovery in an Alcoholic Family
Brendan Young
VI. Health and the Family
29.Finding Strength in Methodology: Confronting Trauma and Embracing Love for a Sibling with Severe Disabilities
Sean Fourney
30."You don't have to be Superwoman!" Navigating Professional and Chronic Illness Identities in the Family Business
Anne Kerber
31.The Disclosure of End-of-Life Mesothelioma from a Family Communication Perspective: An Application of Emotion Regulation Theory
Corey Liberman
32. "What Do You Expect from Me?": Family and Marital Coping after a Breast Cancer Diagnosis
Andrea Meluch and Maria Hannah
33."My Mom Has Been Gone for A While, But She's Still Alive…" Communicating as a Child of a Parent with Alzheimer's Disease
Aimee E. Miller-Ott
34.Confronting the Master Narrative of Starting a Family: Infertility, Miscarriage, and Social Support
Shaye Morrison and Haley Horstman
35.Managing Uncertainty and Making Decisions in the Context of Dementia
Anne M. Stone
Print
$55.13
ISBN 9781524989439
Details Print Product